Home » Geocaching
Caches No's 3686 to 3691 – World Wide Flash Mob 2015
Another week, another event. This time the 12th annual World Wide Flash mob. I've only been to one of these before, in 2013. Last year I was on Holiday in Wales with Angel78 and although there was a Flash Mob event nearby it was not at a time suitable for us so we didn't go. This year however Richlay had organised a flash mob event on a Saturday Teatime in Roundhay Park so it was not a difficult thing to attend.
13th June 2015 – Ask Key at Alhambra Garden GC1DGAA – cache #3686
I arrived at Roundhay Park before the flashmob so I could pickup a couple of caches, this was the first… as others have said feel for it rather than look for it.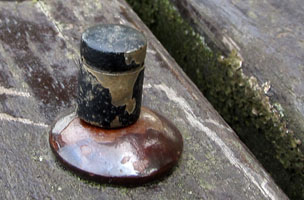 13th June 2015 – BPJC2:- Park and Ride? GC435PB – cache #3687
Team Ministrone were just walking away as I headed to the cache, not knowing each other they studiously ignored me thinking I was just a passer by, but I had them clocked for cachers and wasn't surprised to see them at the Flash Mob…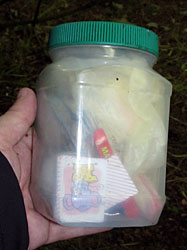 13th June 2015 – WWFM XII – Leeds GC5WB3A – cache #3688
The Flash Mob, look inconspicuous hanging about around the Roundhay Park Band Stand until the appointed time and then whip out your kazoo and join in with the Tunes. I didn't have a kazoo, so all I could do was cover my ears at the various attempts by those who did to play a tune – none of the seemed to know what the tune was !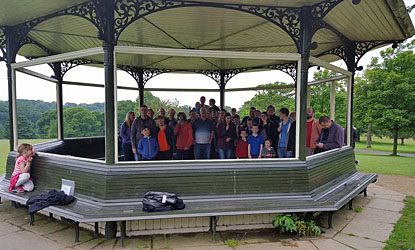 13th June 2015 – The Tram Park GC1TNVN – cache #3689
This was one of those caches I thought I might never get to sign, it being a magnetic container on a post 25 or more feet off the ground, but with Hommer777's equipment and CastleH's skill at bringing the cache to the ground I made my mark in the log book…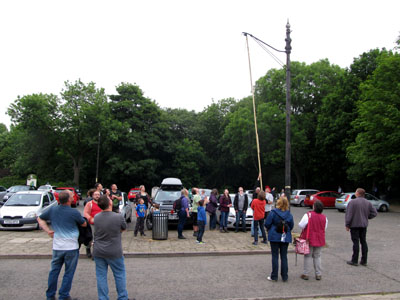 13th June 2015 – Outside Inside GC2DCHT – cache #3690
I had already done one cache in this 3 cache mystery series back in April 2013, but when we were in the pub after the flashmob this cache was being talked about by the assembled company and the whereabouts was given away so CastleH and I popped out of the pub to find it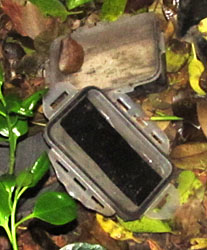 13th June 2015 – Inside Outside GC2EZ1B – cache #3691
Back in the pub again after finding Outside Inside there was more talk about the other caches in the series, and the location was passed on by those who had found it so CastleH, Godfairies, PonteRaiders and I popped out of the pub to get this one.
The cache took some finding, with us spread out searching all places that matched the hint… however I spotted it out in the open about half way down the banking (well when I say open it was upside down and buried in the leaves and mud, but 'open' as it was nowhere near any hiding place). I guess it must have got moved when the branches were trimmed on the trees
The cache is definitely in need of maintenance as the box has been full of muddy water, all the contents are a dirty soggy mess.