Home » Geocaching
Caches No's 3660 to 3669 – The Oldest Cache in England
And so our trip to Kent was over, and it was time to go home. Adam was wanting to go caching on the way home and was talking about finding a short series to do and doing some cache and dashes… I was thinking about caches to put in the Cache Mag so wanted to do something he (or I) could write about… and I thought of the oldest existing cache in the country, which is on Coombe Hill in Buckinghamshire… sort of on the way back from Kent to Coventry (well it is if you go M25 / M40 rather then M25 / M1) There are several caches up Coombe Hill and there would be plenty more we passed on the way – though actually that didn't turn out to be the case as most of the journey was dual carriageway without any cache and dashes to get to…
4th May 2015 – Vale View GC3A1G2 – cache #3660
This was the only cache and dash we did – the cache was in a bush at the bottom of the banking next to the layby, so I let Adam find it (as the headline picture shows) while I stood at the top watching the gliders taking off in the field below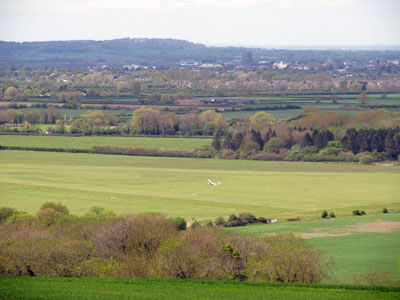 4th May 2015 – Fly By (Bucks) GC5667 – cache #3661
An old virtual cache where to claim it you have to spot the type of thing that there is at the co-ordinates… as the coordinates are the gates of RAF Halton and the cache is called Fly By it wasn't hard to work out that it was going to be an aircraft.
What is perhaps more surprising is that I recognised it straight away as a Hawker Hunter from looking at Airfix Kits 35 years ago… We didn't even stop the car to claim this smiley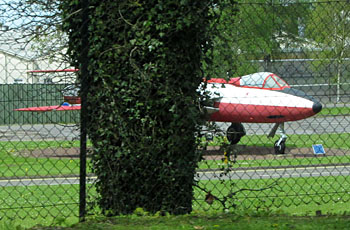 4th May 2015 – Wendover View GC47Y3H – cache #3662
In the village of Halton there are a few caches and we decided to stop and have a walk round before tackling Coombe Hill
This was an easy find, but the cars go past here quite fast when you are trying to get across the road !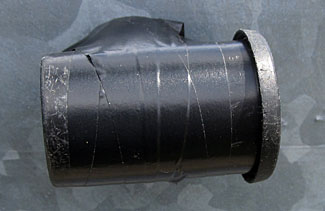 After this we didn't find GC4P6HJ Four Trees, this was in an area with surprisingly 5 trees and long grass, and was a disguised micro, no further details of what we were looking for, last seen in February, we were attracting interest from the locals so after about 10 mins we gave up and moved on
4th May 2015 – Halton gateway GC47B55 – cache #3663
A nice easy find, though took a bit of time to log as we had our hands full with ice-creams we'd just bought at the shop… Well, it was a hot day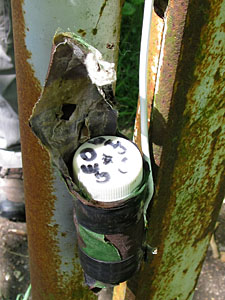 After this we didn't find GC45N7F Halton Little Bridge, the previous logs reported that it had been found in bits, and then just the camo bag it had been in and then like us a total DNF
4th May 2015 – Halton Happiness GC1WM66 – cache #3664
In the hawthorns a few yards off the path… it is always difficult spotting caches in shadowy places on bright sunny days when you have your dark glasses on…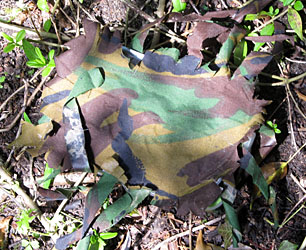 4th May 2015 – Coombe Hill Cache 3 – Crossroads GC4K67N – cache #3665
On to Coombe Hill, and the map showed a path up from the bottom to the top, so we parked up and climber the hill, calling at this cache near the top and what a great cache… an electronic puzzle to solve to get the numbers for the combination lock – Fortunately the hint also has the numbers in Roman Numeral form and I could work them out in my head so opened it without much problem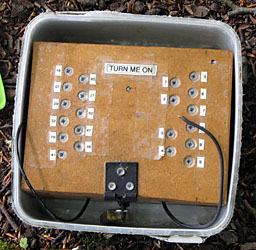 4th May 2015 – Chiltern Scarp GC4K6Z3 – cache #3666
An Earth Cache based at the monument on the top of Coombe Hill – we climbed the hill rather than park in the car park at the top (we wouldn't have done if we'd realised that there was a car park and a flat walk to the monument !)
4th May 2015 – X Marks the Year (Bucks) GC2M627 – cache #3667
A cache placed 5 years before to celebrate the 10th anniversary of Geocaching – I held the gorse branches up while Adam went under to get the cache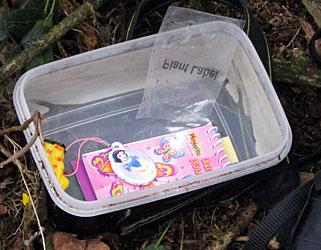 4th May 2015 – Mike Bushell BBC Sports News GC2MG0M – cache #3668
The local BBC station had done a feature on Geocaching and the presenter – Mike Bushell – had set this cache as part of the feature as it was on Coombe Hill it was part of our round up of the caches there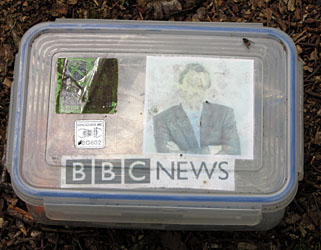 4th May 2015 – View from Coombe Hill GC171 – cache #3669
GC171 is the oldest existing cache in England, and our reason for being in the area, so it was nice to find it, though there is a cachers trail as it is quite a popular cache !
I think Adam managed to manipulate his finds for the day to make this his 2,000th find – though in reality it should have been his 2,011th… though again it is probably nearer his 2,050th as he has missed logging many caches he has found !