Home » Geocaching
Caches No's 3636 to 3659 – Caching in Kent
We had decided to stay in Kent for an extra day after the Mega and do some caching locally. But then Adam had seen that there was a car boot sale on at Hop Farm and decided he wanted to go to that… It was raining on the Sunday morning so we didn't get up early, when we did venture out Adam contacted Penny and arranged to meet her at the car boot, so we set off back to Hop Farm doing a few caches on the way
3rd May 2015 – Church Micro 478…Barming GC1MXZQ – cache #3636
The first cache of the day was a Church Micro, you can tell how late we got up and had breakfast by the fact that although it was a Sunday we were well past the service time and the churchyard was deserted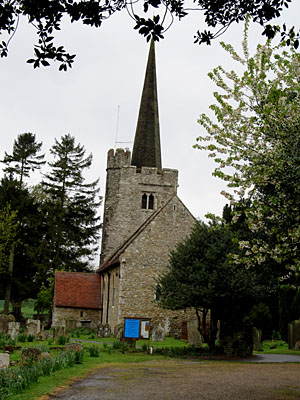 3rd May 2015 – Can't see for looking GC1KKJP – cache #3637
We couldn't see it, not for looking but for the piles of dead leaves heaped over the cache… but we unearthed it in the end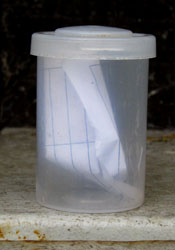 3rd May 2015 – Teston Footpath GC2GYAB – cache #3638
I nipped out of the car and found it while Adam loitered in the car in case someone came along the narrow road and he had to drive out of the way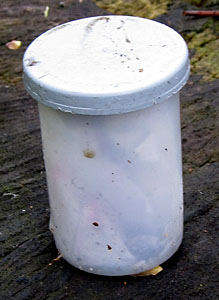 3rd May 2015 – Church Micro 476…West Farleigh 21/02/2009 – cache #3639
The hint says in the top of the old telegraph post, not in the obvious place. well it was in the obvious place to me, does that mean someone had moved it from it's original hiding spot or that my mind works in obtuse ways ?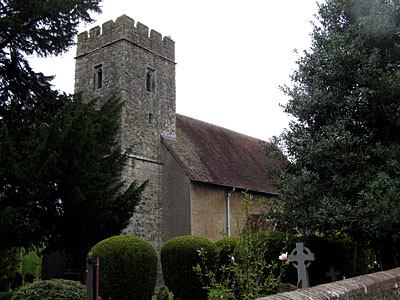 3rd May 2015 – Road to Mega 7: Cache and Dash GC4ZHGH – cache #3640
We then got a call to say that Penny and her mother and dog had arrived at Hop Farm and the car boot sale, so we gave up caching and joined them. The Boot sale was rubbish and so Penny went back home with her mother and dog and Adam and I arranged to go and pick her up at her house to take her caching (without her mother or dog)
But we stopped off for a few caches on the way.
For this one we had to check a few places before we got the right one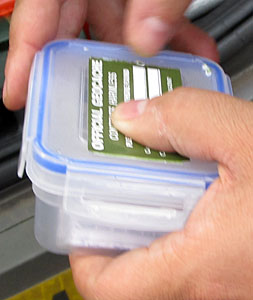 After this we didn't find GC5E94M Am I going round the bend or is it a bridge, but neither did anyone else who looked for it that weekend
3rd May 2015 – Church Micro 5322…Capel – St Thomas à Becket GC – cache #3641
There was a flower festival on at the church so it was busier than expected… It was a multicache with clues in the churchyard, we soon had the numbers, and sat down on a handy bench to work out the maths then it was off for a short walk to the cache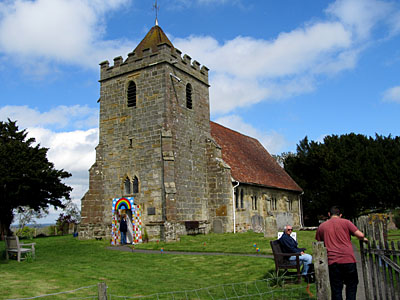 3rd May 2015 – Road to Mega 6: A bridge too far? GC4ZCHR – cache #3642
We then got a message that Penny was at home with the Kettle on, so we went to her house to have tea and to decide on where to go caching, obviously Penny had found manyof the caches in the area so we headed back towards Hop Farm again to a series she hadn't done, stopping on the way for a couple of supposedly quick drive-bys
Penny had found this cache before though couldn't remember exactly where it was hidden… I looked in the obvious place and there it was
After this we didn't find GC1V1RG Pick Yer Own Cache #1 – it's one of Penny's caches, and she had to DNF her own cache… It isn't there anymore
3rd May 2015 – Wooosh GC5E936 – cache #3643
The caches name indicates the sound the cars make as they speed along the road near the cache. You risk your life walking on that road… but we found the cache safely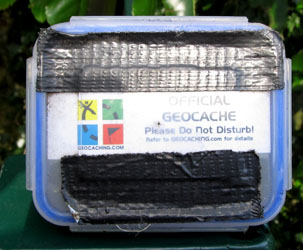 3rd May 2015 – Old Gate Post GC5E921 – cache #3644
Guess who had to wade into the nettles and brambles ? not Penny or Adam…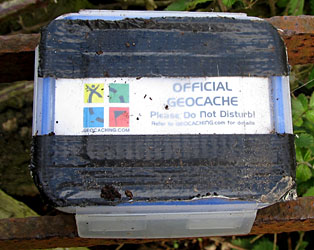 3rd May 2015 – The Underground House GC5E90X – cache #3645
A suspicious pile of sticks indicated the position of the cache
3rd May 2015 – 4 Ways GC58PQ8 – cache #3646
After we had found the cache we had to decide which of the other three ways to take to head to our next cache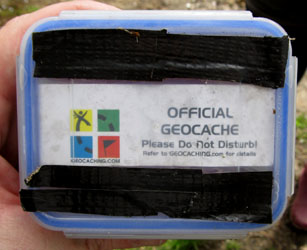 3rd May 2015 – Ivy high GC5ADXM – cache #3647
An easy find in an Ivy covered tree…. that's a rare thing !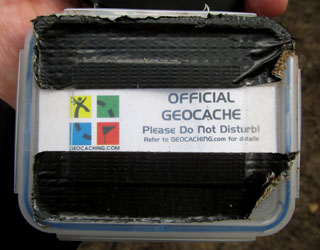 3rd May 2015 – Tractor Time GC58PN2 – cache #3648
The city dwellers were much more excited by a rusting tractor than those of us who live in the countryside and are used to seeing such things were…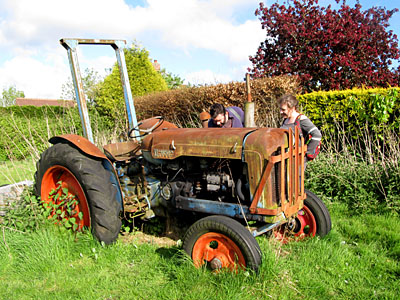 3rd May 2015 – Roots GC58PQP – cache #3649
Took a while to find as the GPS signal lock wasn't good under the trees and there were many places to search… Eventually we used the hint literally and then quickly found the cache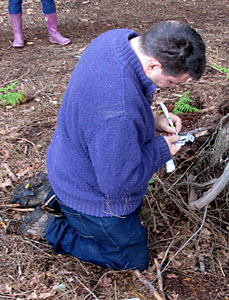 3rd May 2015 – Stumpy GC5FHMG – cache #3650
So you're looking for a stump… and there's two of them… guess whether we chose the right one first ?
(no, we never do, we always look at the wrong one first)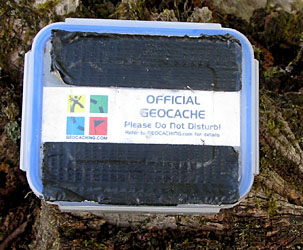 3rd May 2015 – The Adder GC5FHN0 – cache #3651
Well actually we found two caches here… Penny found one, but I didn't think that was the right one so kept looking, and found another.
No idea where we log the Magellan cache… there were only a couple of names in the log book, and they had found and logged that cache as this one (if you see what I mean)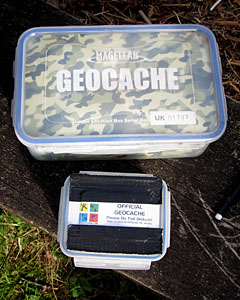 3rd May 2015 – Many Trunks GC5FHKP – cache #3652
I wonder what percentage of Multi-trunked trees in the country have caches hidden by them ?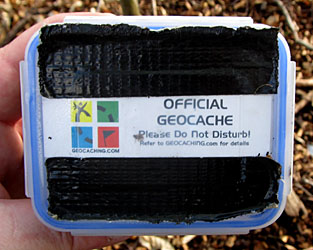 3rd May 2015 – Struck by lightning GC5FHMA – cache #3653
The peace here was shattered by barking dogs at the nearby Travellers campsite… couldn't see anything that looked like it had been struck by lightning, but a previous log about purple flowers brought us to the right place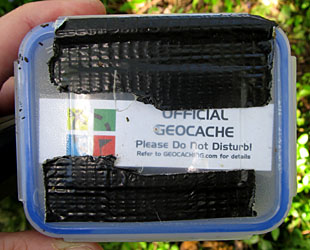 3rd May 2015 – I Wouldn't Put My Hand In There GC5FHK6 – cache #3654
… neither would I, nor would Penny… so we made Adam put his in !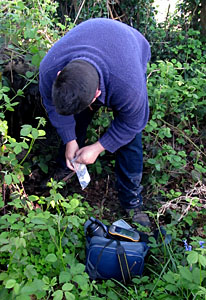 3rd May 2015 – Streamside GC58PQF – cache #3655
Penny and I would have just left this and gone back to the car, but Adam was determined that we couldn't leave this cache all on it's own so we had to go and find it… then we walked back up to the road on the closest path… and then took our lives into our hands walking back along the road to Whoosh where we had left the car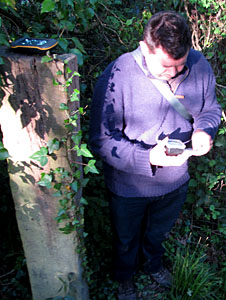 3rd May 2015 – Fries with that? GC3AR91 – cache #3656
After a hard days caching with Mrs Rosenberg (who had found this cache before) we adjourned to McDonalds for sustenance (well to use their toilets really, but we did grab a burger while we were there) and found this cache in the car park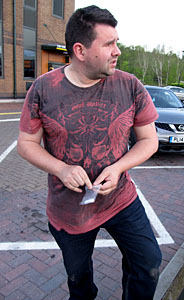 After this we didn't find GC4HQNR Easy PC – A puzzle cache that I worked out on the back of a napkin while we were eating, we went to look for the cache… though we had geochecked coordinates and only a very limited number of places that matched the hint we hacked our way through the jungle but couldn't find the cache among all the other litter in the bushes
3rd May 2015 – SideTracked – High Brooms GC4VJJ6 – cache #3657
A quick cache and Dash…. UKCacheMag sat in the car while I nipped out for the cache. Penny ha found it before so stated in the car too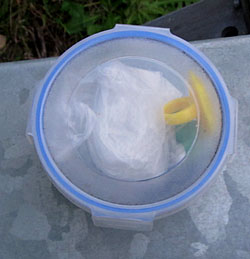 3rd May 2015 – Off Yer Trolley Pembury GC1V1QR – cache #3658
Another of Penny's caches, after spending the afternoon (and the previous afternoon) out caching with her and DNF'ing her other cache it seemed only fair that after dropping her off at home we went and found one of her caches on our way back to Hop Farm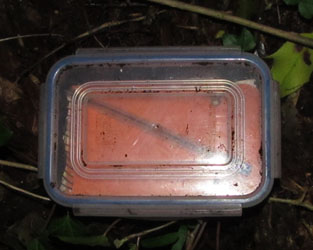 3rd May 2015 – KM2015 – Mega Quiz GC5KHRW – cache #3659
We had intended to go to the quiz, but got delayed by the caching in Tonbride, so we only got there for the last few rounds…
Still the team I would have been in (with Hublander and Beanie28) if I had been there from the start came 3rd… which was probably where they would have ended up if I had have been there, so nothing was lost…
It was surprising to see so many people doing the quiz, I hadn't expected it to be so popular