Home » Geocaching
Caches No's 3612 to 3635 – The Kent Mega 2015
Unlike last year the Premier Inn in Maidstone didn't mix our room booking up, so Adam and I had to pay for our breakfast (see last years write up, caches 3196 – 3204) but as then it was a rush to get our breakfast eaten then drive down to Hop Farm and get set up before the event started. This year instead of being in an upstairs room with a winding stair to get to it we were in a nice large marquee (with carpeted floor) which gave us loads of room and meant more people came to see us during the day than last year.
2nd May 2015 – The Kent Mega 2015 GC53QJ1 – cache #3612
I spent all day in the marquee, (helping Adam on the UKCacheMag stand as usual) so I didn't see a right lot of anything else that went on during the event – it was nice to see a lot of familiar faces and a lot of new ones though.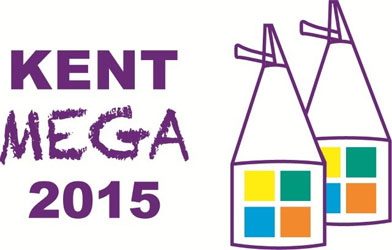 2nd May 2015 – Kent Mega Venue 2014 GC46PA3 – cache #3613
After the Mega we decided to go and walk round a short loop of caches, and as we had to go out of the gate this was the first one we found.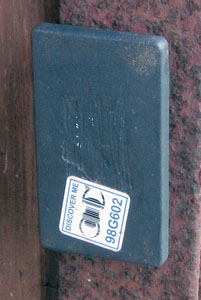 2nd May 2015 – Kent Mega 2015 Cache and Dash – Bonus GC5RVPP – cache #3614
We found this one by accident… Well we were just walking along the road to get to a cache and met some dubious looking people poking around in the undergrowth… so we got our hands on the cache.
It then took a couple of hours of looking at cache listings and questioning a few people before we worked out which cache it was !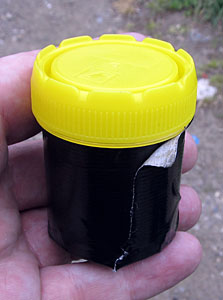 2nd May 2015 – Kent Mega 2015 Crossword GC5TA8W – cache #3615
Adam was walking very slowly, and I was wondering what was wrong with him, then I turned round and realised he was waiting for another cacher to catch up with us, 'Mrs Rosenberg better known as Penny who Adam has been out caching round London with before.
From then on we signed all caches as Team MUF – That's Mrs Rosenberg (Penny), UKCacheMag (Adam) and FOX 661L
Penny did all the hard work solving the puzzle while Adam and I were in the hotel bar on Friday night… and Adam found the cache… so I did nothing for this smiley really !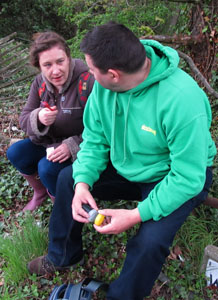 2nd May 2015 – 19. Kent Mega 2015 GC5MAF8 – cache #3616
I gather there was some sort of puzzle at the given coordinates… we never went near there, we were walking along the road to go and do caches starting at Number 21 and met a load of cachers coming the other way right at the point where this cache was, and they said the cache was on one of the road signs… and I quickly spotted and retrieved it for them, and signed it for us !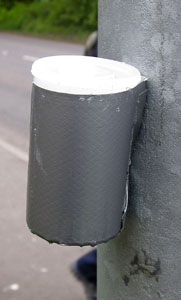 2nd May 2015 – 21. Kent Mega 2015 GC5MAG4 – cache #3617
I've got a bad back, so I wasn't bending down for this one – we made Adam get it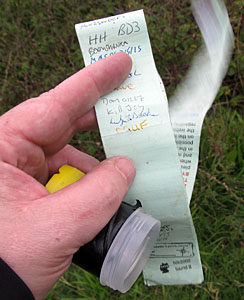 After this we found GC5MAGV 22. Kent Mega 2015 Challenge Cache… but although Team Muf found and signed it we can't claim it as a find as it is a challenge cache requiring you to have found over 125 caches in a day before you can claim it… my best is 95, and Adam's and Penny's are in the 50's and 60's… so between us we have found over 200 caches in a day, does an aggregate team score qualify ?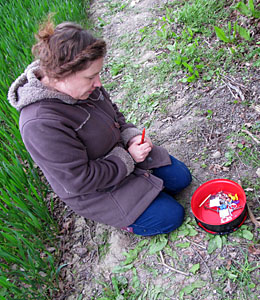 2nd May 2015 – 23. Kent Mega 2015 GC5MAH2 – cache #3618
Neither Adam nor I were going to risk a poke in the eye on those branches so we let Penny get the cache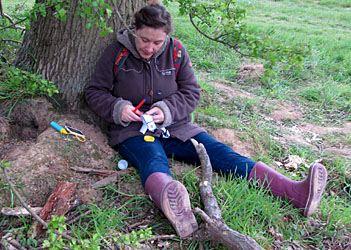 2nd May 2015 – Bonus: Kent Mega 2015 GC5MANN – cache #3619
As we were walking towards the road I spotted a man with a GPS climb over the stile, get in his car and drive off… so while the others worked out the maths for "24. Kent Mega 2015" I decided to go and find the cache the other cacher had just found… walk across the field, assume the hint is Onfr bs gerr as there was an obvious tree for it to be at the base of and 'Bob's yer Uncle' there's the cache – It took longer to work out which cache I had found than find it !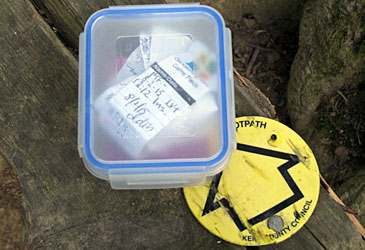 2nd May 2015 – 24. Kent Mega 2015 GC5MAJT – cache #3620
Penny did the Maths while Adam stood around and watched and I wandered off to find a random cache in the next field.
We had been caught up by the group of cachers (Team Bootlace) following us around the walk so there were many of us to find the cache.
The bloke sitting in his van parked right next to the cache must have had an odd afternoon… whether he was asleep or just pretending he must have been disturbed at regular intervals by passing groups of cachers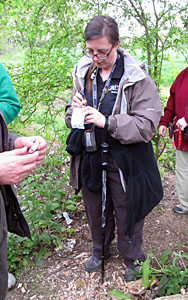 2nd May 2015 – 25. Kent Mega 2015 GC5MAKT – cache #3621
Actually we didn't find it, One of Team Bootlace rushed ahead to crawl in the ditch under hedge for the cache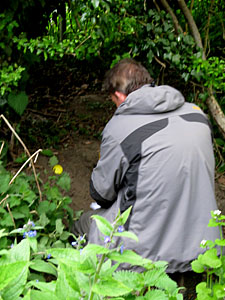 2nd May 2015 – 26. Kent Mega 2015 GC5MAMB – cache #3622
Again we didn't actually find the cache… it was some of Team Bootlace who rushed ahead to find the cache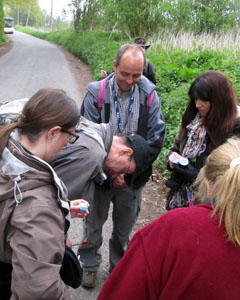 2nd May 2015 – 1. Kent Mega 2015 GC5M9MX – cache #3623
Team Bootlace had started at this cache so gave us a good pointer as to where it was to be found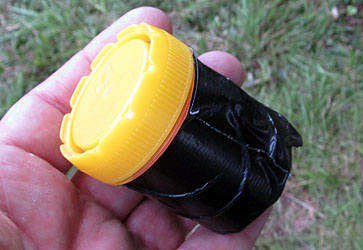 2nd May 2015 – 2. Kent Mega 2015 GC5M9NE – cache #3624
We had done a shorter loop from number 20 to number 1… and weren't really intending to do any more, but as I had found a cache on this spot last year we wandered up the path to grab this last one heading back to the burger vans and then on to the Lab Caches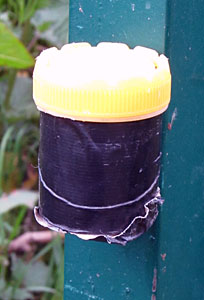 2nd May 2015 – Lab Cache – On The Wall- cache #3625
Humpty Dumpty sat on the wall… with a large basket full of Kinder Egg cases in it… inside one was the code we needed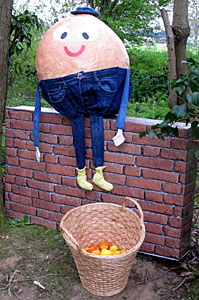 2nd May 2015 – Lab Cache – Teddy Bear – cache #3626
Goldilocks found Daddy Bear, Mummy Bear and Baby Bear, the code was the colour of the dish with the right temperature porridge in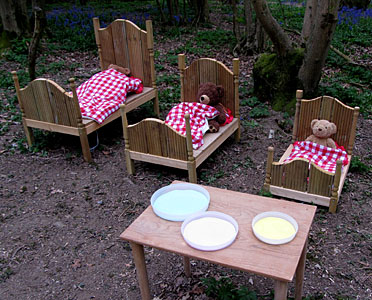 2nd May 2015 – Lab Cache – Rescue Me – cache #3627
Didn't even need to put the puzzle blocks together to know the code letter they use in Thunderbirds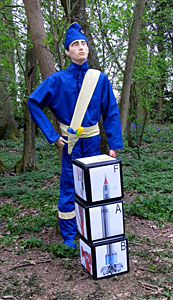 2nd May 2015 – Lab Cache – Games People – cache #3628
Last year the only Lab Cache I did was the equivalent of this one which was outisde the pub on the Friday night… this time I hadn't registered in advance so my name wasn't on the boards… but the code was hidden in the names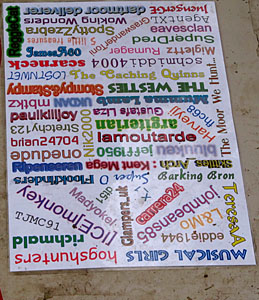 2nd May 2015 – Lab Cache – Under the Moon of Love- cache #3629
The Owl and the Pussycat went to sea, in a beautiful pea green boat… the code was a missing word in the poem which wasn't Ukulele as they had here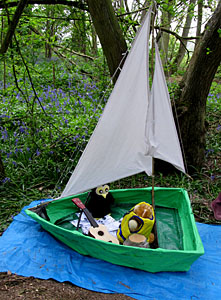 2nd May 2015 – Lab Cache – Play The Game- cache #3630
The Ball Pool, favourite of last year Lab Caches, not that we did them… actually the pool was full of balls and 3 children who found us the ball with the code on quickly enough so all we had to do was put back the spilled balls into the pool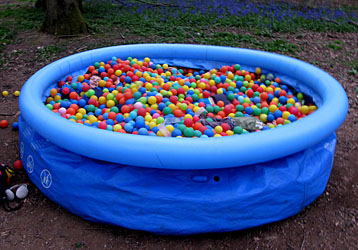 2nd May 2015 – Lab Cache – Shipwrecked – cache #3631
Gulliver, captured by the Playmobil people… the code was the colour of his hair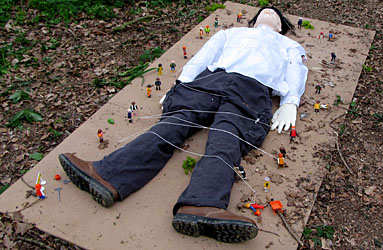 2nd May 2015 – Lab Cache – Follow Me – cache #3632
Which of the people on the Yellow Brick road was the code ? the answer was found by putting the yellow bricks in the right order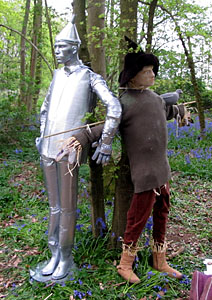 2nd May 2015 – Lab Cache – Rags To Riches – cache #3633
Cinderella in her coach, going to the ball… but what time did she have to leave before the coach turned back into a pumpkin ? or was it when she turned back into a blow up doll ? (There was a carefully arranged wig to hide her origins !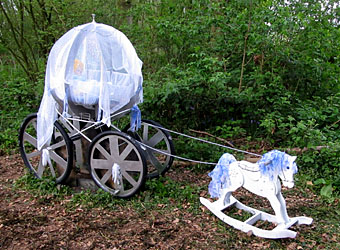 2nd May 2015 – Lab Cache – The Lion Sleeps Tonight – cache #3634
The code was in a cache under the rocks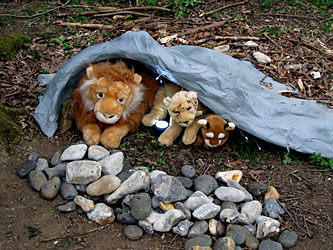 2nd May 2015 – KM2015 – Barn Dance GC5KHRK – cache #3635
Hog Roast, Country Dance Band playing, lots of people to chat to… a nice way to end the day while Adam took Penny home to nearby Tonbridge… though we then went back to the hotel and ended the day by having a drink in the bar…