Home » Geocaching
Caches No's 3575 & 3576 – The Mad March Meet Once More
Time for the Mad March Meet ? then it must be time to come out of hibernation and start the years caching activities in earnest…
As with last year my attendance at the event meant I had attended twice as many events than I had found caches since the turn of the year – and as with last year the Mad March Meet was only the 2nd event I had been to.

7th March 2015 – Mad March Meet VII GC5KJ4K – cache #3575
The first event I went to was Mad March Meet 2 back in 2010 (cache #276), at the time I didn't know anyone and was a bit intimidated by a roomful of people all of whom seemed to know each other and be vastly more experienced than I was at caching.
This year I was one of the 'regulars'… though a good number of the people there had been at MMM2 as well
7th March 2015 – 4th Bramhope Brownies' Cache GC5EM5G – cache #3576
A quick stop off as I was driving down from Yeadon.
This cache has a hint which says "base of a bent-over tree that looks just like a deer's rear end"
I only turned my GPS on as I walked out of the car park so it hadn't locked on to the satellites and I was navigating using just the map… after walking a little way I though it must be around here somewhere, and there I saw an item that the clue describes perfectly, so it was a quick find.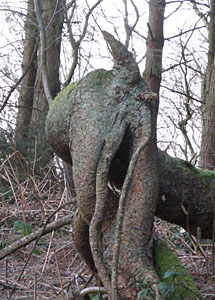 and here's the cache