Home » Geocaching
Caches No's 3541 to 3556 – Caching Around West Norfolk
Although there are plenty of things to do in Hunstanton this was my twentyumpteenth annual visit (I've come here every Autumn for 60% of my lifetime) so I for the past few years I have gone out caching instead of visiting places I've been and doing things I've done before, so it came to pass that on the Saturday I went out and found the new caches that have appeared in town since my last visit and on the Sunday I took my car out to find the nearest Church Micros that I hadn't found on previous visits

8th November 2014 – Cachers WASH GC5EPFY – cache #3541
For the last few years Adam has arranged a cache meet/flashmob to go along with our visit, the coordinates chosen for the get together are the Bandstand on the green in the centre of town. I arrived a few minutes late and with a bit of a hangover from the night before… we soon went off for a fried breakfast that set me right though. Nice to meet the Skirbs, Dog456 and their Muggle… as for the others who said they would attend yet never made it (yes Stuart, Tracey and Judi I am talking about you !) I guess their hangovers were worse than mine !
After this I Didn't find GC59DNQ Twilight's Shocking Discovery! – There were two lorries parked next to the cache, waiting their turn to be loaded with turnips (or potatoes or whatever) from the nearby field but we just ignored the confused looks from the drivers and searched every place about – but there was nothing to find
8th November 2014 – Derpy's Mailbox GC4RQ5E – cache #3542
Not my favourite type of cache, in full view of net curtain twitchers… but as I was walking past anyway it would have been rude to ignore it !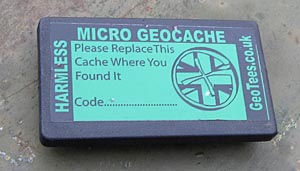 8th November 2014 – Twilight's Parking Spot GC4VZK4 – cache #3543
Some people have complained about how far up the sign post this cache is, I'm tall enough for it though !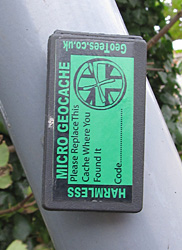 9th November 2014 – Church Micro 2862- St Peter & St Paul – Shernborne GC – cache #3544
Sunday was a nice sunny day so I went for a drive. there were quite a few people about in the village on a nice Sunday afternoon so it was easier to find the cache than a parking spot !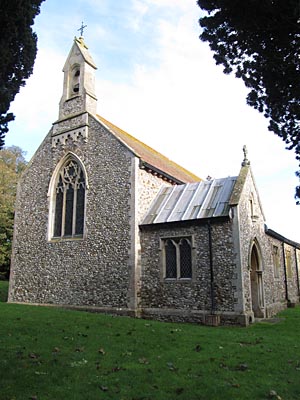 9th November 2014 – Church Micro 5855…East Rudham GC55P05 – cache #3545
Parking again a problem so I parked in the pub car park just along the road a bit and walked back – the cache seemed easy enough to find only one place that really matched the hint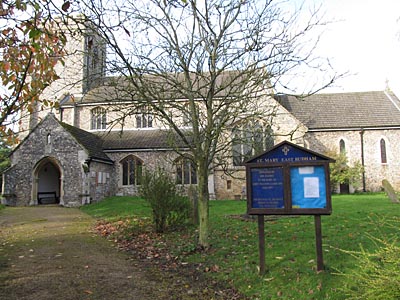 9th November 2014 – Church Micro 3563…Tittleshall GC48YTX – cache #3546
There were a choice of two large trees that matched the hint, one on each side of the gate… as usual I searched the wrong one first. I think it must be some genetic trait I always choose the wrong one !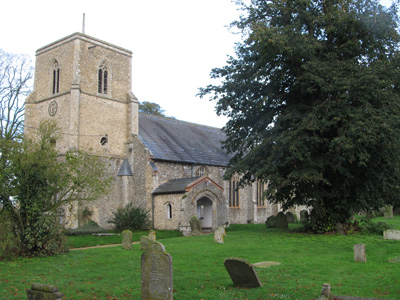 9th November 2014 – Church Micro 3577…Stanfield GC48YTG – cache #3547
A Church with a large empty car park and a nice easy find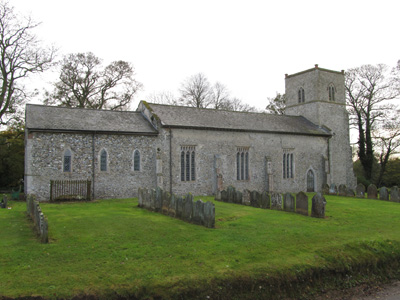 9th November 2014 – Church Micro 3562…Mileham GC48YNV – cache #3548
I missed the car park sign so parked on the road 100yards away and walked back to the church. I thought I might have trouble finding the cache in all the wet undergrowth and fallen leaves but then realised where it was going to be hidden so it turned out to be an easy find, and a strange church tower that is to the side of the nave rather than stuck on the end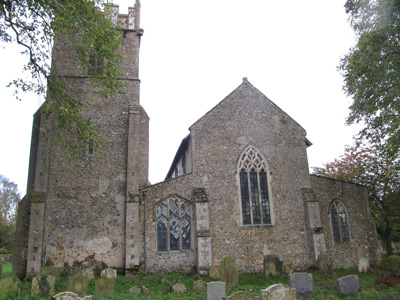 9th November 2014 – Church Micro 2846…Litcham-Methodist GC3R0DF – cache #3549
Again a village church with no parking around so I parked on the parallel street and walked to the church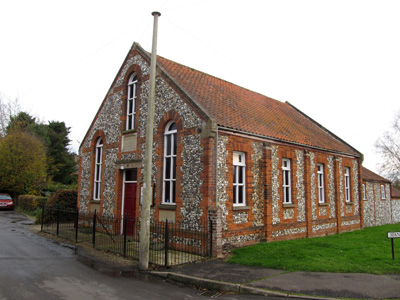 9th November 2014 – Church Micro 3109…East Lexham GC40EFE – cache #3550
I like a 'ye olde' church with a bit of character, and a graveyard with sheep as grass croppers is always fun. No problem finding the cache once I'd found the way into the sheep's pen !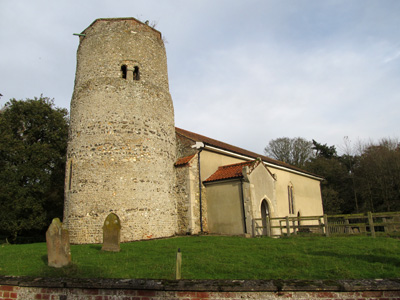 9th November 2014 – Ye Ole Survey Monuments GC45CC – cache #3551
This time logging YSM580 – Massingham
Right by the roadside so no problem finding it !
9th November 2014 – Triggery GC32WDJ – cache #3552
As I was 20ft away fro the YOSM location it would have been rude to ignore this nearby cache !

9th November 2014 – Church Micro 5754…Pott Row GC54NPM – cache #3553
A multi cache where it would have been quicker to park near the cache and walk back to the church – except I didn't know where the cache was… so I drove past the church one way looking for a place to stop, turned round near where I found the cache and drove back to the church to park and get the info, then got back in my car, drove a bit down the road to find a place to turn round again, then drove back again, passed the church (for the third time) and ended up where I had first turned round… I found the cache easily enough though…. Then I realised I hadn't taken a picture of the church for my records, so I turned round again, drove past the church again, turned round again and drove back to the church again to stop and take a photo… Fortunately I was now heading the way I wanted to go as I had already driven up and down the road 5 times !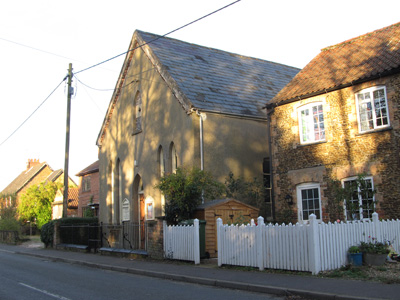 (The CO was obviously amused by my log which was basically as written above cos he sent me an email thanking me for visiting it !)
9th November 2014 – Church Micro 5249…Kings Lynn – St Nicholas GC4YHMB – cache #3554
There were no more village churches within striking distance so I headed into King's Lynn city centre where there are 4. I Parked as usual in Morrisons car park, well it's right on the edge of the shopping area and parking is free !
This churchyard was a building site so I couldn't walk through it to the cache as the description said, instead I had to walk right round the block and I struggled to find a way in to where the cache is… eventually I took a path which seemed to be heading in the right direction between two blocks of flats, and found I could get to the cache through their car park at the back !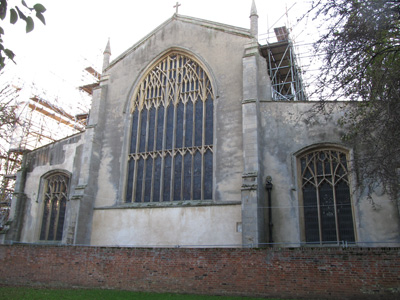 9th November 2014 – Church Micro 4025…Kings Lynn Minster GC53KMX – cache #3555
Another King's Lynn church that was a building site ! No problem getting to the required information for the multicache though and from there no problem getting to the cache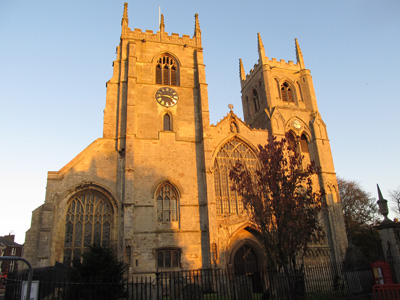 After this I didn't find GC51ZF9 Church Micro 5592…King's Lynn – Methodist a multi cache where I found the info easy enough and it translated to a very likely looking place to hide the cache, but the whole area was piled high with fallen leaves and with so many people in the park I couldn't really do a finger tip search looking for the cache… maybe I'll be back one day for another look.
After this I didn't find GC51K4X Church Micro 5462…Kings Lynn – St John – second DNF in a row, again too many fallen leaves and too many passing people to do a fingertip search, I got some funny looks from just being seen hanging around under the trees off the path even though I was using the 'sending a text message' decoy drill
9th November 2014 – Church Micro 6046…South Wootton GC57XVN – cache #3556
On my way back up to Hunstanton there were another 4 caches, on this first one there is a warning in the description that this is a busy place and difficult to find a time when there's no-one about. Twilight on a Sunday teatime is a good time to get it though, nobody about at all and a quick find even in relative darkness as there aren't really many places it could be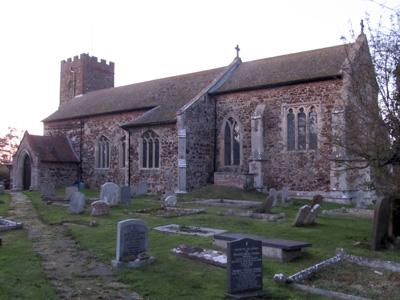 There were three other CM's that I passed on my way back to Hunstanton and I even stopped for the first one, but it was far too dark to find it and as I was heading back this way on my way home the next morning I decided to leave the others until then