Home » Geocaching
Caches 3462 to 3499 – The 2014 Halloween Mega-Event
The Halloween Mega was due to be held at Fineshade Wood near Kettering, a Forestry Commission wood with a large visitor centre full of the necessary facilities… however 4 weeks before the event the Forestry Commission had prlems with a previous user of the property and so decided not to have anyone hire the whole wood out again, thus throwing the event into disarray… They did say though that we could use the wood across the road – Wakerley Wood, though that had no facilities and no access to power or water etc… Not to be put off by the setback the Organising Committee arranged a Marquee, generators, portable toilets and caterers at short notice and the event went on without a hitch. The Halloween Mega had 1,300 attendees making it easily the biggest gathering of cachers in the UK this year
25/10/2014 – The Halloween Mega 2014 GC4YCAV – cache #3462 Last year for my 'Attended' log at the Mega I wrote "My 3,000th cache Not much point writing more as nobody will read it !" and a few minutes later got an email congratulating me on my 3,000th cache followed by some other emails castigating me for not writing a proper log (and not from the Halloween Mega Committee members)… so this time aware that people do read the logs I wrote a little more. I spent a lot of the day inside the marquee helping Adam with his UK Cache Mag stall (as usual) and I really liked the ever increasing shadows on the roof caused by the falling oak leaves and pine needles, they gave it a very 'woodland' feel. We did leave Adam alone in the tent in the afternoon while the girls and I went off caching Hopefully as the 31st is a Saturday in 2015 we will actually have the event on Halloween next year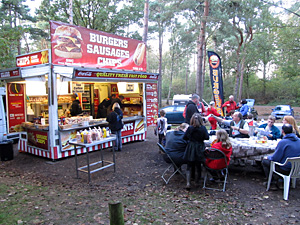 25/10/2014 – Lab Cache – A little bit of Magic – cache #3463 Lab Caches enable the organisers to put out a set of temporary themed caches just for the event, which is great for an event like this. I'd not bothered about Lanb caches on my previous encounters with them in Kent and Ayr but this time as they were part of the trail Team Cachemag (Angel78, Ladyjude75 and myself) decided that we would do them as we went round, and indeed the first cache outside the Marquee was a Lab Cache for which the codeword was Pumpkin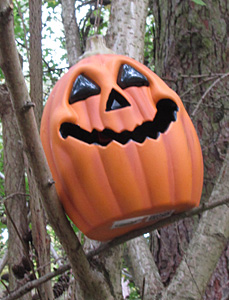 25/10/2014 – Lab Cache – The Creature – cache #3464 The second Lab Cache – Codeword Spider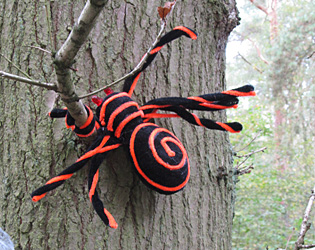 25/10/2014 – CoCo GC5DEX0 – cache #3465 The first 'real' cache of the day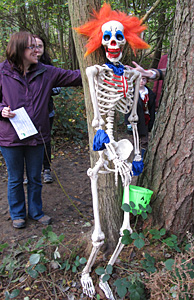 25/10/2014 – Lab Cache- Evidence Left Behind – cache #3466 Codeword KP53EWG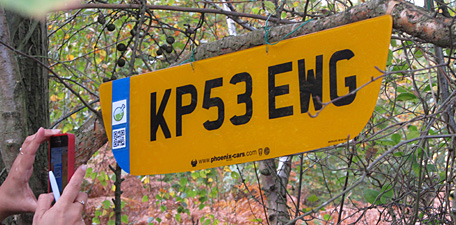 25/10/2014 – Deady Bears Picnic GC5DEX8 – cache #3467 By this time we had adopted a cacher from Warwick sezbetts and her two dogs who joined us for the rest of the afternoons caches, she was relatively local to Adam in Coventry adn Ladyjude75 from Solihull and had been to some of the same caching events so as neighbours we cached together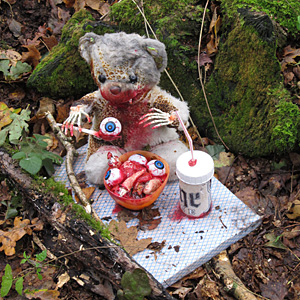 25/10/2014 – Spitting Sid GC5DEZA – cache #3468 A spitting cobra that works ! Yes we got wet… because of small boys repeatedly setting it off !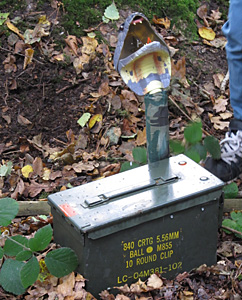 25/10/2014 – Lab Cache – The Victim – cache #3469 Hanging in a tree, Codeword Tie as that was all he was wearing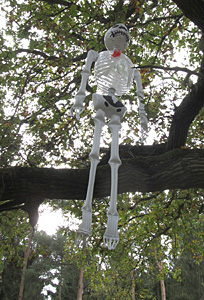 25/10/2014 – Eerie Ironstone GC5DEX8 – cache #3470 A nice easy multicache found with clues from an information board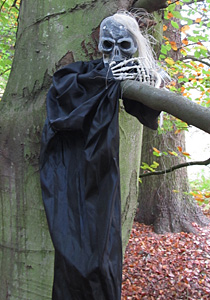 25/10/2014 – I Want My Mummy GC5DEZE – cache #3471 Problem is when there are 1300 cachers in a small space you don't need to find caches, you just look for a group of people and they pass the logbook to you to sign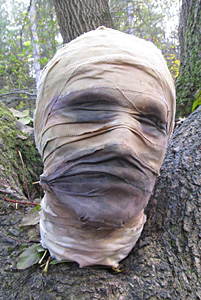 25/10/2014 – Freaky Fawna GC5DEZF – cache #3472 The Mega's puzzle cache We didn't actually solve the puzzle, we were walking along the path, got to a muddy corner so took a detour on higher ground that looked to be well used, and found the cache behind a tree we had to walk round the back of anyway… We had no idea which cache it was, but as there wasn't a cache on the map at that location and we'd already done the multi it had to be the puzzle !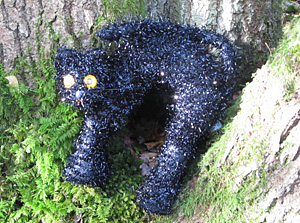 25/10/2014 – Lab Cache – The Murderer's Home – cache #3473 It was here that we gleaned the theme behind the Lab Caches as the codeword to where the murderer came from was Gallifrey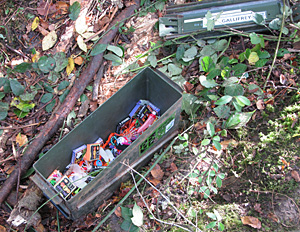 25/10/2014 – Lab Cache – Murderer's Henchman – cache #3474 Henchman or adversary ? – Codeword Dalek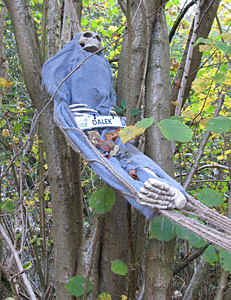 25/10/2014 – Finger licking good! GC5DEZ6 – cache #3475 I was getting a little hungry by now, well it was 1pm and we'd had breakfast at 8am… still a long way to go before we got back to the Burger Van Sezbetts holding the cache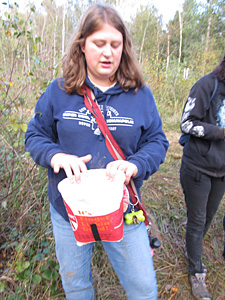 25/10/2014 – Ram Man GC5DEZG – cache #3476 If some of the cache hides look familiar it's because they are, the Halloween themed caches are reused every year and the containers replaced at the end of the event with normal tupperware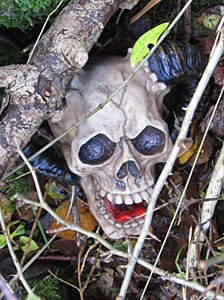 25/10/2014 – Lab Cache – Murderer's Escape Route – cache #3477 We thought we might have to open all of the ball containers to find the Codeword (as at Kent they had had a ball pool of 100's of balls with the clue printed on just one ball) but fortunately it was easier to find than that… the method of escape ? Tardis of course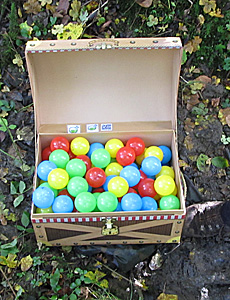 25/10/2014 – Brideshead Revisited GC5DEZK – cache #3478 This cache is better when you actually have to be the one to open the head to get out the logbook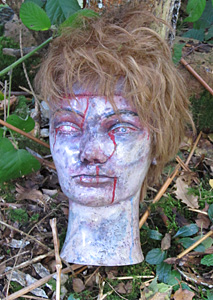 25/10/2014 – Lab Cache – Murderer's Best Friend – cache #3479 Not sure the best friend could actually climb the watch tower – Codeword K9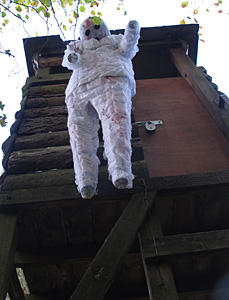 25/10/2014 – Cull de Sack GC5DEZN – cache #3480 A sack full of dismembered feet and hands, lovely !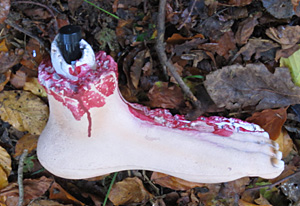 25/10/2014 – Two-faced GC5DEXZ – cache #3481 We nearly sent a 'Needs Maintenance' log here, neither stamp nor stamping book in this supposed letterbox hybrid cache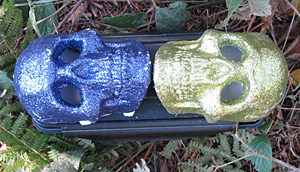 25/10/2014 – Rise of the Dead GC5DEY0 – cache #3482 Does that barrel contain toxic waste ? or just the log book ?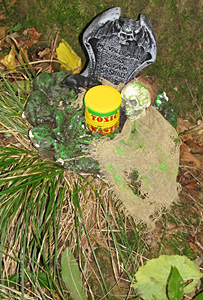 25/10/2014 – Lab Cache – Instrumental in the murder – cache #3483 Presumably he was brained over the head with it while invading the stage – Codeword guitar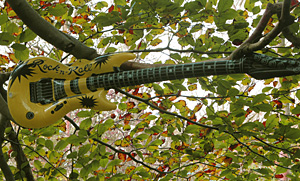 25/10/2014 – The Verminator GC5DEY4 – cache #3484 Oh, the mud round here was horrible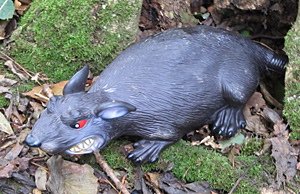 25/10/2014 – Lab Cache – The Coffin – cache #3485 And at the end of the Lab Cache trail, a shelter in the wood and inside… an Ood ! Codeword 23/11/1963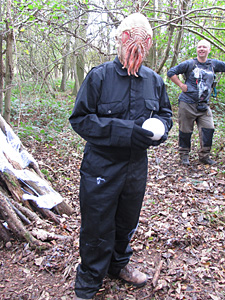 25/10/2014 – Pharoah 'nuff GC5DEXY – cache #3486 We were now at the far end of the wood, it had taken us just over 2 hours to get here – and we were all of a mile and a half from where we had set off !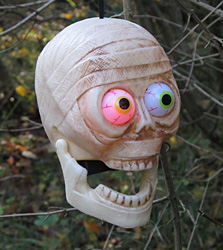 25/10/2014 – Buzz off! GC5DEXW – cache #3487 There was one nearly as big as this flying around inside the Marquee !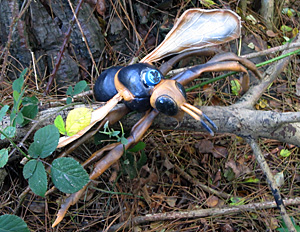 25/10/2014 – Just hangin' around.. GC5DEXT – cache #3488 As these caches all get to be replaced by normal tupperware after the event you can tell that the hints are all going to be 'Base Of Tree'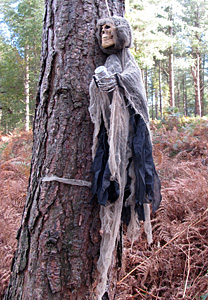 25/10/2014 – Toot and come in GC5DEXQ – cache #3489
I seem to remember this played a tune when you opened it in previous years, it was quiet for us this time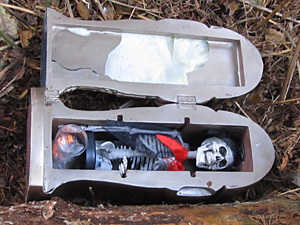 25/10/2014 – Think outside the box GC5DEXK – cache #3490
From the cache name I had worked out what this was going to be long before I saw it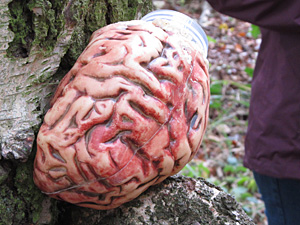 25/10/2014 – Life's too Short GC5DEXH – cache #3491
I never even saw the cache, Sezbetts headed down into the hollow to find it and as whe stayed crouching down the cache was always hidden behind the logoflague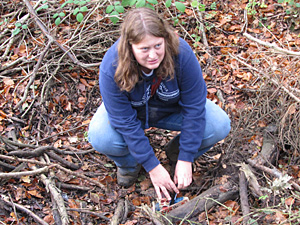 25/10/2014 – Eye Scream Sundae GC5DEXF – cache #3492
One that Angel78 found all by herself, without map nor GPS – she just used her cachers instinct (I think she just followed the cachers trail myself !)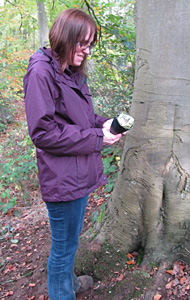 25/10/2014 – Frankie goes to Wakerleywood GC5DEXD – cache #3493
I like Frankie, his eyes move from side to side and his lights flash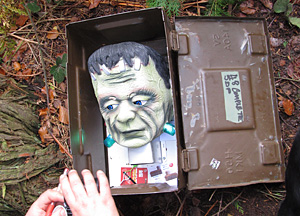 25/10/2014 – Short John Silver GC5DEXC – cache #3494
Nearly got mown down by a Mountain Biker near here – well we were walking along the Mountian Biking track (all banked curves around the trees, but a proper stone path, no mud)… I wonder how mad they thought we were, a thousand people wandering round the woods, half in some sort of scary costume…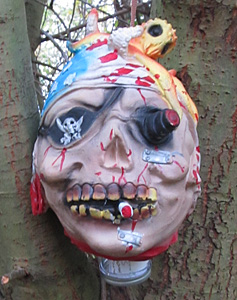 25/10/2014 – Shelobs children GC5DEZ2 – cache #3495
The children may have been spiders but Shelob herself looked more like an octopus to me !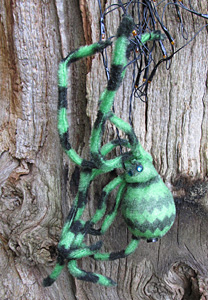 25/10/2014 – Broom Lane GC5DEX7 – cache #3496
Onto the homeward stretch now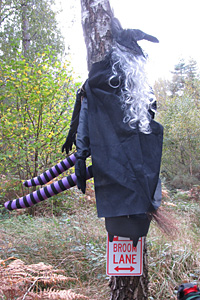 25/10/2014 – Lump GC5DEX4 – cache #3497
… and after 35 caches it was back to the marquee for a sit down, the burger van for some sustenance (and cups of tea) and the toilets for some relief, though not necessarily in that order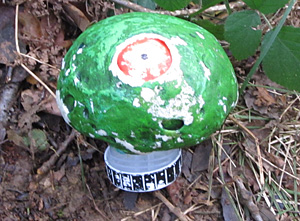 25/10/2014 – Wakerley Wherigo GC5EK2Y – cache #3498
After a quick count up I found I had almost got to 3500 caches and so I decided that the first night cache would be the one for this mark and so needed to find another couple before then (there were about 10 we hadn't found in the wood) so Angel78 and I headed out for the nearest unfound two I'm not going to say we played the Wherigo cartridge cos that would be telling a fib, but neither did we ask anyone else for the coordinates or follow anyone else to it, though we did meet Richlay and his eldest son at the cache – Knowing me Richlay was not at all surprised that I had got to the cache without doing the Wherigo ! (I seem to have a reputation for hacking the Wherigo cartridges into an emulator to get the coordinates !)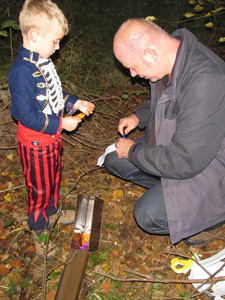 25/10/2014 – Fangtastic GC5DEYH – cache #3499
It was beginning to get gloomy in the wood by now, but there was no problem locating the cache !