Home » Geocaching
Caches No's 3320 to 3329 – The Morton Meander
One reason I like circular series without bonus caches is that you don't 'have' to start at the specified start and do them in a particular order… so when I saw a new series called The Morton Meander published earlier this year I marked it down as one to do when I could walk properly again ! As it was, it took about 4 months from publication to getting round to doing it.
The series starts in the village of East Morton, but as it is a small village with narrow streets and a Saturday teatime there were all the residents cars already parked up in all available spaces so I parked half way round the route and set off down a joining footpath to where the route was – and then because of the proximity of several cows just the other side of the gate decided to go clockwise rather than anti-clockwise
12th July 2014 – Morton Meander 7 – Lapwing View GC502TP – cache #3320
So this – cache # 7 of 10 was the first of the series I came to !
A relatively easy find as from the hint I had worked out what sort of cache I was expecting to find – and it was just as I expected…
12th July 2014 – Morton Meander 6 – The Old Bridge GC502TC – cache #3321
I had failed to find an earlier cache in this general vicinity the last time I walked down this path (2 years ago) but this one was quickly spotted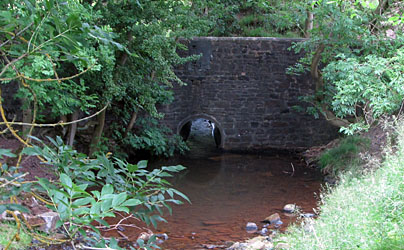 12th July 2014 – Morton Meander 5 – The Tree GC502T9 – cache #3322
The path through the woods is rather more overgrown and less defined than the spoiler photograph from March shows, but from many yards away it was obvious where the cache was going to be, and it was a quick find when I got there – I didn't even need to check the GPS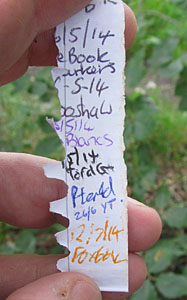 12th July 2014 – Morton Meander 4 – Waterfall GC502RN – cache #3323
No problem finding the cache here except I chose the wrong side to look at first – but then I always do choose the wrong one out of two choices – it's just a talent I have for being in the wrong !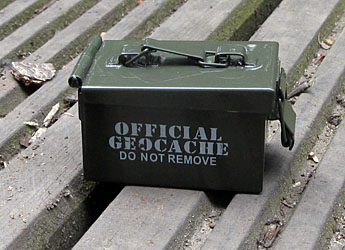 12th July 2014 – Morton Meander 3 – Pool View GC502RA – cache #3324
A bit overgrown round here and being under the trees meant that the GPS signal wasn't that accurate… so it took a bit of rummaging around and finding nothing before I read back through all the logs and saw people putting things like "went straight to it" which didn't seem like the cache was going to be in the middle of an impenetrable bush – so I looked in the 'easy' places and found the cache.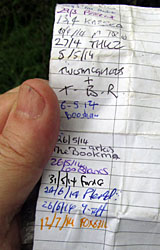 12th July 2014 – Morton Meander 2 – Upwood Lane GC502QZ – cache #3325
Only one place the cache could be, and it was there !
Having started at Number 7 and come to this spot from Number 3 I then had to decide whether to wander down to find number one or carry on round the circle leaving 1 for later… the presence of kids playing with dogs at the bottom of the track persuaded me to miss 1 for now and head for number 10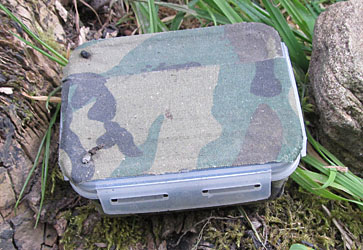 12th July 2014 – Morton Meander 10 – The Gatepost GC502V5 – cache #3326
about 8 gateposts in the vicinity, I found it at only the second one I looked at !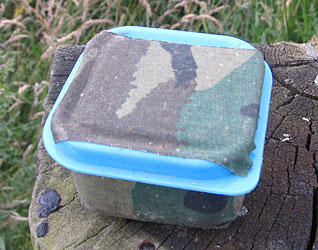 12th July 2014 – Morton Meander 9 – Great View GC502V0 – cache #3327
This was probably the hardest of the trail to find, having no visible feature for it to be hidden by except for on the wrong side of the very overgrown trail… So it took a few minutes of searching before I found it – a find that coincided with a large shout of 'Howzat !' from the cricketers playing a match down on the village pitch a couple of fields below me…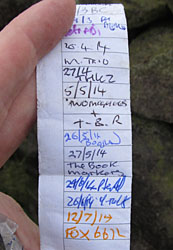 12th July 2014 – Morton Meander 8 – The Copse GC502TW – cache #3328
Last cache of my walk around the circuit, and from 30 yards away I could see which feature the cache was bound to be hidden at – and though it took a few minutes to search every nook and cranny I got it eventually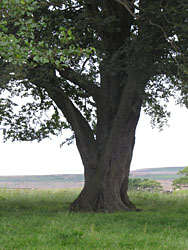 12th July 2014 – Morton Meander 1 – Green End Road GC502QJ – cache #3329
After missing out Number 1 on my walk around the circuit I drove down into the village from where I had parked and turned up the road to this cache… as it was Saturday Teatime everyone was at home and so there was nowhere to park at all anywhere near where the clue was for this multicache… in fact I had to park on the roadside at the end of a long line of cars and walk back into the village to get the required numbers, then I worked out the co-ords and headed off to them. An easy find when I got there and only a few feet from where I had parked !