Home » Geocaching
Caches No's 3313, 3314 & 3315 – A Sunday Morning In Horsforth
Sunday morning and I decided that I had spent so much time watching football over the past few days that I needed to go out and get some fresh air. So I headed to Horsforth to find a few caches, one I knew exactly where the area it was in was as I used to work about 100 yards away and walk through the woods at lunchtime. The first cache I looked for, GC5092R Nymph I didn't find – as with everyone else who has looked over the past 3 months I couldn't find it. It is (or at least was) by a fishing pond, you have to think that some fisherman found it while waiting for a bite.
29th June 2014 – kon-under-om GC507DP – cache #3313
This was the cache near where I used to work. It's a good job there is phone coverage as I needed a spoiler picture to recognise the cache !
Much smaller than I was looking for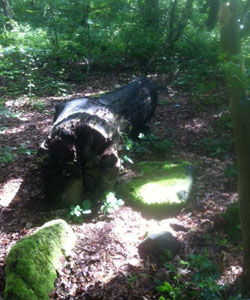 29th June 2014 – What A Beautiful Mess GC57HN7 – cache #3314
The beautiful mess is what is left of a quarry that had been in use for 30-40 years up until about 10 years ago. It was a reasonably straightforward find, more difficulty getting the cache out from it's hiding place than finding it !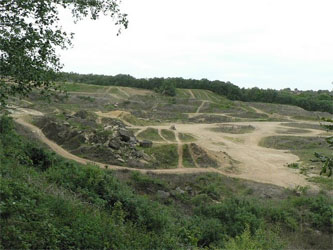 29th June 2014 – Xploring the Park GC57GBW – cache #3315
A nice Sunday morning for a walk around Horsforth Hall Park, loads of people about as there was some sort of kids Cricket tournament going on.
I collected all the clues and then sat down to work out the co-ordinates, a bit confusing as there seems to be one number missing (W coords say 001 E.FGH – but they should be 001 E#.FGH) however there was only one logical number for '#' so I had little trouble finding the cache.
I had a longer walk than I might have had as I walked in a circle round the park and ended up a fair way away from the final… if I'd followed the route in the clues and I would have had a shorter walk !