Home » WASH
WASH 1996
I think the first WASH cost something like £14… It was £18.50 in 1986 when it went to 3 nights for the first time, by 1996 that price had doubled to £38, and here we are in 2009 and the price has almost doubled again to £72… adding it all up over the years means I've spent nigh on a thousand pounds going to WASH – but then, adding it up over the years means I have spent 2 months of my life there !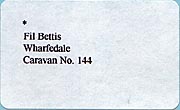 What the Committee said…
NEWS FROM WASH

WASH (Weekend At Sunny Hunstanton) this year will be held over the weekend of Friday 8th to Monday 11th November 1996 at Searles Holiday Park, Hunstanton.

The weekend will cost £38 and booking forms will be sent out in mid-June. As usual accommodation is in caravans.

As well as the usual discos and bands, the go-karts and video music quiz will both be back. The WASH committee are also looking at other activities to keep you entertained.

There will be a fancy dress competition with £100 prizes for both the individual and group winners.

For more information see the next issue of Plus News or watch your Group noticeboard.

Advert in Plus News May 1996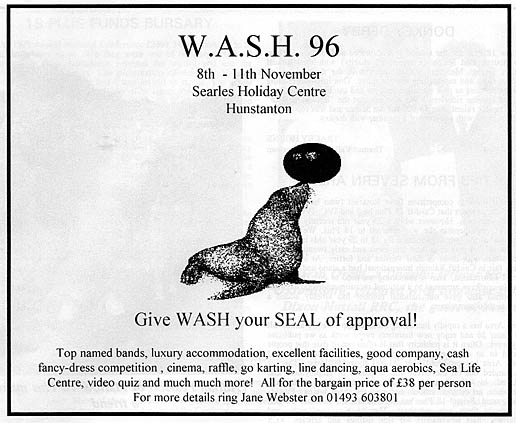 Advert in August 1996 Plus News
What the Committee said…
WIN A WEEKEND BY THE SEASIDE

To celebrate its continuing success throughout the last twelve years, WASH 96 is offering a free place to the lucky winner of the competition detailed below.

From humble beginnings WASH has grown to be one of the best attended events in the 18 Plus calendar. As each year has passed, the facilities and entertainment on offer have improved. Searles Holiday Centre of Hunstanton, which has been the home of WASH since the beginning, have spent many thousands of pounds to achieve coveted 5 star awards and have recently been voted one of the top holiday centres in East Anglia.

The entertainment has grown to include some of the best names in music with acts such as Rage, Capella, Let Loose and Clock, and from the world of comedy Brian Conley, Joe Pasquale and Mike Reid appearing over the last few years.

WASH 95 has been called by some the best WASH ever, with WASH 96 looking to be even better. So this is your chance to be there for FREE, by winning our competition.

Just answer the three questions below. The winner will be the first correct entry drawn after the closing date (Saturday 24th August 1996).

All entries to be sent to:David T of the WASH Committee

Only one entry per person although more than one entry in an envelope is permitted, ie a whole Group's entries in one envelope.

The questions are:

1 In which Norfolk seaside town does WASH take place ?

2 Which of the following acts have appeared at WASH in the last five years ? – Clock, Oceanic, KWS, Capella, Let Loose

3 In which year was the first WASH ?

The WASH Committee's decision is final. If deposits or balances have been paid, payment will be refunded.

Good luck !

Article in Plus News August 1996
What the Committee said…
WASH 96 REVIEW – HOW WAS IT FOR YOU ?

If the comments received from the questionnaire sent out at the end of the weekend are anything to go by, then it appears that WASH 96 was one of, if not the best, WASH ever !

For those who didn't attend or have forgotten due to excessive alcohol consumption, it went something like this…

Friday evenings main event featured two live bands. The first band to start the weekend was Nulli Secondus, a highly talented rock band, followed by Brit Pop specialists Swains. The capacity crowd filled the venue & the atmosphere was just right.

Saturday daytime came & for those who wanted to gently ease away their hangovers there was swimming, the use of the gym or relaxing with the film "Twister".

Alternatively, a video quiz to exercise the brain cells was available & for the more lively, Line Dancing & Kareoke were on the bill. Saturday night saw the best fancy dress competition ever, followed by top recording artistes Kenny Thomas & Jx.

Sunday lunchtime saw us entertained by a local Norfolk band, the extrovert Chunky Buzz. Then it was down to the theatre for an excellent comedy show with one of the funniest & crudest comediennes ever, Pauline Daniels. (Example of her jokes: 'Ladies, what is the worst thing about oral sex?" "The view !').

On Sunday night, the weekend was rounded off by the superb Voulez Vous followed by Foxx, who I am reliably informed by the ladies on the committee (& the female Searles bar staff) were very popular with their rippling muscles, ripped jeans etc etc. The whole
room was alive with party atmosphere – a great finish to a thoroughly enjoyable weekend !

Our survey indicates that WASH 96 provided something for everyone & there is already much interest in WASH 97.

Booking forms will be sent out in the summer, so make me your group will be there !

The Israelite (WASH Spotlight Spring 97)
What they said…
HUNSTANTON – PRAISE THE LARD

As usual, the Weekend At Sunny Hunstanton (WASH) started in fine style. Two bands – Nulli Secundus (a heavy rock band) and Swains (a Indie Pop cover band) – provided the entertainment whilst members caught up on gossip with old friends and sunk a bevvie or two.

Saturday dawned and the brave tested their constitution with a cooked breakfast whilst others nursed their hangovers with a black coffee. Thus fortified, people assembled for the karaoke and some remarkably competent line dancing. A tidal wave of people flooded into Hunstanton later on in the afternoon to see the movie "Twister".

Members were driven out of their caravans by Blind Date on the telly and headed off to see the first act of the evening – The Bernadette Wilde Band who covered songs from some of the biggest artistes from the 70's and 80's. More contemporary music was provided by Kenny Thomas who sang some songs including his hit "Thinking About Your Love" and JX who performed a short set including their hit "Son Of A Gun".

For many the highlight of the evening was the fancy dress competition. There were some superb entries but the group winners were Northwich 18 Plus (last year's winners) dressed as the Flintstones complete with car and the individual winner was Geoff of Grimsby & Cleethorpes 18 Plus as Pinocchio.

At Sunday lunchtime the band Chunky Buzz entertained with an offbeat act and the comedy show took place at the Princess Theatre. Sunday evening's entertainment started with Voulez Vouz – an ABBA tribute band who really looked and sounded the part. The evening finished with a treat (especially for the ladies). The band Foxx (complete with bare chests and very holey jeans) were a big hit as was shown by the bouts of screaming. They took their lives into their hands by performing on a cat walk. A number of women tried to get their hands on the band and even Sandra, National Chairman, was heard to say that she couldn't be held responsible for her actions whilst they were on stage !

Some members made their own entertainment. As you might have seen, the Dosser elections took place in the back bar on Saturday and Sunday nights. The Dossers started many years ago as a joke between two people and grew from there. The joint winners of this year's election of the Number One Dosser were Keith the bar man and a rubbish bin wearing a tartan cap ("Bin Nevis") !

Not to be outdone, South Essex Area held their
own congregation on Sunday. Andy "Dewhurst", their Area Chairman, officiated in an offbeat ceremony. There was a bottle of red wine and some Pringles took the place of the communion wafers. Two unsuspecting members were anointed at theceremony by having a packet of lard smeared over their faces whilst the choir sang "Praise the lard" !

One person who enjoyed WASH more than others was Emma B of Great Yarmouth 18 Plus who won the free weekend at WASH offered in the August issue of Plus News (I bet you wish you'd entered now)

KATIE H, PLUS NEWS EDITOR (Plus News November 1996)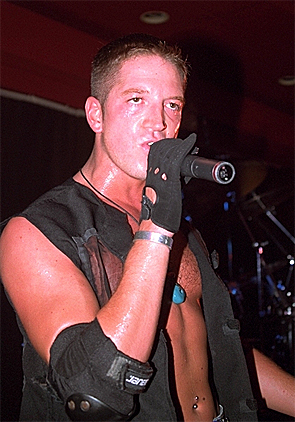 One of the members of Foxx
apparently females find this sexy
A funny thing happened…
Due to the vagueries of international time zones the Saturday Lunchtime Karaoke in the Mariners Bar coincided with the World Cup qualifying match between Georgia and England in Tblisi that was showing live on the TV's around the room.
The karaoke had been going on for 40 minutes or so when this girl got up to do her song….
"Tonight Matthew, I'm going to be strangling my cat as Whitney Houston"…
as she belted out the final (flat) note a great cheer rang out from all around the room and just for a single moment she stood there basking in the glory of her singing success…. and then she realised that the cheers were not for her, but for Teddy Sheringham who had just scored Englands first goal.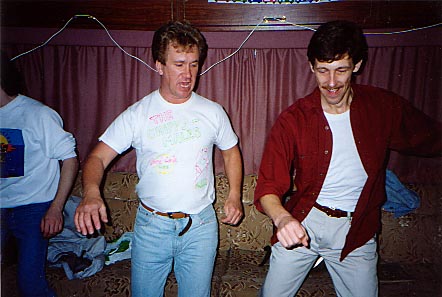 The Barnsley boys Tony & Brian practice their dancing
for their late night party in the privacy of their own caravan
– do they really think there'll be room to dance ?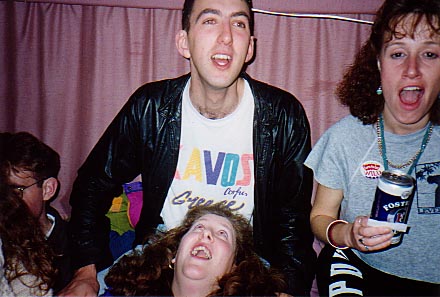 Later that same night in Barnsley's caravan
and there's no room for dancing, people are having to sit two deep on the settees
(Paul from Hull, Cath & Carol from Bradford)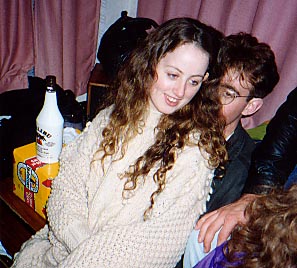 Sally and Dave from Leeds Group have this party thing off fine.
A 24 pack of lager for him, a bottle of malibu for her
A funny thing happened…
New members come around quicker than you imagine, 1996 was only 5 years after the Golden Jubilee year of 1991 and you might imagine that many of the people at WASH would have been around for those 5 years, but that proved not to be the case. On the Sunday night in the Mariners Bar the Dossers were holding their elections (see section on Dossers for more information) and I had brought a bottle of 'Jubilee Wine' to toast the new number one. This bottle was opened and passed round the assembled gethering, it was pretty obvious who were the 'old hands', they were the ones who passed on tasting the wine (remembering just how bad it had tasted in 1991) The new members, they were all eager for a taste and the looks on some of their faces when they took their first mouthful told the story… Jubilee wine hadn't improved with age. I didn't tempt fate and try it myself so I can't tell you whether it had got better or worse. (I still have a bottle or two kicking around should anyone wish to try it another few years down the line)
What the Committee said…
WASH SPOTLIGHT – SPRING 97

YOUR VIEWS ON WASH 96
Your views are important in telling us what you want from WASH, so we sent out questionnaires via all group booking officers immediately after WASH96. We have received a total of 237 replies from 40 groups. The new committee will be considering all views expressed as they plan WASH 97 & some of the results from the survey are shown below.

MEMBERS RETURN TO WASH YEAR AFTER YEAR !
27% of members were attending their first ever WASH in 1996.
However, the average was 3 to 4 times, with some members returning up to 13 times !

WHY DO MEMBERS GO TO WASH ?
Most people gave more than one reason, the most popular reasons are shown below :

Other reasons included : Being with friends, getting to know your own group better,
a change of scenery, the dossers, sex & the ducks !

WASH IS VALUE FOR MONEY
99% of you agreed or strongly agreed that WASH was value for money

WILL YOU BE ATTENDING WASH 97 ?
9 OUT OF 10 SAID YES !
9 out of 10 of you said yes, you would probably or definitely be attending WASH in 1997
A funny thing happened…
There was great controversy (in some quarters at least) over the results of the fancy dress competition this year. Austin and Sonia, who can always be relied upon to come up with some fantastic fancy dress outfits turned up as Wallace and Grommit in 'The Wrong Trousers', and were totally convinced that they would win the £100 first prize on offer. Unfortunately the judges didn't agree with them and Geoff as 'Pinnochio' won.
Austin, however wasn't willing to give up that easily and went round getting people to sign a petition to have the result changed… it didn't happen, and because of the fuss caused this was the last of the WASH fancy dress competitions – though themed fancy dress nights remain popular with some people.
Click to go to
Previous Year 1995
Next Year 1997