Home » Geocaching
Caches No's 3205 to 3219 – The Kent Mega 2014 – part III
The next day, Bank Holiday Monday was a long day for me, we got up for 9:00am and because the Premier Inn breakfast would have to be paid for and is expensive we decided to go elsewhere (and found a nice cafe where the similar food was almost 50% cheaper). Then we did a bit of caching around Maidstone and eventually set off home at about noon… we then made a couple of stops on the way home before getting back to Coventry at about 8pm, where UKCacheMag was complaining of falling asleep and was looking forward to an early night – I then drove Angel78 back to Lichfield where she was complaining of weariness and looking forward to an early night… Meanwhile I still had a 2 hour drive back to Otley, not getting back until gone 11pm… no early night for me !
5th May 2014 – SideTracked – Maidstone West GC4RV0N – cache #3205
Before heading home the day after the Mega Angel78, UKCacheMag and I decided to find a few local caches near our hotel… this one was pretty close (to the Hotel) and was the first we found, though it took a couple of looks before we spotted it
5th May 2014 – Maidstone Performing Arts GC4RT0E – cache #3206
A quick find by UKCacheMag once the woman who had been standing right next to the cache having a cigarette had gone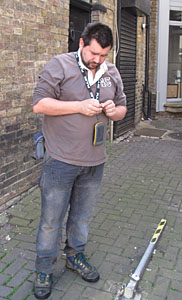 5th May 2014 – SideTracked – Maidstone East GC4RTZJ – cache #3207
An easy find as it was quite quiet here on a Bank Holiday Monday morning… I can imagine it being a bit busier here at some times of the week as the cache is between the railway station and the bus station !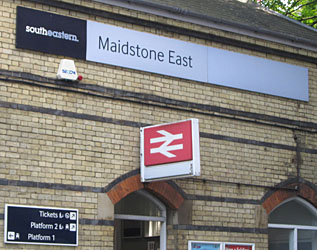 5th May 2014 – SideTracked – Maidstone Barracks GC4RV06 – cache #3208
This was the last cache in Maidstone that we went for, another easy find as it was clearly visible – we hid it better !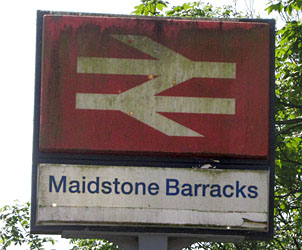 5th May 2014 – Strathmore Scouts – in or out? GC2NE24 – cache #3209
On our way home we stopped off at a village called Slip End to find a few caches. We left our car in the pub car park and wandered down the road to this cache… the stickoflage was clearly apparent to the experienced cachers eye from over the other side of the road !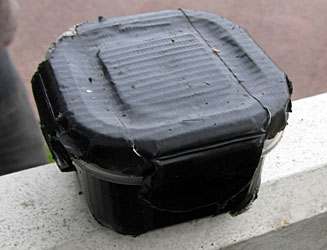 5th May 2014 – Strathmore Scouts – Hole in M1 GC2NE18 – cache #3210
We were surprised at how busy this footpath over the M1 was it seemingly goes from nothing much to nowhere much, but though the cache was easy to find but we did have to rush to put it back between people passing by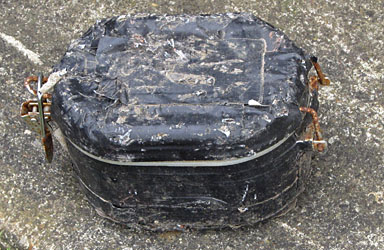 5th May 2014 – Strathmore scouts – Scout so High GC2NE0H – cache #3211
A quick find for UKCacheMag as Angel78 and I were looking at the wrong tree !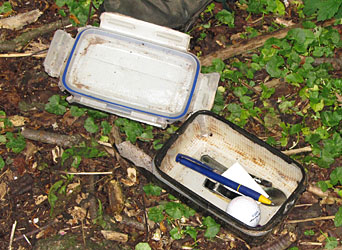 5th May 2014 – Strathmore Scouts – Crash Bang Wallop GC2NE4N – cache #3212
Plenty of nettles to wade through, but a cachers path to lead you straight to the cache !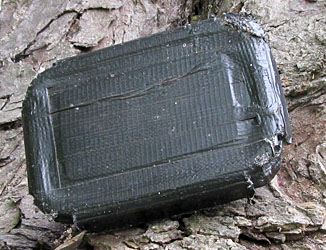 5th May 2014 – M1 Junction 10 – Luton Airport T/B Hotel – GC2ARGK – cache #3213
We walked up the side of the field to where the path split then had to make a decision as to which path to take… as usual I chose the wrong one so had to go past the cache and walk back down to it from where the paths met again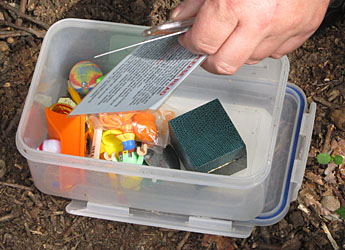 5th May 2014 – Ye Ole Survey Monuments GC45CC – cache #3214
This time logging YSM069 Dunstable Down
Further North we stopped off again, this time at a National Trust piece of land on Dunstable Down to stretch our legs, have an ice cream and grab a few caches.
The YOSM was easy to find being on a grass verge at the entrance to the Whipsnade Down Visitor Centre car park
5th May 2014 – National Trust South Bedfordshire: Family Trail 1 GC2YV2N – cache #3215
We approached on the wrong side of the hedge and had to clamber through a (well used) gap and over the wire fence, popping out by the cache a couple of yards away from a bench on which was sat a father tapping something into his phone and his young son… judging by the knowing looks they gave us and the foreign language they were speaking they were presumably Jongdutchman just logging their find on the cache as theirs was the last name on the log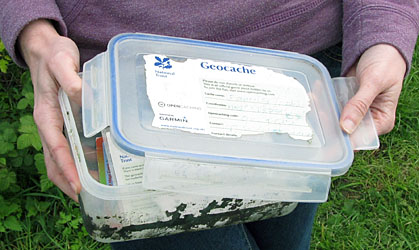 5th May 2014 – National Trust South Bedfordshire: Family Trail 2 GC2YV39 – cache #3216
Another cache that we tried to approach on the wrong side of the fence… and then had to retrace our steps to get into the right field. The stickoflage covering the cache was very obvious from several yards away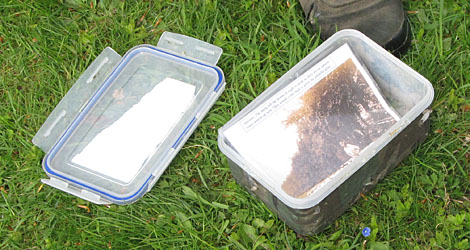 5th May 2014 – National Trust South Bedfordshire: Family Trail 4 GC2YV44 – cache #3217
An easy find in the woods as it was away from the Scouts who seemed to be having a fine time learning some woodcraft, at this cache I dropped off the Goudurix Travel Bug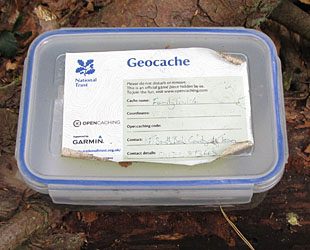 5th May 2014 – National Trust South Bedfordshire: Family Trail 3 GC2YV3H – cache #3218
Last of our caches on the Down, very busy up here on a sunny Bank Holiday afternoon with lots of kites flying and dogs running about, but the cache though by the carpark was in a quiet corner and an easy find…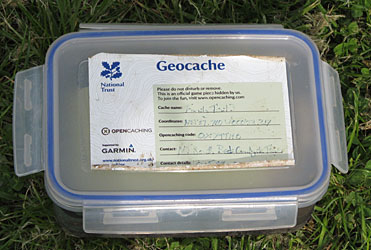 5th May 2014 – National Trust South Bedfordshire: Tree Cathedral GC39HK8 – cache #3219
As we walked round the Down we saw footpath signs to the 'Tree Cathedral', intrigued by this name we decided to visit – though we got back in the car and drove round to the Tree Cathedral car park rather than walk there and back !
There was a family having a picnic right in front of the cache – not surprised, with the blossom out on the trees this was by far the prettiest part of the Cathedral – but it meant we couldn't go for the cache in the normal way, so UKCacheMag went around the back of the hedge and crawled through to reach the cache.
At this cache I dropped off the Bamboo the Panda Travel Tag to continue it's journey