Home » Geocaching
Caches No's 3196 to 3204 – The Kent Mega 2014 – part II
The Hotel we were staying in managed to cock up our rooms – apparently there were two people staying with similar names (though not very similar to people with eyes to see the surname was spelt differently and one was booked by a Male and the other by a Female) but there you go, the kerfuffle meant that they did give us all a free breakfasts for the first morning, so we stoked up on sausage, bacon, eggs, hash browns, beans, tea, coffee, toast, yoghurt etc before setting of bright and early for Hop Farm and the Mega Event itself 
4th May 2014 – Cuckoo Cache (could be anywhere) GC4C35 – cache #3196
The first cache of the day was a rare traveling cache… this one is kept inside a TB, and unfortunately doesn't actually travel, it just visits events, however it is the only UK based traveling cache, and as new ones were stopped many years ago it is quite a rare find.
From the log book I was FTF of this cache at the Mega… well as I was setting up the UK Cache Mag stand I was able to find the cuckoo cache an hour before the Mega opened.
I was determined to sign the log as at the UK Mega at Gaydon last year I was sat on the stall next door to the cache and never got round to signing it !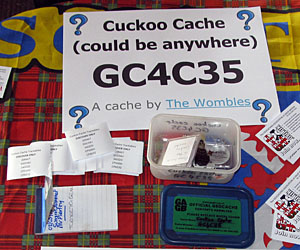 4th May 2014 – Kent Mega 2014 GC4PKB2 – cache #3197
As usual at these events we spent almost all day sat inside the venue on the stall selling magazines.. there were over 1,100 visitors to the event so it did quite well, the lovely sunny warm Bank Holiday weather helped – but we were stuck inside !
It was nice to see so many people and to chat to those who came to talk to us on the stall. Here is a picture of those who were still around at the end

4th May 2014 – Church Micro 799…East Malling GC4BFYZ – cache #3198
Found on our way back to our Maidstone Hotel after the Mega… reading the previous logs about the 'different' container we didn't know quite what to expect, but were suitably impressed when we found it. I thought the graveyard was pretty big for a small village church…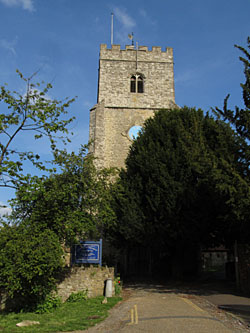 4th May 2014 – Wedding Day GC4Y5V5 – cache #3199
We decided against parking in the hotel carpark right in front of the staff looking out of the window so drove out the entrance and sneaked in the next entrance to park in the side car park… a quick find once we had walked back to the GZ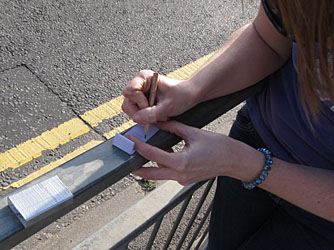 4th May 2014 – From D to L – or from L to D GC4WDNZ – cache #3200
A quick and easy find as the road was not busy on a Sunday Teatime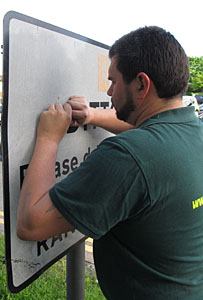 4th May 2014 – singer by fence GC4W0JH – cache #3201
An easy find right by a roadside layby, though a steep banking to climb from road level to cache level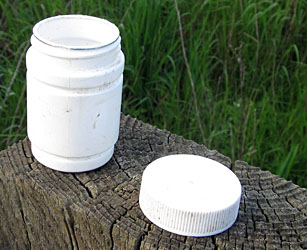 4th May 2014 – KM – Barn Dance GC4XB5B – cache #3202
In the evening after the Mega there was a Barn Dance, in a real Barn… a Hog Roast was available, though as only UKCacheMag had ordered before the closing date (3 weeks before the event !) Angel78 and I had to walk back up to the local Harvester half a mile away in search of sustenance – which did have the advantage of allowing us to find a couple more caches on the way.
After we had got back we worked off some of the meal by having a dance. We didn't see Adam dancing at all but found that he had gone off with his torch finding the local caches in the dark while we were out. It was nice to have such an event after the Mega – a none geocaching event for cachers to attend is good, and barn dancing is something that rhythmically challenged folk with two left feet can join in and not look any dafter than any other participants !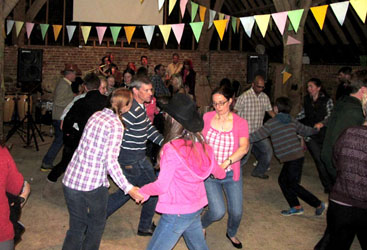 4th May 2014 – Bike GC2P2PC – cache #3203
Found while walking up to the Harvester from the Barn Dance… we had driven down to the venue and seen a group of people looking on one side of the road so were searching there (as we had neither GPS nor phone signal at the cache) and finding nothing… then a car came along and we got the hint and a lift up to the pub after finding the cache from them (sorry, I didn't catch their names, but thanks anyway !)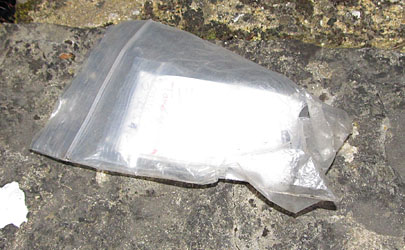 4th May 2014 – To the Barn (Kent Mega 2014) GC4Y660 – cache #3204
This was on a signpost opposite the Harvester so we grabbed it before heading back to the Barn Dance