Home » Geocaching
Caches No's 3173 to 3182 – As I was going to St Ives…
Not St Ives in Cornwall, nor even St Ives in Cambridgshire, but the St Ives estate near Bingley, West Yorkshire.
It was a nice sunny morning and I felt like going for a walk, and I didn't know where to go so I decided to go to a place I had been somewhat avoiding for no good reason. The St Ives estate is a cache rich area that although only 8 miles from home I have only visited once before so there are many caches for me to find…
29th April 2014 – YET ANOTHER GC36Z1E – cache #3173
I had trouble spotting the hint object of a broken fence at first (under the trees my GPS wasn't sending me far enough along the path), but then when I had found it there was no trouble finding the cache
29th April 2014 – Hard as Rock GC1E8K0 – cache #3174
No problem finding this cache either, I just had to avoid the inquisitive dog that was more interested in me than his owners !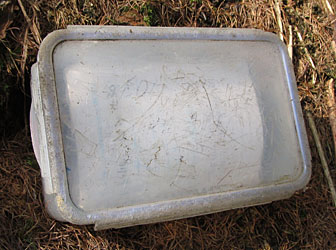 29th April 2014 – A Squirrel's Nuts GCJNNW – cache #3175
It took me a while to find this cache… mainly as it is 30ft South West of the only tree that matches the hint… There is an obvious spot by that tree for it to be but obviously I didn't find it there. Because I had spent so long looking there my GPS had time to settle and so I followed the settled arrow right to where I found the cache… so maybe someone had the same GPS lock as I did and rehid it where their GPS pointed to rather than where the hint indicated where they should have found it.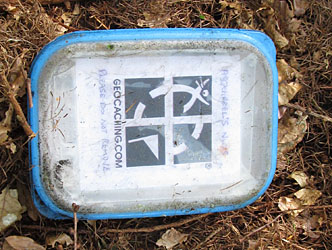 29th April 2014 – BLIND LANE CACHE GC315F6 – cache #3176
I think I looked for this cache on my previous visit years back and didn't find it… I hope it has been moved since then as I was looking 50ft away from where the cache is now !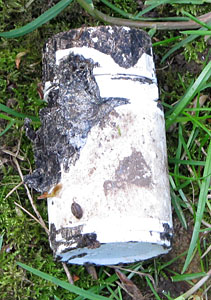 29th April 2014 – BARNEY 3 GC40H78 – cache #3177
Another nice easy find, only one place it could really be (I know I found the forerunner of this cache before, but on the other side of the track)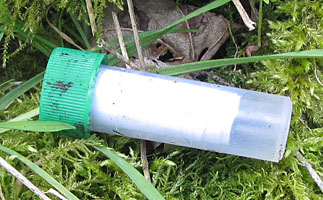 29th April 2014 – Druids' Delight (West Yorkshire) GCJMHT – cache #3178
Spot on coordinates and a good hint meant this was an easy find… well easy except with limited mobility through my bad back it was easier getting down the rocky crag than getting back up !
At this cache I picked up TB56NY1 Goudurix Travel Bug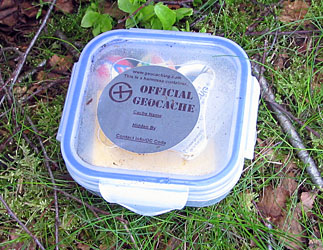 29th April 2014 – FERRAND'S FORAGE GC220FV – cache #3179
An easy fnd, though that's cos the co-ords were good rather than the hint… base of tree near wall isn't very good in a wood surrounded by a wall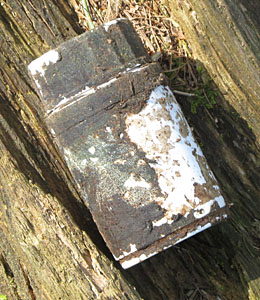 29th April 2014 – FRESH START GC3KCCP – cache #3180
This cache was as far as I got from the car as I was running out of time… I'll have to come back again to do the rest of them (well probably again and again and again !) At this cache I picked up TB60JTV Bamboo the Panda Travel Tag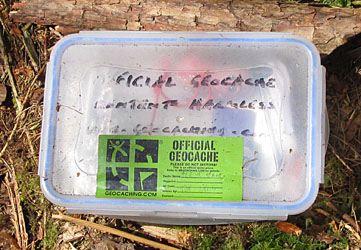 29th April 2014 – BETTY'S HOTSPOT GC1ZA8E – cache #3181
Picked this last cache up on my way back to the car park… obvious feature visible in the middle of the bluebells, I wasn't surprised to find the cache there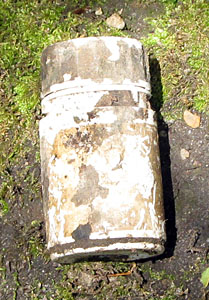 30th April 2014 – Bronze Age at Weston Moor GC51A0A – cache #3182
The next night I had nothing to do so I went to find a newish local cache that I had been a bit concerned about the access to, as it is away from the public footpath marked on the OS map and there are barbed wire fences round all the fields, but there are stiles over the fences that allow easy access to the cache site – well more likely to allow access to the Bronze Age 'cup and ring' marked stones that the cache is placed near.
A quick find when I got there, there wasn't that many places it could be.
You do have to wonder what these stones were for, I mean it's a field in the middle of nowhere these days, but 3,000 years ago it obviously had some significance – probably marks the spot where somebody found the face of (insert your bronze age God here) in a lump of cows pooh !