Home » Geocaching
Caches No's 3158 to 3167 – Four Days of New Caches and Old Caches
Having spent a long weekend caching with Angel78 and increasing my count for 2014 from 36 to 85 I had got back into the habit of caching, so when a local cache was put out I went for it and got a First to Find… then the next day 3 new caches were put out locally and I got another FTF… Then I thought as well as the new caches I would have a drive round and pick up a couple of caches that had been out years but I had not previously stopped off to find. At the weekend we had found every cache we went looking for, but that wasn't the case with the ones at home, a couple had gone missing – or at least I couldn't find them !
16th April 2014 – Smiling on the train GC4WDBG – cache #3158
A rare FTF for me… walked along the railway from the roundabout and used the hint more than the GPS as the signal wasn't too good under the trees.
I can see my house from the GZ
16th April 2014 – SpiesRUs GC4XC5A – cache #3159
A lovely sunset walk to get this cache… I solved the puzzle a few weeks ago, but hadn't got round to going for it until tonight. Obvious where it was going to be when I got close… had to have a couple of goes before I was in a position to retrieve it s tree climbing isn't my strong point with a dodgy back !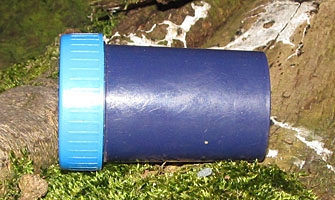 17th April 2014 – Historic Wharfedale – Otley Maypole GC52QBQ – cache #3160
New caches in Otley… so I had a walk down the town after my tea to find them… I didn't bother taking my GPS – I mean with a title like this there's only one object to search 🙂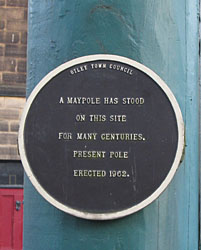 17th April 2014 – Historic Wharfedale – Otley Train Station GC52QP0 – cache #3161
Another surprising FTF… as I wasn't the first to the other cache in Otley published that afternoon I hadn't expected to be first to this one.
When I pushed it back in it's hidey hole I realised I had pushed it too far and it had dropped into a hollow – it as a bit of a struggle to get it back out… which wouldn't be a problem if the next cacher knew it was there – they could have the fun of fishing it out… but I think it would have got a lot of DNF's if I hadn't fished it out and put it back carefully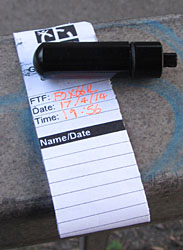 18th April 2014 – A Truckers Delight – A59 – Thomas Paul GC233NX – cache #3162
This must be one of the longest times between finding a set of feeder caches and getting the bonus that anyone has done ever… I found the feeder caches on Feb 28th 2010… that's over 4 years ago. And it's not like I don't do much caching, I've found over 2,900 caches since the feeders, nor do I have to travel a long way to get the bonus cache – I live 8 miles away as the crow flies, and drive up and down the road regularly… it's just one of those caches that I've never got round to going and getting… Until now that is.
18th April 2014 – I've Got Your Number! (Addingham Exchange) GC2R6T4 – cache #3163
Another cache I'd been meaning to stop and grab for years but never got round to it.
18th April 2014 – Nearly a Church micro GC52NZT – cache #3164
A cache on an island in the middle of the road, could be a bit of a problem to get in the middle of the day, but at 8.30pm in the dark it's an easy find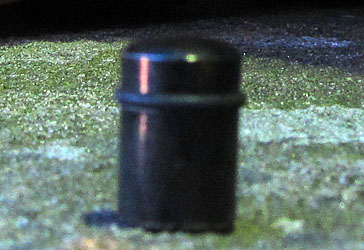 18th April 2014 – Off The Old Road No.8 GC52QPK – cache #3165
I had the choice the previous night of getting the car out and driving to this cache for an FTF or walking down to the two new caches in Otley for an FTF… I did the latter so was second to find this one.
I too have been here before… the previous cache here was my 25th find when I'd only been caching for two weeks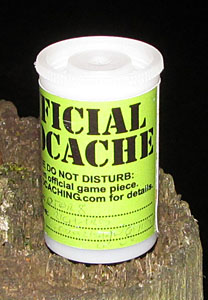 x
Next evening I went off to find GC4ARJP TRIG. A puzzle cache that involved bearings from Local Trig points. I thought it was about time I found this cache, so I used memorymap to plot the lines as best I could and worked out a set of co-ords that were the centre of the triangle I got where my plot lines intersected…
I then went up onto the moor and found that the co-ords I had seemed to be underwater… fair enough I thought I only had coordinates that are there or thereabouts so I was expecting to have to search a bit. So I spent 40 minutes searching just about every rock, hole in the ground and tuft of grass within 50 yards of my co-ords and found nothing, I was cursing that there wasn't a hint on the cache page. Eventually I had to give up as it was getting dark… and cold… and the wind was getting up so it wasn't pleasant up there.
Then I came home, logged on to the cache page to write my DNF and saw there was a geochecker on the cache page… I never bother with geocheckers usually I am confident enough with my puzzle solving abilities that they seem irrelevant, but I thought I would see what happened when I put my triangle centre co-ords in… N out by .001, W out by .004… or about 15feet – and there was a hint on the page to the hiding place.
so I went back the next afternoon armed with proper coordinates and a hint… but still couldn't find it
19th April 2014 – Spider Pig GC4WDBG – cache #3166
So you take a guess as to which side of the stream you need to be on… and I guessed wrong (I normally do, choice of two I choose wrong every time)
But the stream was not a raging torrent so rather than make my way back to the bridge I jumped across the water… keeping my feet nice and dry.. and found the cache easily enough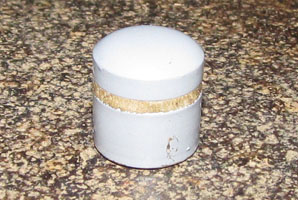 20th April 2014 – GG65 – Bonus GC4AJ05 – cache #3167
I've only done about half this series put out last June, and not recorded all the bonus numbers on them, but looking at what I had got written down I found I had enough numbers that by looking at MemoryMap  and a little logical deduction I quickly narrowed the possible locations for the bonus to just one 50 yard stretch of path… and once I'd got there it didn't take more than a couple of minutes to work out which hint object was the correct one and find the cache

After this I went looking for the feeder caches I hadn't previously found, but I couldn't find GC4AHY5 GG65 #9 – Slow down George! – the second time I have looked for this cache only to find it missing, and also I didn't find GC4B39Z GG65 #8 – Hidden Bridge – I couldn't see anything that looked like a cache, but looking at the two pictures in the gallery it seems that maybe I should have gone into the tunnel under the road – though to be honest I didn't think the improvised gate would stand up to being moved.