Home » Geocaching
Caches No's 3149 to 3157 – The Long Drive Home From Brean
All good things come to an end, and so on the Monday morning Angel78 and I said goodbye to our friends and set off home up the motorway… for all of two junctions until we turned off onto our alternate route which took us to Church Micros, YOSM's and a Virtual Cache. It actually took me nearly 12 hours from Brean to getting home, though I did spend about 3 hours at Angel78's on the way !
14th April 2014 – Church Micro 3779…Yatton GC4DW3N – cache #3149
This was our first stop of the journey and a fairly easy find though it did manage to get blood out of me as I got spiked from the vegetation around it
14th April 2014 – Church Micro 2100…Backwell GC343Y0 – cache #3150
This was our 28th and last Church Micro of the weekend, Angel78 had found no CM's before and I had only found a handful, but I think we are both now converts, though they are few and far between where either of us live.
As with the previous finders we did get barked at by the dog behind the fence, but didn't let that put us off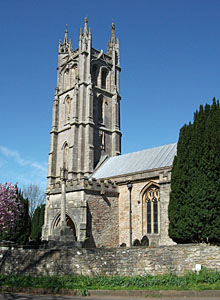 14th April 2014 – Ye Ole Survey Monuments GC45CC – cache #3151
YSM001 – Failand
Our route home was planned specifically to get this cache as it was the original YOSM location – all other caches were just coincidentally en-route !
It took us a long time to find the Surface Block. The area is very overgrown and we had a look around but couldn't spot it, then went back to the car for our phones to look for hints on the Trigpointing web page, which brought us up a picture of the block in relation to the fence… a bit of triangulation lining ourselves up with the point the photo was taken at and then we could work out where exactly to look… even then we had to pull up the grass around and clear some earth from the hole before we spotted the locator stud on the block… unless the grass verge is mowed this will get harder to find as each day passes !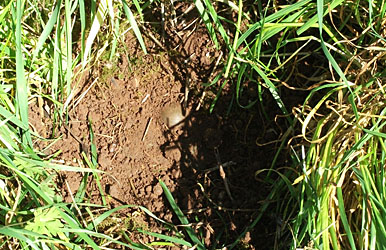 14th April 2014 – Ye Ole Survey Monuments GC45CC – cache #3152
YSM415 – Flax Bourton
After spending 25 minutes looking for YSM001 at the bottom of the hill it was relieving to discover an easy to find a nice easy FBM surrounded by a neat fence at the top of the hill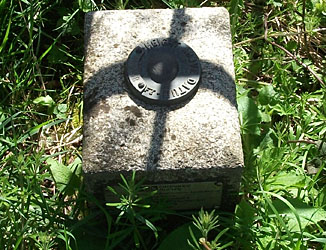 14th April 2014 – 3-4-1 GC2PD36 – cache #3153
A traditional cache hidden at the same spot as the YOSM (I have to admit to being a little curious why the YSM at the bottom of the hill near Flax Bourton is called Failand and the one at the top of the hill in Failand is called Flax Bourton – can't the surveyors who placed the blocks read maps ? ? ?)
Angel78 read the hint for this cache and quickly got the reference, when we got to the YSM we spotted the cache straight away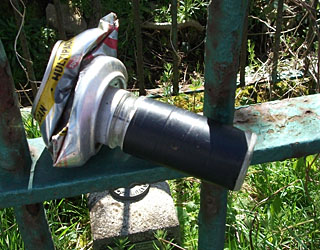 14th April 2014 – Blaise Hamlet GCF143 – cache #3154
We came here because I like virtual caches and Angel78 was intrigued by the hamlet description on the cache page.
We had trouble finding a place to park, so much so that I even had to do a sneaky wrong way up the one way street manouevre to a side street where we found somewhere to abandon the car.
A nice walk around the hamlet in the sunshine didn't disappoint us, the place is lovely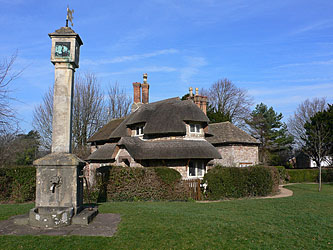 14th April 2014 – Motorway Mayhem M5 Michaelwood Northbound GC4NTRC – cache #3155
We had found the Southbound cache on the way South on Friday, so it only seemed right that on our way back North we should stop off and grab the Northbound cache
14th April 2014 – MOTORWAY MAYHEM STRENSHAM CACHE NORTHBOUND GC3JXGR – cache #3156
The last stop on our way home was to grab this cache… not sure you need to be too stealthy, the cache is out of view from the kiosk and all the drivers going past are not going to be taking much notice of you.
Took a while to find as it was on the ground underneath where we were doing a fingertip search feeling for a magnetic cache… though you would need some powerful magnets to hold a cache this big up with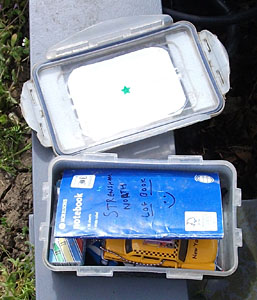 14th April 2014 – Ye Ole Survey Monuments GC45CC – cache #3157
YSM468 – Robin Hill
I found this in the failing light on a detour on my way home from Angel78's
First time I have ever seen a trig pillar used as a noticeboard for a historical right of way !