Home » Geocaching
Caches No's 3082 to 3103 – Fryston Woods & Maker Madness
Geocaching.com had put out a message that they wanted people who were expert hiders of caches to hold 'Maker Madness' events to pass on their insight in hiding caches on to others. Now I don't hide caches but my friend Ian – PrinterFixerMan does and he decided to hold one of these events… so I decided to show some support and go along.  On my way to the event I thought I would go and have a walk round a cache series near where he lives… basically a trial to see how I was recovering from the debilitating trapped nerve in my back – I had only found 8 caches previously in 2014 and none of them more than 10 yards from Tarmac ! So a steady 4 mile walk along reasonable footpaths would be a suitable next step.
6th April 2014 – #1 Fryston Woods Series GC42KHF – cache #3082
As other cachers had discovered, the first cache was easily found once I had looked round a few wrong trees !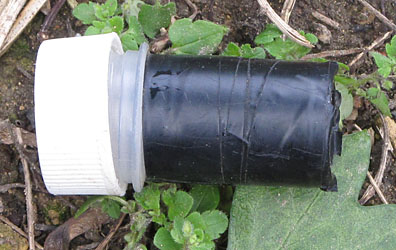 6th April 2014 – #2 Fryston Woods Series GC42KHN – cache #3083
Took a while to find as under the tress the GPS wasn't giving me a good signal lock which left many places to search… looking back at previous logs helped as it explained the clue a bit. eventually I did find it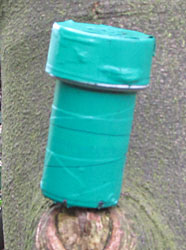 6th April 2014 – #3 Fryston Woods Series GC42QVC – cache #3084
Again GPS wasn't particularly accurate under the trees, but it was pretty obvious where the clue was pointing to so a quick find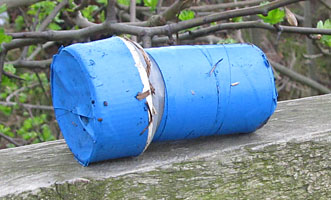 6th April 2014 – #4 Fryston Woods Series GC42QVJ – cache #3085
The clue led me straight to it once I had got somewhere near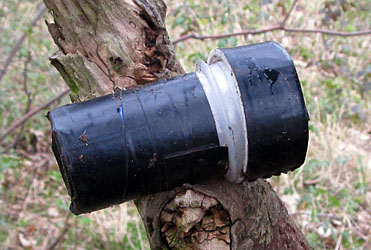 6th April 2014 – #5 Fryston Woods Series GC42QVN – cache #3086
A hint that referred to Christmas vegetation… Holly or Fir Tree ? my first thought was Holly and was wrong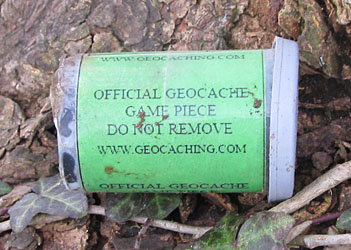 6th April 2014 – #6 Fryston Woods Series GC42QVR – cache #3087
This one was hidden in the bowl of a tree under a heavy rock, which had cracked the lid and the rain had leaked in, as with the previous finder I had to pour the water out of the container and the log was too wet to sign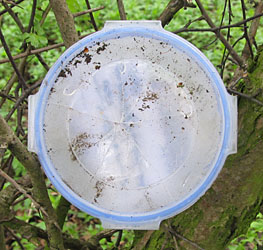 6th April 2014 – #7 Fryston Woods Series GC42QVV – cache #3088
Another where the hint led me straight to it which was useful as the GPS wasn't locking onto the satellites particularly well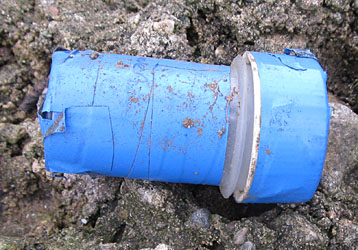 6th April 2014 – #8 Fryston Woods Series GC42QVX – cache #3089
Fryston Woods backs onto a rough council estate and is used as a fly tip fby seemingly everyone who lives there. This cache was near the house and was a nice quick find, which was good as I didn't really want to have to search too much in all the rubbish around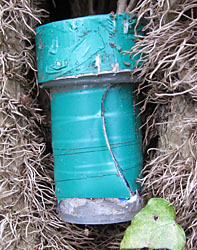 6th April 2014 – #9 Fryston Woods Series GC42QW0 – cache #3090
There were several youths playing with a car engine at the back of the houses near number 8 (the engine was still in the car – I guess it's a right of passage for young men, in my day it was XR3i's and 506 GTi's… didn't get close enough to see what this car was, but the bonnet up, engine revving and several figures bent over staring at the engine seemed familiar enough)
Anyway not wanting to walk through them I decided to miss out cache #9 and headed towards #10 then came to the path across a field and so used it to get to #9 and back. I did feel a bit 'exposed' getting the cache, but it was a quick find so I wasn't at the cache for too long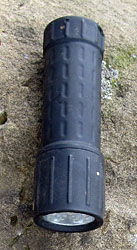 6th April 2014 – #10 Fryston Woods Series GC42QW5 – cache #3091
Took a while to find as per the whole route the GPS signal was poor under the trees and everyone matched the 'ivy covered tree' hint, so it was a case of search each one until you find it. This was a glass test tube sealed with a cork, not a container type I've come across before in 3,000 or so caches, but it does the job admirably

6th April 2014 – #11 Fryston Woods Series GC42QW8 – cache #3092
I found the tree stump hint object easily enough, but no matter how many times I went round it I couldn't spot a cache underneath it… so I resorted to brute strength and rocked it over… this revealed the cache but not where I was expecting it to be – it fell out of a hole rather than was underneath the stump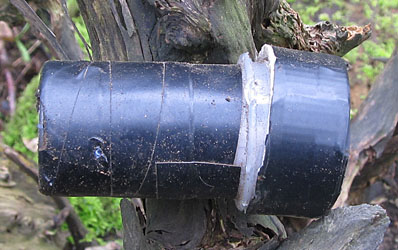 g
6th April 2014 – #12 Fryston Woods Series GC42QWB – cache #3093
A little section of trees that sticks out from the main wood and probably the nicest bit of the woods and obviously different from the rest of the woods, what with the made up banking and straight rows of trees at regular intervals. I was curious as to what it was, so I had a look on the Old-Maps site and discovered that the 'sticky out bit' was shown as a 'nursery' on the 1892 map – with a wall all around it (presumably to keep animals from getting in and eating the young trees) The trees in the nursery would be for the landscaping works going on, the map shows formal gardens laid out north of the Hall (where Fryston Hall Farm is today) and a tree lined avenue leading South from the hall – these days under the new route of the A1. The Hall itself was damaged by fire in 1876 and eventually demolished in 1922
Oh, and #12 was an easy to find cache !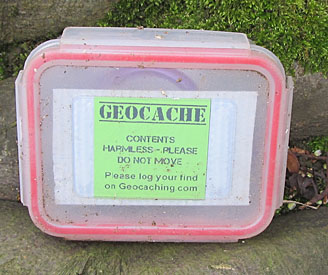 After this I didn't bother looking for GC42QWG – #13 Fryston Woods Series – I didn't put a DNF for this one as I didn't actually look for it… My GPS wanted to send me into someones garden and there were no obvious hint items – well every tree matched part of the hints but none obviously matched both from where I was stood.
6th April 2014 – #14 Fryston Woods Series GC42QWK – cache #3094
With the help of the hint I spotted this one as I walked along the path towards it… which is good as again it was at the edge of the wood near the houses and I didn't really want to spend too long searching here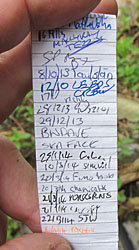 6th April 2014 – #15 Fryston Woods Series GC42QWH – cache #3095
Easy to spot whereabouts it would be hidden… just a question then of finding it !
Another test tube and cork, but this time the cork had a hole bored through it so the lid was not watertight and could do with a better replacement

6th April 2014 – #16 Fryston Woods Series GC42QWM – cache #3096
The hint here said it was under a cut down tree trunk and that it was the first one on the 'cachers path' I have to agree with it follow the path and you were at the wrong tree trunk, follow the compass arrow in a straight line and you get to the right place first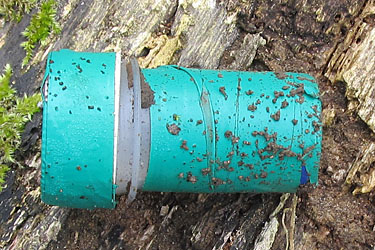 6th April 2014 – #17 Fryston Woods Series GC42QWQ – cache #3097
The cache was on the ground when I found it and I didn't sign it as I couldn't get the top off at all – if I'd used any more force I would have broken it – not much good if a childproof lock is also middle-aged man proof !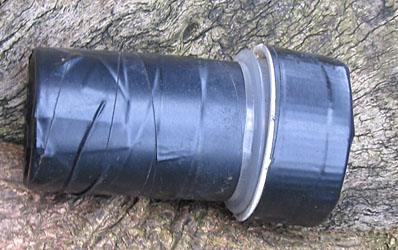 6th April 2014 – #18 Fryston Woods Series GC42QWR – cache #3098
Not sure that the farmer really wants a path along the edge of the field leading to this cache… he had ploughed right into the brambles at the edge and the last few furrows appear to have been dug with a JCB ! I've never seen furrows so deep before and you wouldn't get them that deep with a normal field plough. Hint was under a breeze block and there were several about – I had to check a few before I got the right one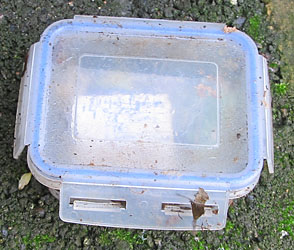 6th April 2014 – #19 Fryston Woods Series GC42QWW – cache #3099
I thought with the hint that this would be easy to find – Seven trunked tree… but there are several options that seem to match it !
Got the right one after a few minutes searching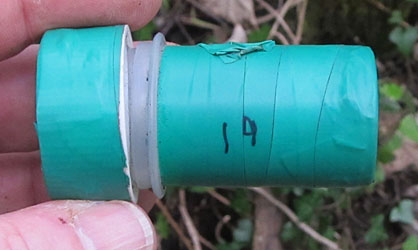 6th April 2014 – #20 Fryston Woods Series GC42QWX – cache #3100
Didn't match the hint but no problem working out where it would be… the hint was in the tree bowl, but there was nothing there but there was a pile of bricks stacked against the trunk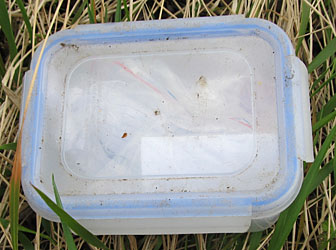 6th April 2014 – #21 Fryston Woods Series GC42QWY – cache #3101
And a nice easy one to finish the series…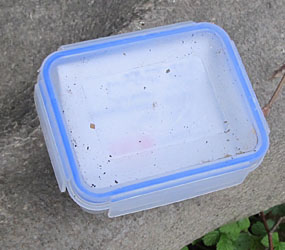 6th April 2014 – Here Kitty Kitty GC3580T – cache #3102
This was next to where I had parked for Fryston Woods series so I picked this one up at the end. No problem finding it – but then I just happened to be stood in the right place to spot it…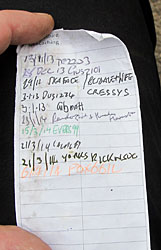 6th April 2014 – "Maker Madness" Event – The Soup Kitchen. GC4ZFC7 – cache #3103
Due to walking slower than expected round Fryston Woods I arrived at PrinterFixerMan's event later than I planned, so much so that it seemed to be beginning to wind down as people left, and for a few seconds I was the only one there other than the host… but then there was another influx of people (some new, some returning from popping out for caches in the middle of the event) and we then had another couple of hours good caching chat and checked out PFM's store of caching goodies and ideas for hiding.
I do think that if he uses all the containers he has for caches he will be the most prolific hider in the world !
Good Cake too !