Home » Geocaching
Caches No's 3073 to 3076 – The "Real" First Caches of the Year
At the end of January I suffered from a trapped nerve in my back, not sciatica like in 2011 but a different nerve cluster. I guess it is because I spent January sat down hiding indoors instead of doing any exercise but anyway there was a week where I could hardly move at all (coudln't even roll over or get out of bed without a lot of effort and pain) and another week where I could hardly stand up let alone walk… So caching wise February was a complete write off – fortunate that I filled all the dates in on the calendar last year then !
My caching stats say my longest 'slump' was 81 days without a find from 17/11/2009 to 06/02/2010… This time my slump between finding caches really was from 14/12/2013 to 07/03/2014 – 83 days, but because I went to the pub once in that time it doesn't appear as my longest slump
7th March 2014 – Off The Old Road No.5 GC4XDP0 – cache #3073
I decided that by the beginning of March, and with another pub event the following day that I ought to go out and see how good I was able to walk… so I walked up the road to this cache from home, it's only a mile away in the pitch black at 9pm at night (maybe I should have taken a torch !). I was pleased that there was no bother about walking the mile there… but after leaning on the wall to sign the log I couldn't get moving again and walking a mile back home was no fun.
The cache has caused other cachers some concern because it is on the back of a signpost an a busy junction and right in front of someones window and but at 9pm there was no-one to see me… curtains shut on the lodge and only the occasional car passing.
8th March 2014 – Mad March Meet VI Yorkshire GC – cache #3074
Next day was the sixth Mad March Meet that Ee By Gum and 'Er Indoors have organised, but only the 4th I have been to (the first was before I started caching and I didn't go to number 3 because I was otherwise engaged that day) Enjoyable event as always to sit in a pub and chat caches.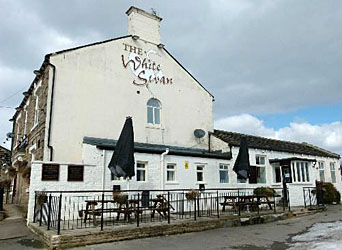 8th March 2014 – Yeadon Dambuster 1 GC4ZR6D – cache #3075
At the event I took a quick trip round the tarn with Goldfish 58 and Uggy to find a couple of new caches that had been put out for the event… amazing how under the trees three GPS's could point to three different spots, but the stickoflage gave it away in the end…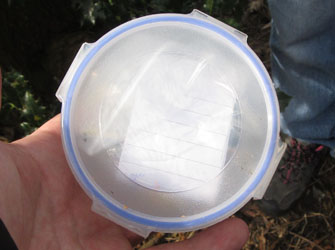 8th March 2014 – Yeadon Dambuster 2 GC4ZR6X – cache #3076
Again 3 GPS units pointed to three different places, and the hint didn't help much as all the places had them ! but we got there in the end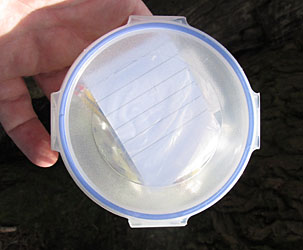 After we had found the new caches we carried on round the tarn  and came to GC3EEP6 UP T'Dam – I'd found this cache before, but in it's original location, so could join in the search… strange that while Goldfish58 retrieved the cache I found another cache container a few yards away, with several names on the log dating from 2013. Further round we came to another cache I had previously found GC3EEPR Carols Dam Silver Cache – another one that had changed location since I found it previously… as Uggy retrieved it the Comet crew came along and pointed to another cache 3 yards away, so in the end our walk around the tarn found us 4 caches and 2 throw-downs !