Home » Geocaching
Caches No's 3042, 3043 & 3044 – Caching on a Dark and Stormy Night
There was a call out on Facebook for people to join in the quest for a nightcache on Farnhill Moor – which is between Skipton and Keighley
So I met up in the dark and rain and wind with Team MX and LazyDayDream (and Homer) and we headed off in search of reflective tags – fortunately I had brought a proper torch with me unlike the feeble head torches the others were using… it took us twice as long as we were expecting, though we did detour a couple of times to find other caches near to our route… finding caches in the dark in pretty awful conditions is not really to be recommended, so we decided not to go after any more of the local caches but stick to the route of the night cache… as it was this route at times more resembled a mountain stream than a navigable path.
8th December 2013 – Scary 'C' 01 (The Return) GC3D6AV – cache #3042
This cache was only a few yards off our route but persuaded us that to avoid trips over hidden rocks and falls down largish drops we should really keep to the path in the dark !
But we did find the cache !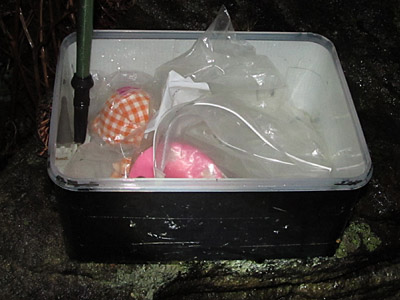 8th December 2013 – Lenna's View GC1M3F2 – cache #3043
If it hadn't been raining so much then there would possibly have been a good view of the lights of Keighley, as it was I kept thinking my torch was flickering off plunging me into momentary darkness – then I realised it was just the wind blowing the brim of my hat down in front of my eyes !
It was not really good conditions to be prowling around in the rocks and heather looking for a cache, and as Team MX put in their log the hint is pretty useless in the dark … but we got there in the end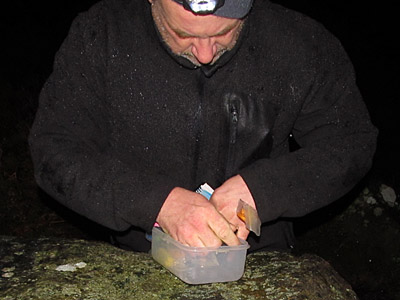 8th December 2013 – Night on Bare Mountain GC4CAM4 – cache #3044
With a bright torch the route was fairly easy to follow – though rainwater running down silver birch bark does give a good impression of a white fire tack… and at one point a red tack I had seen flickering through the branches turned out to be tail lights of cars on the road above Steeton.
In the end we got to a tack where Lisa said "that one looks a bit yellow" to which I replied that it was probably just the rain water making a white tack look a bit off colour… so we stuck to the path we were on until the lack of further tacks and the realisation that we were heading back to where we started from led us to back track 50 yards and find that the tack had been yellow after all…
The final tacks were reached shortly after that… though it still took a while to unearth the cache until Lisa looked in a place where Dave reckoned he had already looked and pulled out the treasure…
After this we went to the pub… in the pub car park Lisa said "next to my car is the last reflector on MrNimby's old night cache, I followed the trail all round but then couldn't find the cache" So we went over and had a look and Dave came up with the cache which was still in place, GC3V1ZC Farnhill Reflector Trail… It's now archived so we can't log it but I did photograph it and put it as the headline picture for this post – Lisa is kicking herself for not finding it and getting the FTF on the cache