Home » WASH
WASH 1991
In 1991 I used to go down to Leeds Central group every week as well as my own (Wharfedale) group, so as they were short of transport I ended up taking two girls from Leeds to Hunstanton for their first WASH's… anyway, for some reason they wanted to go early on in the day so we set off middayish and arrived at Searles shortly after 3.00pm.
Getting there that early meant we were one of the first people there and for the rest of the afternoon I went around the caravans saying 'hello' to everyone as they arrived – along with my 1.5 litre lemonade bottle filled with a rather potent mix of Southern Comfort and lemonade, diluted with Vodka. By 6.00 I had got very, very drunk, been violently ill, and had passed out, fortunately in my own caravan, I remember the rest of my group – including Wendy my then girlfriend – waking me up when they arrived about 7.30, and I surfaced to stagger over to the venue at about 10.00 feeling rather ill and certainly not wanting to dance… I was not in the good books with Wendy for the rest of the weekend !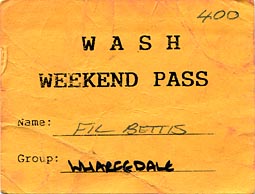 What the Committee said…
ANOTHER WINNING WASH

There could certainly be no complaints of lack of variety served up at the sell-out WASH '91 held last October,

for in one weekend members were entertained by no fewer than eleven acts who offered us live music, barn dancing. karaoke, magic, comedy and ventriloquism. Plus there was the opportunity to take part in the car treasure hunt, go horse riding, try your hand at clay pigeon shooting. have a swim, watch two movies or relax in the health club.

The weekend kicked off with a live performance by Motown legend Jimmy Ruffin which was followed on the Saturday lunchtime by what all plussers. do best, a session of karaoke, which was appreciated by all music lovers (shome mishtake shurely? Ed). Saturday evening commenced with the superb Lee Vasey Big Band who provided the support for the weekend's big name, Curiosity Killed The Cat, who kept everyone entertained performing their chart topping hits of the late 1980's.

Sunday was noteworthy for two bands, The Flirtations and Magic. The former provided a Tamla Motown revue which was spectacular, professional and thoroughly entertaining. whilst Magic lived up to their name by covering songs, particularly by Queen, in a manner which packed the dance floor and had people dancing on tables. Sandwiched between these two acts were 18 Plus favourites the Madhatters, who just seem to be getting better and better.

The WASH committee would like to thank all members who attended the weekend for providing such an excellent atmosphere and would also like to thank those Groups who took the trouble to write to us saying how much they enjoyed the weekend which was very much appreciated.

WASH '92 will take place on the weekend of 16-19 October 1992.

The Israelite, WASH Chairman (Plus News March 1992)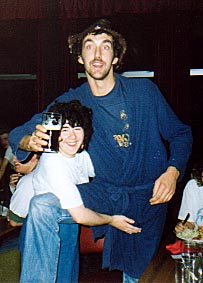 Just checking…
that Tom the Dossers above average length is echoed throughout his anatomy !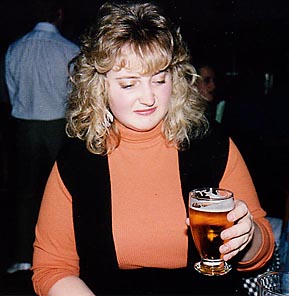 Searles Beer is not to everybody's taste
Malibu Mel doesn't think much of it !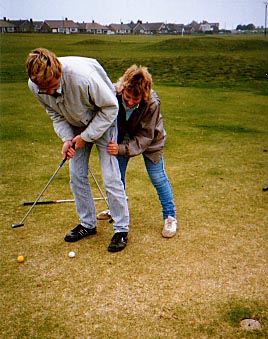 Hunstanton's Pitch & Putt course
A local attraction recommended by the WASH Committee
Here Richard The Git gets his putting stance corrected by Zippy
A funny thing happened…
Two things have changed greatly in the years since WASH began, Searles have invested hundreds of thousands in the site greatly improving and enlarging its facilities and the A17 from Newark to Kings Lynn has had millions spent on it and changed beyond recognition as well, remember the days before the Leadenham bypass when you had to negotiate the big lorries making that 90° bend in the village ? and other improvements include the bypasses at Sleaford, Heckington, Swineshead, Holbeach, Dersingham, Snettisham and Long Sutton and the new span at the Sutton Bridge. We were coming back from WASH when they were building this new road, waiting in the queue to cross the single bridge that was open, I think the other drivers thought we were a bit strange because instead of sitting quietly in our cars we were wondering up and down the traffic queue chatting to other WASH returnees that we knew. I was driving and just sneaked through the amber light at the bridge, but Sue who was in the car behind me stopped and waited for the next change of lights. This was a BIG MISTAKE as coming the other way was a huge lorry who didn't quite take notice of the height limit signs on the bridge and got stuck ! Although Sue had only been one car behind me I had got 120 miles home before she got across Sutton Bridge bridge.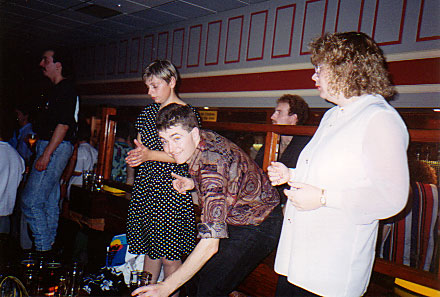 When everybody is stood up at the front
the only way to see if you're sat by the bar is to stand on your chair