Home » Geocaching
Caches No's 2828 to 2866 – Team Inbetween and The Mr Men
A Facebook post to garner assistance to retrieve a 5/5 cache was the spark for a day of caching… Team MX needed someone to hold the ladder while he climbed up for a cache called Mr Tall and asked on the Yorkshire Geocaching group for help… but the group feeling was that if you are doing one cache you might as well do the whole Mr Men series, and any others along the way, and maybe where sensible extend the route to get a few more in… In the end I worked out a figure of 8 route of about 8 miles that had 40 caches on it and it turned out that the day to meet up was going to be a Monday starting at 9:30am
23rd September 2013 – Mr Men Collection – Mr Tall GC4JE6M – cache #2828
Bit of a struggle getting to the meeting point for 9:30… 13.2 miles as the crow flies… I gave it and hour and a quarter as the rush hour trafic crawls, and I was only a minute or two early. On the road just above the cache I met TeamMX and GrayGlove, and Mrs Frosties and Kaz56 soon turned up to join us… We wandered down to the cache and saw that Astranomical and Overandout were waiting there for us.
TeamMX quickly had the ladder up and the cache retrieved… Two Tykes then made a late appearance so we let him sign it before Grayglove put the cache back.
Not sure about the 5/5 rating though, that puts it at the highest level of cache hiding places – but there are many other potential hiding places on the bridge that would be much harder to access…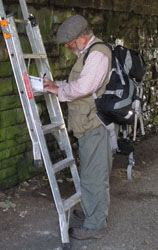 23rd September 2013 – Cleckheaton View GC3ENWM – cache #2829
After meeting at Mr Tall, Astranomical and Overandout left to go caching elsewhere, leaving TeamMX, Grayglove, Kaz56, Mrs Frosties, TwoTykes and myself to have a walk around the caches of Cleckheaton. We started by walking along the Greenway and got to this cache where we had a big decision to make… What were we going to call ourselves ?
(not wanting to fill the logbooks up signing each of us separately) I was the one with cache and pen in hand and after listening to several suggestions I wrote down Team Inbetween – because we are cachers who are inbetween Team Extreme and Team Drive-by and inbetween those cachers who are mad and those who are obsessive !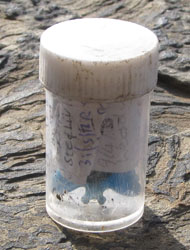 23rd September 2013 – Mr Men Collection – Mr Happy GC4JNXD – cache #2830
We carried on along the Greenway until we got near GZ… "What's the clue ?"
"Oh, there's one of them there, and there, and there, and…" well there's a lot of them there… Kaz56 chose the right one to search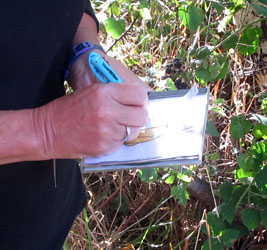 23rd September 2013 – Mr Men Collection – Mr Tickle GC4JNXQ – cache #2831
While the rest of Team Inbetween carried on along the main path I noticed a trail off to the side, looked around and pulled out the cache out of it's hiding place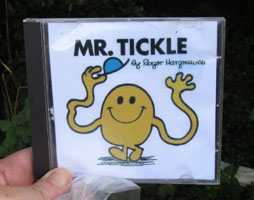 23rd September 2013 – Mr Men Collection – Mr Small GC4JNX1 – cache #2832
So there was this bloke sitting on a bench next to the bridge enjoying the morning sun when the six strong Team Inbetween came along and started searching every crevice in the brickwork and the bushes on either side… I wonder what he thought we were doing…
Eventually we turned up nothing and so read the previous logs which talked about being on the right level which we obviously weren't so we sent TeamMX down to look, but he couldn't find anything so Grayglove went down as well to point him in the right direction for the cache.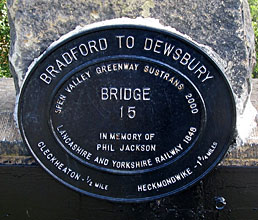 23rd September 2013 – Zimati Flashback GC3QAEN – cache #2833
A cache named after a place in Zimbabwe where one of the cache hiders grew up, we continued along the Greenway past some sculptural sheep until we got to this cache. I know there is an iron chicken on The Clangers planet, but do they have iron sheep in Zimbabwe ?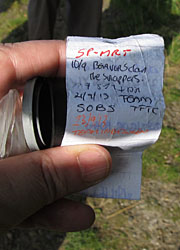 After this I didn't find GC2J2EA On and Off the Greenway: Primrose Lane – the big boulder it was supposedly hidden under was obvious, but though all six of us looked none of us could see or feel the cache
23rd September 2013 – Phil Ling Time GC46E22 – cache #2834
You can't look for caches in the dark while wearing sunglasses (prescription glasses so I couldn't see without them either) so I let the rest of Team Inbetween get their phones out and search by phonelight for the cache, which Grayglove found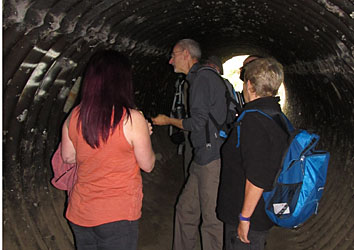 23rd September 2013 – Mr Men Collection – Mr Quiet GC4M02W – cache #2835
I followed the hint, and there was the cache… next we just had to decide which side of the river we should be on for the path to the next cache… we chose the wrong side first but fortunately soon realised that we needed to be on the other bank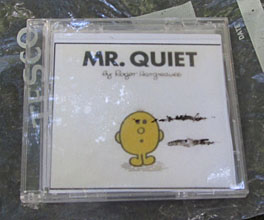 23rd September 2013 – Mr Men Collection – Mr Sneezy GC4JE66 – cache #2836
TeamMX stuck his hand in and came out with nothing, Grayglove stuck his hand in and pulled out the plum… well the cache at least
23rd September 2013 – Mr Men Collection – Mr Bump GC4JE6B – cache #2837
From Mr Sneezy the path took us into a field where 10 horses were gathered round one corner at their feeder… guess where the field exit was ? Some of Team Inbetween were more nervous that others !
When we got to GZ Team MX quickly turned up the cache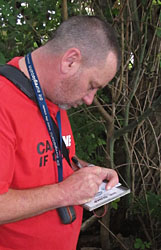 23rd September 2013 – Mr Men Collection – Mr Lazy GC4JE6F – cache #2838
Several places that matched the hint, Two Tykes chose the right one to look in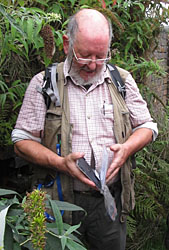 23rd September 2013 – Mr Men Collection – Mr Daydream GC4JE61 – cache #2839
This cache brought on a bit of a debate between Two Tykes and myself, as to where is 'round the back' ? (A bit like 'on the left of the path' is dependent on which way you are going… which came in for debate a few caches later !)
In the end the cache didn't solve the conundrum as Grayglove went round one side of the tree and I was on the other, we both spotted the cache at the same time and I reached around and grabbed the cache, but to Graham I was at the back reaching round to the front…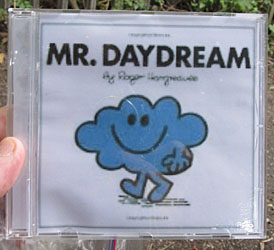 23rd September 2013 – Mr Men Collection – Mr Noisy GC4KJCD – cache #2840
One person trying to be stealthy can often look suspicious, so I wonder what 6 people trying to be stealthy looked like to the Road Mender who was leaning on the fence at the roadside filling in his timesheet ?
Two Tykes looked the least stealthy as he was the one with the cache in his hand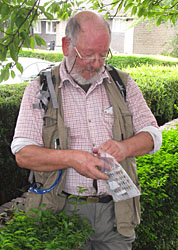 23rd September 2013 – F&G: GT 8 – Viaduct Approach GC4D8A1 – cache #2841
Our original plan was to do the Mr Men series but we adjusted our route to take in much of the G&G: GT series as well.
I read a new cachers DNF log on another cache recently that said 'Not wasting my time searching 50m of railings for a nano.' Maybe he should go out caching in a group as Two Tykes quickly found this cache on the bit of fence he was searching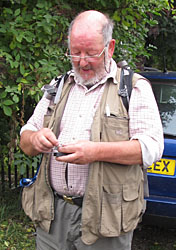 23rd September 2013 – F&G: GT 9 – The End Of The Viaduct GC4D8AJ – cache #2842
Funny how the penny drops as to the meaning of the clue when you have the cache in hand… we were looking round all over until TeamMX spotted the cache, then it all became clear !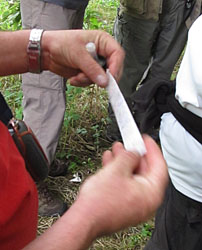 23rd September 2013 – A Woodland Stroll GCPRVF – cache #2843
Two Tykes had found this cache before – though he had no recollection of it
TeamMX looked in the right place, but didn't find it
Grayglove logged in the same place and pulled out the cache – second time that had happened within a few caches… I guess TeamMX just has short fingers !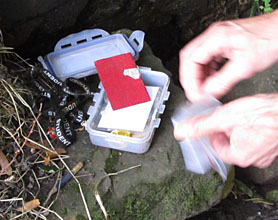 23rd September 2013 – Mr Men Collection – Mr Topsy-Turvy GC – cache #2844
Kaz56 had a second hint to this cache, gleaned from a previous finder… that it was hidden on the left of the path… but as she had no idea which way the person had been headed at the time her extra hint was pretty useless.
So like many cachers before us we all got down onto our knees and felt about for the cache… eventually after about 10 minutes Two Tykes let out a yell of triumph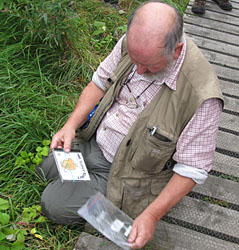 23rd September 2013 – Mr Men Collection – Mr Silly GC – cache #2845
Walking towards GZ we could see Hawthorn and Holly… the cache was bound to be in one of them so we were all hanging back so as not to be the first on the scene who would be obliged to search among the thorns and spines… As it was I spotted a glint of reflected light and reached in and got the cache without a scratch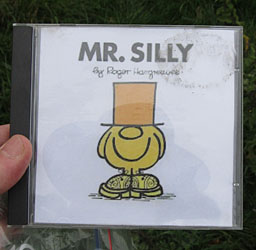 23rd September 2013 – F&G: GT 1 – By The Beck GC – cache #2846
Team MX and Grayglove found this one between them while Two tykes and I looked on and Kaz56 and Mrs Frosties sat down for a rest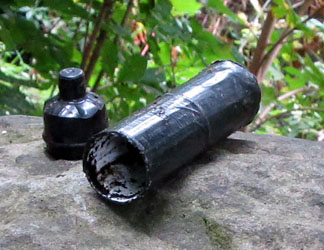 23rd September 2013 – F&G: GT 2 – Aw… Kestrel Manoeuvres GC4D874 – cache #2847
Without reading the description we headed along the signposted Public Footpath rather than down the road "Kestrel View", so ended up going past the cache along the back of the houses and back on ourselves along the path at the other side of the gardens… I had read the hint so reached down and grabbed it with no bother as it was just where it was supposed to be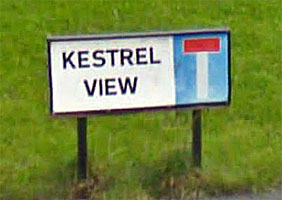 23rd September 2013 – F&G: GT 3 – Feeling Flexible? GC4D87K – cache #2848
'Something looks askew there' I thought, 'I bet that's where the cache is'… but no, it was just the same thought that many previous cachers had had so was askew as many previous cachers had looked there… TeamMX then spotted the right place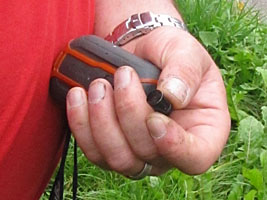 23rd September 2013 – F&G: GT 4 – Moorend Park GC4D883 – cache #2849
There are those who rush to quickly search every place on the street… and there are those who search carefully the place where the GPS points to… and they are the ones who find the cache (or maybe it was just that Two Tykes and I with our Montana's had more accurate GPS's than the others with their Etrex's, Oregons and iphones)

23rd September 2013 – F&G: GT 5 – Something Fishy GC4D88H – cache #2850
As we walked along the road we could see a BT Engineer working at the spot where the cache was hidden… a debate followed, do we pass on and miss it out or do we attempt to get the cache from under the Engineer's nose ?
Feeling brave that we outnumbered him six to one we decided on the latter course, so Mrs Frosties and Kaz56 distracted the chap while Grayglove and I examined one side and TeamMX and Two Tykes examined the other… they had the correct side and took the cache off to sign it, then sneaked it back into position.
I gave it a favourite point for our retrieval of it rather than for the cache itself !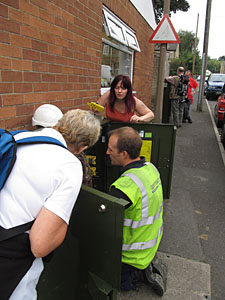 23rd September 2013 – F&G: GT 6 – There's Method(ist) Behind This Cache GC4D896 – cache #2851
I was expecting a church noticeboard, but on approaching GZ soon spotted the obvious place for the cache to be, and so did Team MX who grabbed this one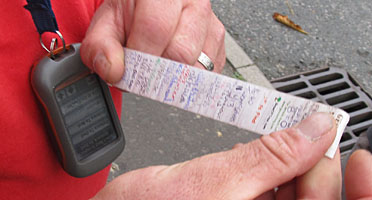 23rd September 2013 – F&G: GT 7 – The Largest Cache You've Ever Seen? GC4D89J – cache #2852
Fresh from our distraction efforts at GT 5 we were not in the least concerned about a bloke sitting by the cache waiting for the bus… we just sat alongside him and waited him out (the miracles of modern smartphones meant Grayglove could access the timetable and so we knew the bus was only a minute or two away)… I think the bus driver may have expected the six of us to get on as well, but we didn't and as soon as he left we went in for the cache.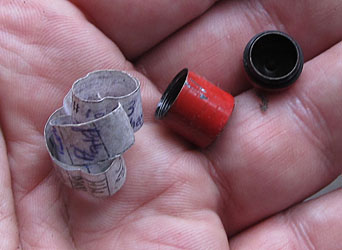 23rd September 2013 – Mr Men Collection – Mr Fussy GC4K6C2 – cache #2853
After a quick side trip to Tesco's for lunch supplies (and Wetherspoon's for the toilets !) we carried on our trip round Cleckheaton… This cache was quickly spotted and retrieved by Mrs Frosties… though with her hads full of phone, drink and a bag of crisps she had to pass it to someone else to sign the log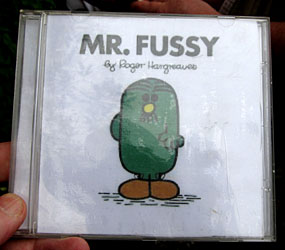 23rd September 2013 – Mr Men Collection – Mr Nosey GC4K6BC – cache #2854
Much chatting going on, but fortunately TeamMX and I were on the look out for the hint items and so the cache was quickly found whilst the others walked on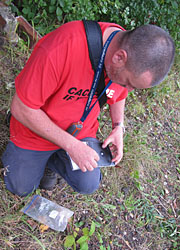 23rd September 2013 – Mr Men Collection – Mr Busy GC4K6AB – cache #2855
Our 15th MrMen cache of the day and here we said Goodbye to TeamMX – something about having to go to work later but he had got his 15 caches so could put the series badge on his profile. As it was his last we let him find the cache
23rd September 2013 – Bridges over and under the cycleway No.2 GC20VN4 – cache #2856
Several places that matched the hint… many of them in 'requiring a ladder to reach' territory, which as the cache is only a 1.5star D/T did not seem likely spots… Grayglove searched round and found the cache at a more reasonable altitude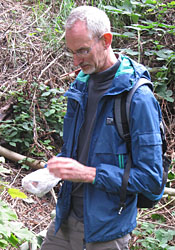 23rd September 2013 – Church Micro 4176…Scholes GC4KJQ4 – cache #2857
When we were planning this expedition on Facebook the Cache Owner said that if we went round this bit clockwise we could add this multicache into our itinerary… but unfortunately due to TeamMX's need to get 15 Mr Men caches within a time limit we had to go the other way round… We got the clues, worked out the co-ordinates and then discovered why we had been advised to go clockwise as we crossed the same field for the second and third time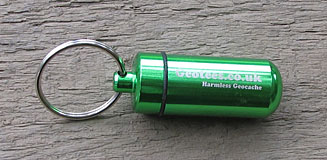 23rd September 2013 – Mr Men Collection – Mr Cool GC4JFZ5 – cache #2858
As I have said on many logs before I am always glad of a cache with a handy bench to sit on nearby… even better when I can sit down while someone else (Two Tykes) is off looking for the cache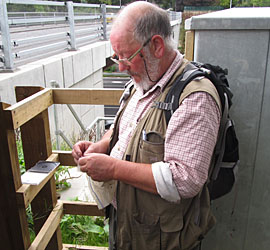 23rd September 2013 – Mr Men Collection – Mr Bounce GC4JFYX – cache #2859
A field full of cattle does make some people nervous… well I suppose it was quite a large bull… but we persevered and while Mrs Frosties took pictures of a cute little gray and white calf Kaz56 retrieved the cache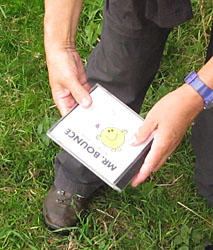 23rd September 2013 – Mr Men Collection – Mr Funny GC4JE5Y – cache #2860
Although the OS map does show the footpath going straight through the middle of where the herd of cows were we chose discretion and walked around the edge of the field… just as well as the cache is on the edge of the field not on the maps footpath !
Only one place that obviously matches the hint so a quick find for Grayglove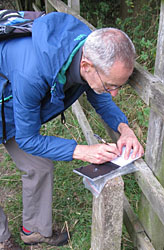 23rd September 2013 – Mr Men Collection – Mr Clever GC4JE5T – cache #2861
I followed the cacher's trail from the stile down to the corner of the field to find the cache while most of the others distracted the dog walkers, or maybe were themselves distracted by the Labradors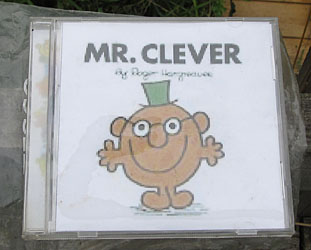 23rd September 2013 – Mr Men Collection – Mr Messy GC4JE5P – cache #2862
A small space to get into to get to the cache, so we sent the tallest member of the group in for it !
Actually I could see the cache from outside of the bushes and Grayglove's long arms made reaching for it easy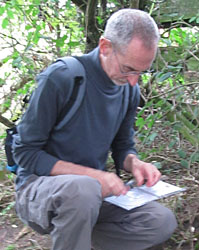 23rd September 2013 – Mr Men Collection – Mr Grumpy GC4JE5K – cache #2863
With a hint of Hawthorn and Hawthorn hedges down both sides of the track ther were plenty of thorns guarding potential hiding places… So we each started looking and Mrs Frosties came up with the goods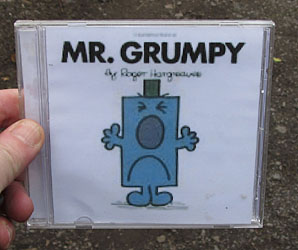 23rd September 2013 – Mr Men Collection – Mr Greedy GC4JE5Z – cache #2864
Four of us went over the stile and started searching on that side of the wall/hedge, but Two Tykes was both behind us actually looking at his GPS and realised we had gone too far and that the cache was back on his side of the stile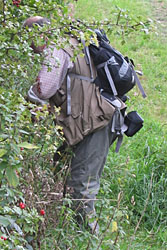 23rd September 2013 – Mr Men Collection – Mr Uppity GC4M0CB – cache #2865
The last of the Mr Men series (well the last of the 23 currently in existence… (there are of course another 20 odd books to go at yet !)
Kaz56, Mrs Frosties and I were in front walking up the hill and although we ended up on the right side of the dence for the cache it was much easier to shout to Grayglove and Two Tykes for them to get it from their side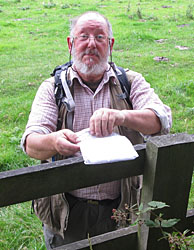 23rd September 2013 – Mr Men Collection – Totally Nuts! GC41GJC – cache #2866
A short detour on our way back to the cars took us to this cache found by Kaz56 as the menfolk were much more interested in an abandoned mastic gun which was hidden just down from the cache.
The lady from the house opposite the cache was fussing around getting some stuff out of our car, but I'm guessing she was familiar with cachers as she took no notice of us at all