Home » Geocaching
Caches No's 2763 to 2769 – Rocks and Caverns
My Sister and nieces – The Twirlagirls from Wiltshire, were up visiting and we had that Sunday would consist of a visit to Stump Cross Caverns and Brimham Rocks… as the weather forecast was for showers in the morning and a sunny afternoon we went to the caves first (and for once the weather forecast was accurate, it poured it down in the morning and was lovely and sunny in the afternoon !)
18th August 2013 – Stump Cross caverns GC – cache #2763
I've not been to the caves for about 15 years… The showcave wasn't as big then… nor do I remember the passages being quite so low ceilinged !
The cache here is an earthcache, and we were certainly in the earth !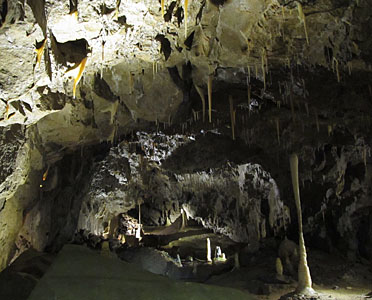 18th August 2013 – Can't see the wood for the trees GC – cache #2764
After lunch at the cavern tea room (well supported by the bikers and cyclists who were passing rather than potholing) we went across to Brimham Rocks… and had a lovely afternoon scrambling over the rocks.
The two small Twirlagirls and I decided to take the 'follow the arrow' route from Cannon Rocks near the car park to this cache, which involved pushing through bracken over their heads and the occasional bramble to spice things up a bit… fortunately we soon got to a proper path and then could wander along and find the cache relatively easily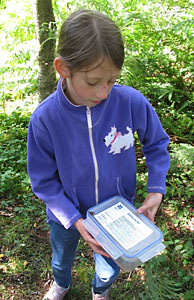 18th August 2013 – Brimham House GC – cache #2765
Brimham Rocks was very crowded on a lovely Sunny afternoon, there was a queue to get in the car park waiting on a one car out one car in basis… So you can imagine how crowded it was around the refreshment stall and picnic tables… so crowded that no-one took any notice as we retrieved the cache and rehid it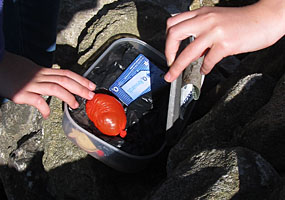 18th August 2013 – Druids Writing Desk GC – cache #2766
The small Twirlagirls are just a bit short for the rocks, they had to be helped up onto the Writing Desk… I predict we will be back on their future visits when they are a few inches taller and climbing is easier for them !
This cache was an easy find as there weren't too many of the hint objects about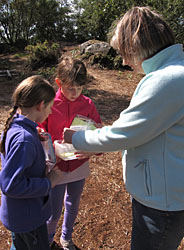 18th August 2013 – Looking for a giant mushroom? GC – cache #2767
This one was found by the biggest Twirlagirl – I think because she had the longest arms and could reach further into the hollow to touch it
18th August 2013 – Ye Ole Survey Monuments GC – cache #2768
YSM300 – Brimham Rocks
The trigpoint is just above the shop and refreshment stall, so it was pretty difficult to find a time when there weren't any people about to get in the photograph
18th August 2013 – Brimham Rocks GC – cache #2769
The final cache we logged at Brimham Rocks is the Earthcache, as we had walked all round and climbed up lots of rocks we had got all the photo's and information necessary.