Home » WASH
WASH 1990
In the early 1990's WASH was a sell out every year, and there were so many people wanting to go that you had to book as soon as the booking forms came out, or you risked your group not getting a place at all. And the forms came out in May, 5 months before the event.
This desperate need to get the forms sent back straight away caused problems for groups who met on Monday nights as the forms were posted on Monday and arrived at the groups on Tuesday… waiting a week until the next Monday then sending it back to the WASH Committee was definitely risking NOT getting a place. Fortunately at Wharfedale we used to get prior knowledge of the day that the forms were being posted (through a friend of a friend in Kings Lynn Group) and so we had a blank cheque signed and ready, the day the forms arrived the booking officer wrote a cheque for 24 deposits and sent it off, we hadn't collected any money from the group members, we hadn't gone round the group and asked who wanted to go, we didn't care whether our group actually needed 24 places, as there was no problem selling spare places on to members of other Yorkshire groups who hadn't moved quick enough to get their forms back and so were missing out on WASH.
Just imagine, having to book for WASH in the middle of May or risk not getting a place… it's the beginning of September now and my group haven't even thought of booking for WASH 2009 yet.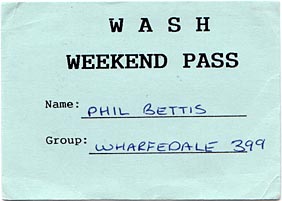 What they said…
WASH

Crash – Andy Fergs thought he had George H's car in first gear, he hadn't!! he had put it into reverse and backed into a lorry. There wasn't much damage, just a dent in the tailgate which wouldn't stay locked. George and I thought it was highly funny – but Andy thought otherwise.

During the Friday night Disco the D.J. made an announcement, which I didn't take much notice of, (drunk already!), Andy Fergs' grabbed me and told me we were moving caravans, to a luxury side berth, (no peace for the wicked!).

Saturday afternoon was spent in the Cinema watching "DIE HARD", and throwing Maltesers at Tina from Leeds Central Croup, I claimed it was someone else, and she believed me! Andy M got up from his seat and received a volley of sweets, he's big enough to take it! I thought Edwin Starr, on Saturday, was excellent.

I was sat on the sea front, when suddenly Miss Central, Amanda ran onto the beach, followed by a group of people. she was p___ d out of her head. eventually she came back, and started to climb the helter skelter, her boyfriend followed her up and the crowd below started shouting suggestive remarks !! Then all she did was slide down.

After the Sunday night Disco I went to the Leeds Central Group party. While there some of the Doncaster crew ordered me back to my caravan where I recieved 23 "bumps" because it was my birthday.
I was quizzed about where I had been, I replied, being sociable!

I was woken up by George tapping on the window how he looks so full of life after a few hours sleep I will never know!

GEOFF Doncaster 18 Plus (Yorkshire Area Magazine "The Tyke", Winter 1990)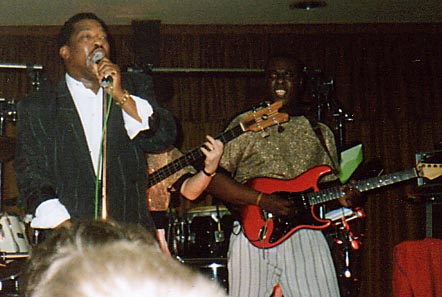 Edwin Starr making his second headline appearance at WASH on Saturday night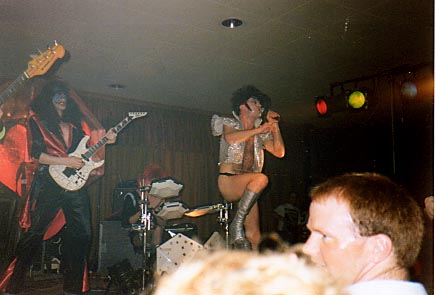 The Gutter Band brought their Glam Rock parody to the WASH stage on Sunday
A funny thing happened…
Back in the days before mobile phones, the place to be between 8:00 and 9:00am on the Monday morning of WASH was outside the public telephone kiosks that used to be in the car park in front of the venue. This was the place where queues of Plussers formed to ring in sick to work. There must be some epidemic that goes round WASH every year because loads of people have to have the Monday off work on the sick.
This is a particular problem for Teachers, who can't have the time off for WASH as it isn't in the school holidays. I have been to WASH with 3 teachers, Wendy – who I used to drive home after the last band finished on Sunday night, she could sleep in the car and then go straight to bed when we got back at 2:30am and get up for work next morning leaving me to catch up on my sleep, Jane – who just rang in sick and Margaret – who twice 'arranged' for a Grandparent to die a few days before WASH so she could have compassionate leave and go to the funeral on the Monday !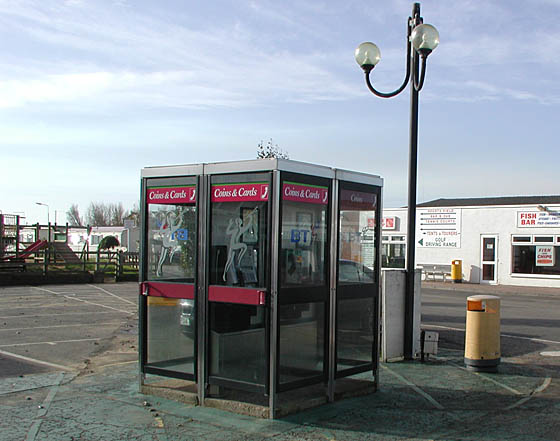 "Sorry boss, I must've ate something dodgy…"
could have been the late night pizza's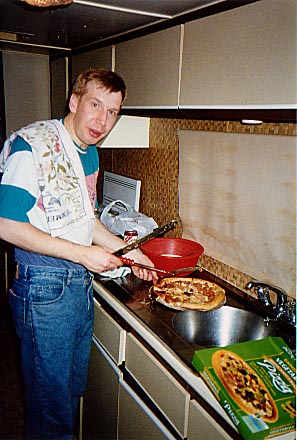 When the dancing is over the hungry Plussers demand food.
Chef Phil Thornbush prepares pizza for the masses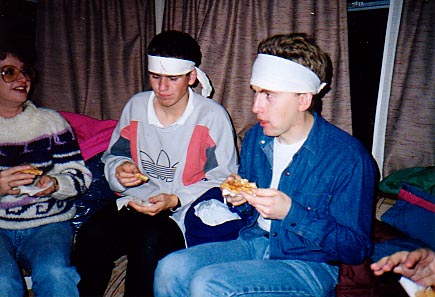 Though why it was necessary for the males to wear a toilet roll headband
is a mystery, the answer to which has been lost in time…