Home » WASH
WASH 1989
I think 1989 was the first year that I was WASH booking officer for Wharfedale 18 Plus. Now the booking officer doesn't really have a lot to do, they just have to arrange who is going to be in which caravan, and get the booking forms all filled in with names and membership numbers, signed by the attending members and then sent off… ermm… what a load of cobblers. The reason to be Booking Officer is so you can have your choice of people to share the caravan with, so I sorted my caravan out and let all the rest of the group decide among themselves where they were sleeping.
Do you need to tell the WASH committee who is in which caravan ? supposedly, but I used to go and give them a list when I got there of who was in which caravan… and even then we didn't always stick to it !
Membership numbers and attendee signatures – made up and forged. We just never took the booking process seriously.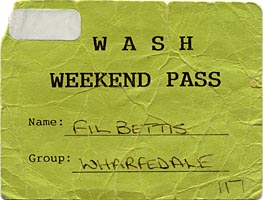 What the Committee said…
WINNING WASH

ONCE AGAIN the dust has settled after the 6th WASH weekend, which for the 4th year running was a complete sell-out. This year's event provided more variety of entertainment than ever before and seemed to be well received by all members attending.

The highlight this year was no doubt the surprise appearance of Radio One's Steve Wright, who generated a superb, if somewhat messy, Saturday night atmosphere, and gave 18 Plus some much-welcomed publicity on his afternoon radio show the following Monday.

His performance was well supported by top singing star Hazell Dean and hypnotist/illusionist Brodie Fry, as well as a host of bands and up-and-coming cabaret artistes, which was held together by DJs John Dean, Howard Neill and a newcomer to 18 Plus circles, Mick McGinley, who has twice been voted top DJ of the year in the finals held at Stringfellows in London.

So what of the largely unknown incidents which happen at events such as WASH like the group of boy scouts who appeared over a sand-dune and startled the Saturday afternoon horse-riding trip? Reports indicate that the horses ended up in Heacham (two miles away), with the unfortunate riders taking a close look at West Norfolk turf. Full marks also should go to Gordon's gin, whose advertisements at the cinema provided some of the biggest laughs of the weekend and furnished the perfect trailer to the exclusive showing of The Naked Gun. Whilst mentioning the cinema, for members who have never experienced the atmosphere of 500 plussers in one theatre – you would need to see it to believe it!

WASH '90 will take place on the weekend of 19-22 October, when it is hoped that improvements to the Holiday Centre will increase the capacity to over 700. Full details will be distributed in May. The WASH '89 committee would like to thank all members, and especially their booking agents, for attending WASH '89.

THE ISRAELITE, WASH CHAIRMAN (Plus News January 1990)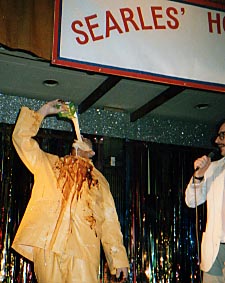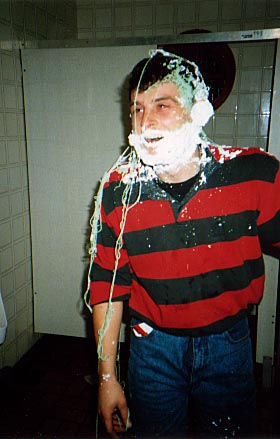 Steve Wright Posse Member Mr Mad covered in a nasty mess of brown sauce and custard on stage
and Leeds Central's Austin covered in a nasty mess of shaving foam and silly string in the toilets
A funny thing happened…
The dates of WASH 1989, Oct 20-22 almost proved to be a problem for two Wharfedale members, as for the first year it actually fell on the half term holiday for teacher Neil H. The problem was that he and his fiance Sherry were due to get married that half term.
The solution was for them to get married in a very 'quiet' ceremony on the Saturday Morning… just them, Best Man, one Bridesmaid and their families… then the Best Man drove them all down to Hunstanton early in the evening where all their friends were waiting to carry on celebrating their Wedding.
The WASH Committee were good enough to give Wharfedale an extra caravan for the newlyweds to spend their first night of wedded bliss in.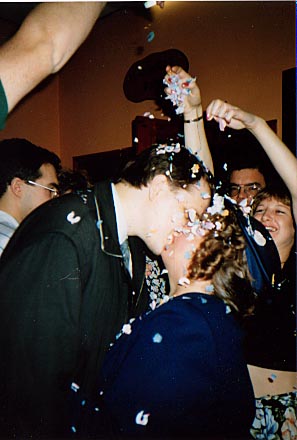 A Confetti shower for the newlyweds as they arrive at Searles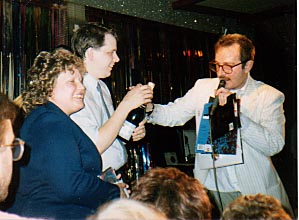 Radio One DJ Steve Wright presents Neil & Sherry with a celebratory bottle of Champagne
In a strange coincidence WASH 1989 brought about another Wharfedale wedding. Neil & Sherry having a 'private' caravan meant that another pair from the Wharfedale group – Richard G and new member Sarah were alone in the caravan they would otherwise have been sharing with the happy couple. Love must have been in the air as they got together that weekend and were married a couple of years later…
Click to go to
Previous Year 1988
Next Year 1990