Home » Geocaching
Caches No's 2648 to 2653 – Three FTF's and more
Strange thing for me, being First to Find a cache, for one thing I only get email notifications of caches up to 10 miles from home, and as I live in a place where the populous area to the South is already swamped with caches and the area to the North is rural without many cachers about there aren't that many caches put out within 10 miles… There are also lots of people who vie for FTF's and who's caching stat's proudly display the FTF's they have found… I don't even record mine on the cache logs so the cache stats programs say I haven't any FTF's as they can't find them.
In actual fact I have 27 FTF's (I went back through all the caches I had found to track them down) 27 out of 2,700… 1% FTF
7th July 2013 – River Nidd, Darley – Forest Stone Marker GC4FN8Q – cache #2648
I had seen three caches published late on Saturday evening and thought that it would be a nice Sunday morning stroll, along the river, bit of shade under the trees so it wouldn't be too hot in the sun.
The first cache was over the far side of the river across a nice little footbridge, it was found easily enough and surprisingly had an empty log book, I mean it was ten hours since publication, and on a weekend too… I was expecting some early morning dog walker would have been there two hours or so earlier, but the FTF honour was mine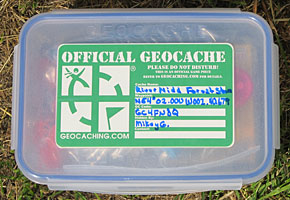 7th July 2013 – River Nidd, Darley – Riverside Hide GC4FNP3 – cache #2649
Another FTF. Walking along the river apparently through peoples gardens made me wonder, do the gardens go right the way to the water or have the houses annexed the extra strip of land where the footpath goes ?
Took me too long to find the cache, I mean it's obvious which feature it is hidden by, but it still took me a good few minutes to get my hands on it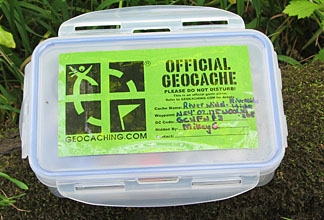 7th July 2013 – River Nidd, Darley – Nidd Valley Railway GC4FNPV – cache #2650
And a third FTF. Although I don't go FTF chasing I will say that my normal routine for a non circular walk would be to walk out to the far end and grab the caches on my way back… but because there were possibly still FTF's to get I had done the opposite and picked up the three caches as I had come to them… If I hadn't I would only have got one FTF as I had just started back from this cache when I came across Goldfish58, who was only a few minutes behind me…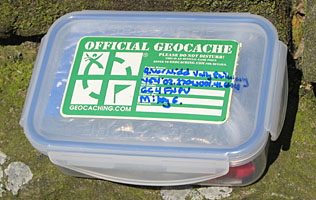 7th July 2013 – Darley Double 2 GC1ZGFJ – cache #2651
Over two years since I DNF'd this cache ! This time there was not a 12 bore wielding landowner to scare me off ! and I also seem to think that the description and hint has been altered to be more prescriptive, as this time I went straight to the cache knowing exactly which part of the path I should be looking near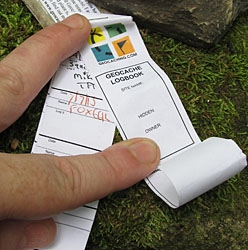 8th July 2013 – A Dark Walk in the Woods GC2N1WP – cache #2652
Some people do night caches on dark winter nights… I prefer to find them on warm sunny summer afternoons ! – other peoples logs and photographs are great… when they say things like we were led round in a big circle almost back to where we started from, and then they put a picture of exactly where the cache is thus making it quite simple to find the cache
I had looked at the photographs of this cache so when I saw a trail breaking through the undergrowth leading to a place that looked like the pictures on here I decided that the finders of the evening before must have left the trail and so I quickly found the cache !
8th July 2013 – Viaduct View GCH2NA – cache #2653
Struggled a little to find this one until I looked back at the previous logs to see that I was looking at the wrong side of the bridge… after that it was an easy find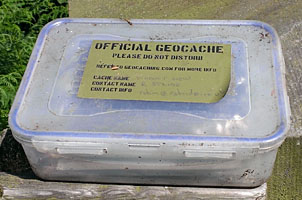 The next day I had a blank day in my caching calendar, and so I went out to find a cache which would fill it and continue my streak GC33B82 The Gaming Vault, but I failed, didn't have the right equipment to find it (i.e. a torch) and I didn't have opportunity to go elsewhere to find another so my streak came to a stop on 33 days, and with another day to fill in 2014 !