Home » Geocaching
Caches No's 2628 to 2647 – A Month of Caching
The caching streak was still going, just needed another week to make a month of consecutive caching days… and to tell the truth caching every day quickly becomes a habit and takes over your life, you wake up working out where you are going to go that day to get a cache, for these people who do two, three, four years of consecutive days caching it must be awful to be their family members when their whole life has to revolve around getting a cache every single day1st July 2013 – Embsay Steam Railway GCK5HB – cache #2628
A Monday in School term time meant that there were no trains on the railway to look for, so it was a quick park up in the A59 layby and dash across the field to grab the cache on my way to Skipton.
One curious thing I noted was that the field was full of sheep that made a deafening racket of bleating as I walked from road to railway, but were absolutely silent as I walked back from railway to road. It was rather weird to have them totally quiet after they had been so noisy, made me wonder a) what walking into the field from the road means to their little sheep brains that gets them so excited… and b) whether they were silently planning something as I walked the other way
Actually I guess it's just that the sheep feeders are on the far side of the field so when the farmer is bringing them extra food he brings it from the road, and he must have done this often enough for the sheep to recognise that something interesting happens when a man walks that way.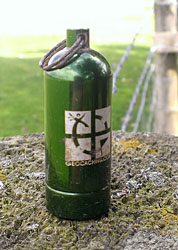 1st July 2013 – Off Yer Trolley! Skipton – Moggies GC49AXV – cache #2629
Spot on co-ords meant that I did not need the hint to find the cache, just needed a gap in the traffic (foot traffic) to retrieve and replace the cache… and I did find a small space to make my mark on the log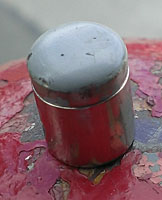 2nd July 2013 – GG65 #7 – L O C K GC4B37T – cache #2630
A quick lunchtime drive by… actually my second visit to the cache, the first time I tried a couple of the more obvious numbers but they didn't work, and I mentioned my failed visit in my log on one of the other caches in the series and got a nudge from Grayglove which enabled me to get to the cache and sign the log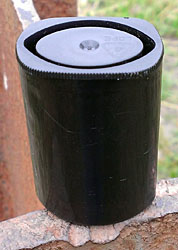 3rd July 2013 – Pining Away GC49097 – cache #2631
I've seen many pine cone caches, but this was one of the better ones, an excellent container ! Got a favourite point from me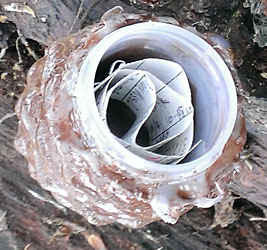 3rd July 2013 – Sleeper cell GC2F90D – cache #2632
Three snails sleeping on the cache this morning…. yeuch !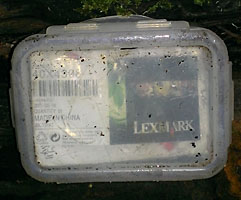 3rd July 2013 – Kirkstall Geolaughing GC315RE – cache #2633
Not a particularly nice place to go looking in, or to hang around in, which is a pity as each finder is encouraged to write a joke in the log book and I would have liked to have read the jokes !
I added my favourite joke, which I will put here as well for other people to read who don't fancy hanging around at the cache site to read it
ahem….
Time flies like an arrow
Fruit flies like a banana
3rd July 2013 – It MUST be a forgery! GC3WANF – cache #2634
An easy cache and dash… looks like they'll be buiding on the forge site soon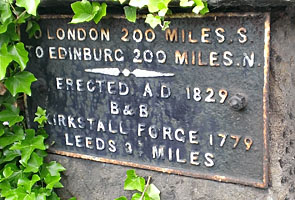 3rd July 2013 – Hanging Tough: Hawkie Hunt GC1KNDB – cache #2635
I got to a likely looking spot… not sure about the clue as I hadn't looked it up but it was obvious I was not looking for an ivy covered tree ! So I looked around, found nothing then looked up to see if there any other likely places in the vicinity and found the cache literally staring me in the face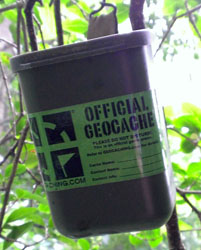 3rd July 2013 – Hawksworth Woods TITO GC32NC4 – cache #2636
Took a bit of finding… well there are more than several places that match the hint (under a large rock) in the vicinity and my GPS was giving me a reading accuracy of 42ft under the trees, so I had to check them all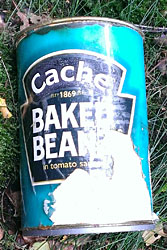 3rd July 2013 – Mark's Marvelous Geocache GC2WTDP – cache #2637
Good job I had read the previous logs as I would never have found it otherwise, the GPS was giving me a accuracy of 34ft under the trees and a hint that potentially gives a lot of places to search. But with the information in the logs there was really only one hint item it could be near. It didn't take much finding as there was really only one place it could be at that hint item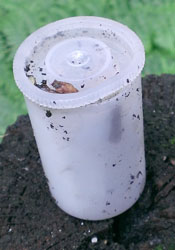 3rd July 2013 – Green with Envy GC2JHKD – cache #2638
No problem finding the cache, but the log was too wet to sign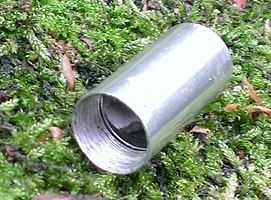 4th July 2013 – Carols Blue Nun Cache GC473FA – cache #2639
I was walking down the track towards the cache and saw two figures searching around in the undergrowth looking at something they were holding in their hands… they were so engrossed that I sneaked up on them unseen and then said "well I don't need to ask what you are doing !" – it was the HX Roamers
The cache was quickly found under it's log and we discovered we were heading the same way so set off for the next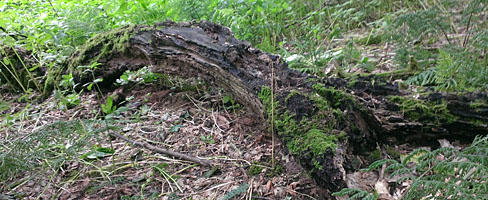 4th July 2013 – Under GC473DA – cache #2640
After having got separated at the previous cache I walked down to this one alone and then had a look about in what was the obvious places but found nothing… The HX Roamers then came along just as I was looking back over the old logs for the cache where I found a hint that led me to the cache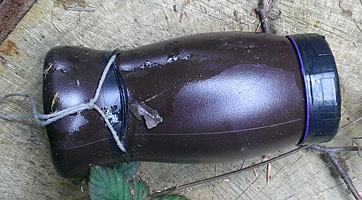 4th July 2013 – I can see two lines from here GC473BV – cache #2641
Just as we found the previous cache the HX Roamers got a phone call which delayed them so I walked on to this cache alone.
Co-ordinates a bit dodgy under the trees, but a hint in a previous log had a clue for the hiding place rather than the cache and I soon got to the cache
I had put the cache back before HX Roamers got there and then watched them struggle to find it – eventually passing on the info that I had found a clue in a previous log, which then led them to the cache themselves
You might have been able to see two lines from here in the winter, but with full leaves on the trees I couldn't even see the train going past 20 yards away and the other line is just a line of trees and bushes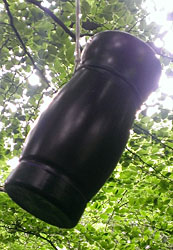 4th July 2013 – Level with the Line GC473E8 – cache #2642
This was really the second cache in this series, I had originally walked down to the GZ with HX Roamers and we started radiating out from the co-ordinates checking every possible hiding place but finding nothing, eventually as we got further from the co-ords we got split up. I was getting nowhere fast, then heard a faint shout, looked around but could see no-one about, so I assumed HX Roamers must have given up on the cache and were shouting to let me know they were on their way to the next… so I passed on this cache and moved on to the next myself.
Then when I met up with HX Roamers again I found that the shout had been one to tell me that they had found the cache in the end, so on the way back they showed me where the cache was (thanks guys) I quickly spotted a suitable aid to getting it and soon had the log signed and the cache replaced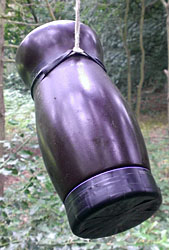 4th July 2013 – Chirpie Chirpie Tweet Tweet in Spring Wood GC2KKBJ – cache #2643
I had no luck with the chirp (Chirp not found was all that appeared on my screen), but fortunately the CO had included an 'analog' method of finding the cache which I found without too much difficulty and calculated some more co-ordinates. Which took some effort to get up to, I am glad that it had been mainly dry for the last few weeks or it would have been a very much harder job to get up the way I went (follow the arrow) if the slope was wet and slippy mud !
I had chance on my climb to work out what I expected to find at the cache site – based on the cache title and description I came up with two possibilities and so was not at all surprised when I caught sight of the one I thought most likely as I arrived at my new GZ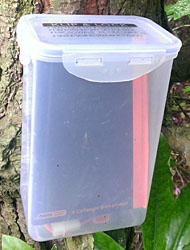 4th July 2013 – A Walk in the Dark GC41K0N – cache #2644
Lunchtime on a sunny summers day may be an odd time to find a Night Cache, but as the saying goes there's more than one way to skin a cat (I used information and photographs from other peoples log to find it)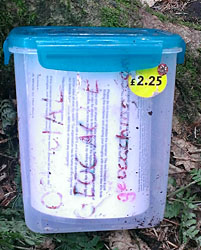 5th July 2013 – Buddha's Cave GC3N2RK – cache #2645
First I didn't find GC346A8 Hunger Hills Cuckoo – Unfortunately it seems the cuckoo has flown (or the chickens escaped if you prefer – the Cache was put out by a cacher called 'Escaped Chickens'!)
The nest is still there, but it is empty
Buddha's Cave was a fairly easy cache made more difficult due to it being a bright sunny day… so I was wearing sunglasses… and couldn't see a thing in the darkness under the trees when looking for the cache – and as they are prescription glasses I couldn't see a thing if I took them off… so it was a bit of groping around in the darkness to find the cache…
And then after I had replaced the cache I nearly scared a woman to death when I popped out from the darkness of the trees in front of her !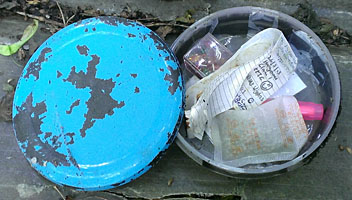 6th July 2013 – 'Maryland Caches – 13 – Vermin !' GC1G7WX – cache #2646
My caching streak started on 6th June and here I'd got to 6th July finding at least one cache every day, so all I had to do was find a cache and I had done a month of consecutive days caching I found this cache lying in the open on the deck of the bridge, the log was both full and soaking wet
I hid it back in a suitable place, but obviously I have no idea where it should be hidden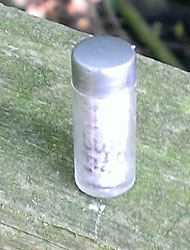 6th July 2013 – Ye Ole Survey Monuments GC45CC – cache #2647
This time I am claiming a find on YSM299 Mount Pleasant – Bracket No. S7749
It's a walk of only a couple of fields, but one of them was full of very curious cows who followed me closely across their field… so I decided to walk back a different way so as not to cause them any more fuss