Home » Geocaching
Caches No's 2568 to 2572 – Sunny Cycling in Harrogate
Well that's annoying… I have just realised the Ive failed at filling all the days on my calendar grid… I forgot to go and get a cache on Friday 24th May. And it's not like I didn't have time or wasn't thinking about Geocaching, as I spent a lot of time writing up the HWS caches for this blog.
I am annoyed with myself as going out for one cache wouldn't have been difficult, I just never went out of the house at all… Oh Well, It wasn't like I was going to finish the calendar in 2013 anyway.
26th May 2013 – A Wherigo in Harrogate's 200 Acre Stray GC19KW6 – cache #2568
A nice sunny Sunday afternoon, and there were several caches close to Harrogate town centre that I hadn't found as they were too far away from the shopping areas to walk and the traffic is always atrocious with nowhere to park… so I parked on the edge of town and rode in on my bike to find the caches. The Stray is 200 acres of open field and on a sunny Sunday afternoon was full of people sunbathing, barbecueing, playing games. The first cache I tried to get to – Tewit Well Nano – I couldn't get near because there were people literally sitting on top of it. The fair was up and running on the stray as well right next to another cache – Stray Changing – so I had to pass on that one as well.
The Wherigo should have taken me crisscrossing the stray a number of times, but I had used the emulator on the computer and so had the final co-ordinates, cheating I know. Although the stray was full of people by the final it was quiet and no-one around, which is a good job as I was looking in the wrong place at first… only when I stepped back and looked again did I see where I should have been looking.
26th May 2013 – Blind Jack's GC35PG9 – cache #2569
The GPS wanted to send me 43ft from the cache across the other side of the road (well it shows that on the satellite view as well, but it was obvious from the hint where the cache was going to be so I ignored the GPS !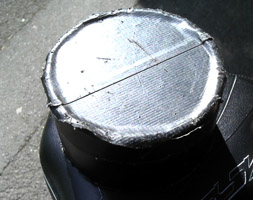 26th May 2013 – Harrogate History 1 GC16CJV – cache #2570
A puzzle cache that involves a bit of googling to sort out what it is all about. I did this in the morning and worked out what I was looking for, even found a photograph of it… but I only found roughly where it was on line, but the nice slow pace of cycling along the road led me to spot the right place and be able to go straight to it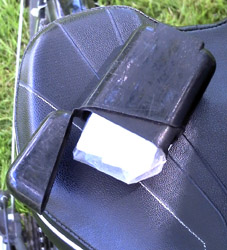 26th May 2013 – Stovold's Revenge GC122P9 – cache #2571
I worked out where this cache was going to be 2 or 3 years ago, but I've never been down this end of town except driving and there's never anywhere to park… So through cycling around I had no problem finding it.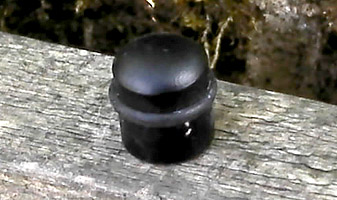 26th May 2013 – Tewit Well Nano GC46BMGC – cache #2572
After finding the others I went back along to where I started to see if the people sitting on top of this cache had moved on… they had.
I've said it before and I'll say it again, I do like a cache where there is a convenient bench on which to sit and sign the log !