Home » Geocaching
Caches No's 2521 to 2529 – Cycling along the Leeds Liverpool Canal
A nice sunny afternoon (though rain and maybe even thunder was forecast) so I thought I would put my bike in the car and go off to the canal and go for a ride along the tow path. I like tow paths for cycling on the grounds that they are on the flat (well apart from by locks) and usually are reasonably surfaced, only the path I was intending to go on is very rough and last time I cycled along it in 2011 it caused a recurrence of my sciatica that I had struggled with for the first few months of that year. This time however I was hoping that my back was in much better health and I wouldn't suffer following the ride !
16th May 2013 – || 192 GC249AG – cache #2521
First cache on the afternoon and the with the hint and description it didn't take too long to work out the few places that a cache could be, so it was a relatively quick find
16th May 2013 – Don't Forget Your Toothbrush GC249T0 – cache #2522
I had to wait for a dog walker to pass before I could search for the cache, but once they were clear it was quickly spotted and signed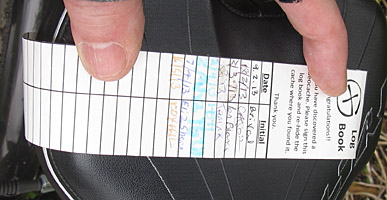 16th May 2013 – Silsden Wharf GC398A6 – cache #2523
The thing is…. that there aren't a lot of places that the cache can be on an bare concrete path on a bridge over the river, so I was drawn to look over the edge as the other side of the bridge parapet was the only place the cache could be. Although this is obviously a busy place at times there was nobody about on a Thursday afternoon so it was a quick and easy find
16th May 2013 – Cachelitic Consternation GC2AYFP – cache #2524
I'd had to log a 'could not get to the cache' note on my previous visit (back in July 2011) due to a boat going through the swing bridge and a family standing watching the proceedings. So today when there was nobody about it was no problem to follow the arrow right to the cache… I had to go a little further than I expected and further than I could take my bike, but the co-ords were spot on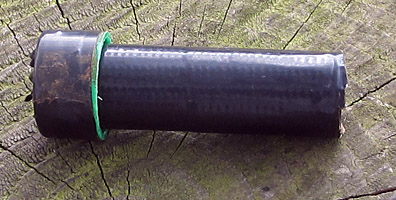 16th May 2013 – White Lion – 400 yards GC1RNV8 – cache #2525
Another cache I'd had to log a note saying that I couldn't get to it last time I was here, this was due to a boat moored alongside with the occupants having a barbecue on the towpath right next to the cache, so I was happy to see nobody about today. Nearly ended up in the field as the cache was behind a large tree on top of a wall and my cycling helmet reduces peripheral vision and I'm not as thin as I think I am !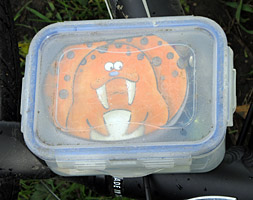 16th May 2013 – No Fishing GC49MGQ – cache #2526
I had to wait for a dog walker to pass, but there was a very convenient pile of timber right next to the bridge that I could sit on and have a drink… the very pile of timbers that the cache was hidden in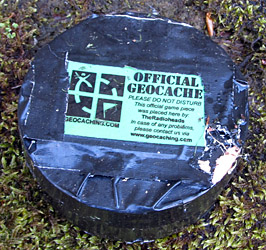 16th May 2013 – Farnhill Moor to LLC GC35R9A – cache #2527
A quick diversion from my cycle ride along the towpath… I did have to push the bike up the hill though !
Relatively easy find as there was only one place that matched the hint, though I did have to look twice due to the excellent cache camouflage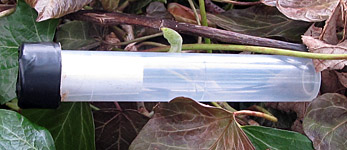 16th May 2013 – LLC to Farnhill Moor GC35R90 – cache #2528
The path down from this caches twin isn't really bicyle friendly… too steep to really ride down and the entrances at top and bottom are designed to keep things as wide as a bike out, but with a bit of humping I managed to get my bike down, The GPS beeped to tell me I was at the cache site, and without looking for the hint I looked around and spotted the only place likely for a cache to be hidden, and there it was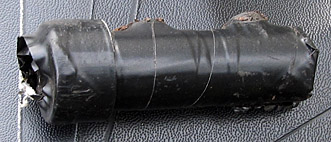 16th May 2013 – Milk Float Mayhem GC3989M – cache #2529
Last cache of my ride along the canal… when I was cycling the other way there was a chap fishing within a couple of yards of the cache, on the way back he had gone so I just had to be quick to avoid a couple of dog walkers. But the cache was a quick spot after I had read the hint