Home » Geocaching
Caches No's 2439 to 2442 – Another D5 T5 Puzzle I didn't Solve
The 26th of April is a very familiar date to me – it's my birthday… and the 26th of April 2013 was my 50th birthday – an event that was loudly trumpeted by my friends on Facebook.
But age is just a number and so I wrote on Facebook in reply to them "I am now 18,263 days old… but if anybody asks I am only 7,670 again !"
Anyway, as it was my birthday (and because I had a blank day to fill) I planned to go caching and find a 5/5 cache to mark it with
26th April 2013 – Covert Ops GCZK7W – cache #2439
This is the third D5/T5 cache I have found in my caching career… and as with the other two I set out to find it without a full set of co-ordinates.
I came across half of the co-ords on a TB in a cache about 6 months ago, but never really took much notice of them until earlier this month, when after the Garforth Gonk event I got fired up on Puzzle Caches and so was looking through the listing of this one and saw photographs that I sort of recognised where they were… with the North Coordinates I had and an idea of where the cache might be it was not hard to pinpoint a likely place to look.
I am not going to say that I found the cache in the first place I looked, as I didn't, it was in the second place I looked, however as the first and second places were mirror images of each other I am going to say say that I got it right first time !
This cache is a bit strange in that it has inside it a TB called the Merchandise, a TB that is a container of other TB's – one of which is a now rare to find Jeep sponsored TB. These had been discussed n the Geocaching.Com forum only the previous day and I had no idea what they were talking about, but then I found one as the headline picture shows.

After that I didn't find GC28R4B C++ – As it has been nearly 22 months since this cache was last found I decided that it was worth a visit to try and resurrect it
The puzzle was relatively quickly solved and the Geochecker said yes… so I went to the co-ordinates… where the meaning of the hint also became clear.
But of the cache there was no sign, although I searched about for ages. The cache may be still there, buried under the vegetation that has grown up over the last 2 years, but without knowing exactly where to look you would have to do an awful lot of damage to the new ground covering vegetation to search every possible place, and that's not the right thing to do
26th April 2013 – THE ALPHABET CACHES – C GC28R0E – cache #2440
I got to the co-ordinates and read the last few logs before I started searching for the cache… It soon became obvious to me that there was only one really likely place that the cache could be, and that to reach it you would have to lie on the ground and stretch, or paddle in the stream !
I opted for the stretching and so with all my valuable zipped into my pockets (don't want to repeat TeamMX's experience, who doing what I did dropped his iphone out of his pocket into the water !) I soon had my fingers on the cache… though getting it out wasn't as easy as it could have been from the angle I was working at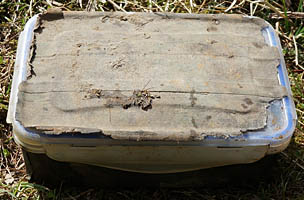 After that I didn't find GC1JDEZ A Panoramic One – With this many trees about a GPS is almost useless (mine was putting me only about 20 feet from the main path where the only view to be had was of close up pine tree trunks, so I knew that that wasn't likely to be the correct place for a 'Panoramic View')
So I went to the place where you get the best view and looked around, but found nothing… Now I have heard that the view from the cache is just of trees, but there is a photograph on the cache page to help, so I'll have to go back with a copy of the spoiler picture and see if I can work it out from that
26th April 2013 – A Bit Rough GC13HP8 – cache #2441
As I approached a rabbit darted down a hole in the rocks… when I looked closer I found it was the hole that the cache was in.. fortunately the rabbit had made itself scarce as I don't really want to be attacked by an angry rabbit while retrieving a cache !
Although I had set off walking on a nice fine sunny morning, two hours later it was blowing a gale and I got hailed on at this cache… fortunately my hat protected me from it !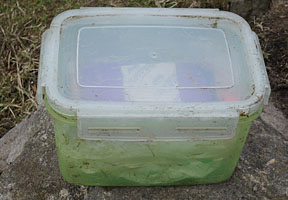 26th April 2013 – Carneva 07 GC21MYY – cache #2442
A large pile of rocks with a cache in, I had to search all round until I found it, surprisingly difficult to see for such a big cache