Home » Geocaching
Caches No's 2410 to 2423 – Lizards, Adam and Shire Oak Park
Another weekend away, this time in a Hotel in Walsall, this is another annual event that friends from all over the country attend, and it has become sort of traditional that we do a bit of geocaching while we are there. So much so that one of my friends, Erik, calls it his annual geocaching trip as he has now been geocaching 4 times, and each time has been with me at this annual weekend
20th April 2013 – The Lizard Trail 2- Harpur GC – cache #2410
Out for a sunny early evening walk with UKCacheMag, Elephantemg83 and a couple of non-caching friends (Erik and Dave).
Obvious to the experienced caching eye where the cache was going to be from a long way off.
20th April 2013 – The Lizard Trail 2- church view GC41NCZ – cache #2411
Elephantemg83 spotted this one and so we let her fight the thorns to retrieve it !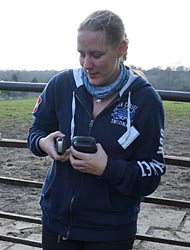 20th April 2013 – The Lizard Trail 2- a fallen one GC41NDC – cache #2412
The cache name was a big enough hint to find this cache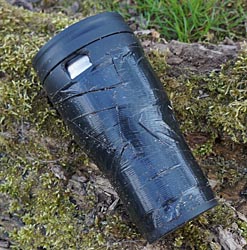 20th April 2013 – I Promise GC2GQJ7 – cache #2413
Under a hawthorn tree… nobody seemed to want to brave the thorns to retrieve the cache so I ended up doing it… I still have the scabs on my hands !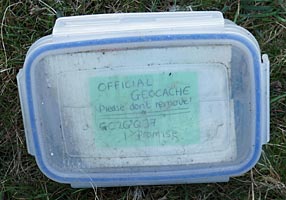 After this I didn't find GC3ZVQK Lake Side – Five pairs of eyes, searching individually so every tree was searched 5 times, failed to find a sign of this cache… nor did I find GCG0QK Park Lime Pits – UKCacheMag had found this cache in the past, so knew where it should have been – it wasn't there, nor was it anywhere else that we could see
20th April 2013 – Adam's Cache GC3X0D5 – cache #2414
We came on this walk specifically to get to this cache – as UKCacheMag is really called Adam, so it seemed fitting (and a picture of hm at the cache will probably appear in the next issue !)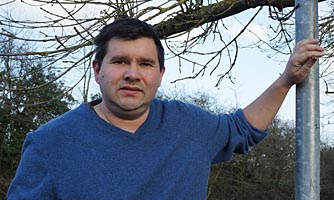 20th April 2013 – LA Story GC412Z1 – cache #2415
Elephantemg83's log says it was a simple find… might have been for her – but that's because she wasn't the one doing the jumping to retrieve and replace it !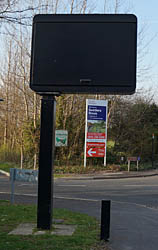 21st April 2013 – a) Shire Oak Park GC3A5QM – cache #2416
Next morning I went out for a Sunday morning cache with my friend Angel78 – walking off a full English breakfast. We went to the nearby Shire Oak Park Nature Reserve, which is in reality just an old quarry. We started off at the beginning with Cache A which was at the bottom of the steps leading down into the quarry, as with previous finders I had to resort to the hint as the co-ords were pointing me to the top of the steps !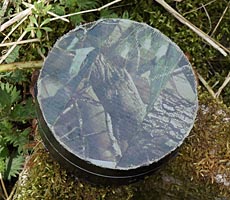 21st April 2013 – i) Shire Oak Park GC3AK90 – cache #2417
We were supposed to be heading from a) to b) but got on the wrong path and ended up at i)… spent a bit of time looking in the trees for what we thought the hint meant but then decided to go by the co-ordinates and found they were spot on and the hint meant something totally different to what we had thought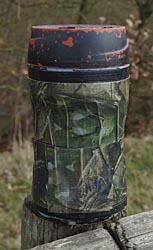 21st April 2013 – h) Shire Oak Park GC3AK8W – cache #2418
A nicely hidden cache, excellently camouflage as a fence post support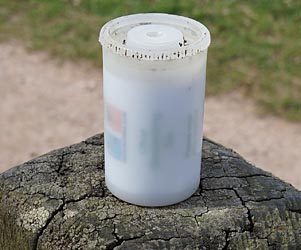 21st April 2013 – g) Shire Oak Park GC3AK8T – cache #2419
We got a little concerned about the mud before we got to the cache, but fortunately the 'higher ground' was firm enough !
Having seen many hides like this it wasn't too hard to spot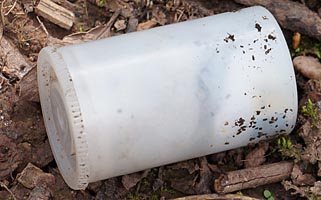 21st April 2013 – f) Shire Oak Park GC3AK8Q – cache #2420
Maybe because we had come the wrong way round and already found h) and g) we were tuned into the hiders methods so this was a quick find, another well made cache and great to see caches cleverly hidden in plain sight like this one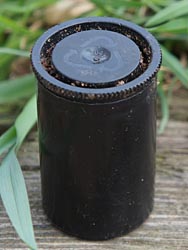 21st April 2013 – d) Shire Oak Park GC3AK8J – cache #2421
Easy enough find with the hint… and a bit of botanical knowledge !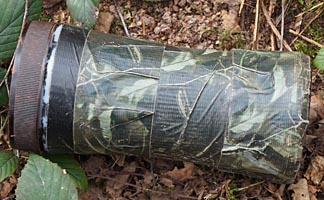 21st April 2013 – c) Shire Oak Park GC3AK8G – cache #2422
Not too hard to find, and an interesting looking gizmo inside… I must have the wrong type of keys as although I tried every thing I couldn't get it to work, and assumed the battery must have been flat – which can't have been the case as reading the cache logs it was working for others later in the day, so we couldn't get the coordinates for cache E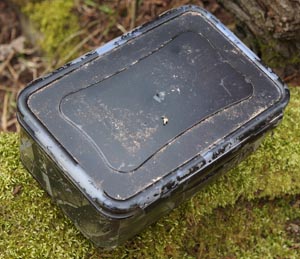 21st April 2013 – b) Shire Oak Park GC3AK8D – cache #2423
As we had gone from a) to i) and then backwards around the series this was the last cache we found. This is an excellent cache series, with some nice varied types and sizes of caches and some nicely constructed hides, this particular cache being one that must have taken some work to get looking so good, though as Angel78 found, it wasn't so easy to put back looking natural