Home » Geocaching
Caches No's 2354 to 2361 – Filling The Grid
One of the challenges of Geocaching is to find a cache on all 366 dates, and to assist in that your profile on the main website has a grid of all the dates and fills the boxes in with the number of caches you have found on each date. Adam (UKCacheMag) has decided that this year he will fill his grid up with at least one cache per day… So I decided that I should do something similar too… although he has filled January and I only have two January days done as I don't like cold, mud, rain, snow etc so hibernate in the Winter !Anyway, February started and off I went, a Geocache every date that I hadn't already found one on.
The thing is that I have done most of the local caches so finding one a day could end up with a lot of travelling, if I just do each of the caches nearest to me one-a day I will clear all the caches up to 6 and a half miles in a straight line from home… and some of those will be 10 miles away by road.
1st February 2013 – Train spotting GC – cache #2354
This was a date that I already had filled in, but I had to go to the other side of Leeds to get a new screen put in a Tablet Computer, and this cache was a couple of hundred yards up the road from where I was going, so it seemed silly not to go for it.
The description of the cache says something about watching out for the train spotters looking over the bridge at the railway engines (the cache is near the entrance to the main freight yards in the area. Standing on the bridge I had a good view of Freightliner Class 66 locomotive No. 66569, built in October 2003, in it's standard green freightliner livery – oh and I found a cache as well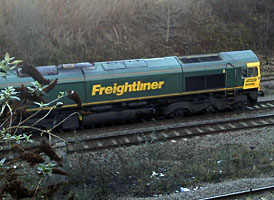 2nd February 2013 – Lock, Stock and Two Smoking Barrels GC – cache #2355
A Saturday morning, and the first date with a white square to be filled. A new local cache had appeared a day or two before, a cache that had fallen into disrepair and the cache owner had disappeared, so the cache was taken over by a new CO and relisted as a new one in exactly the same place (The original cache was the 27th I found GCVE45 – This is ACE Really)
Three and a half years and 2,328 caches since I was here last… but I still remembered how to find it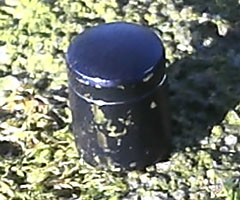 3rd February 2013 – It's a cracker! GC – cache #2356
Golden Acre Park is a place I have visited several times to find caches, but a couple of days after Christmas a new one had appeared there, I decided it would be a good one to find as most of the footpaths are at least dressed if not fully tarmaced so it wasn't going to be too muddy unlike everywhere else !
The cache was hidden in the root system of a fallen tree so involved crawling on the ground to get it, although there were lots of dog walkers out taking the air on a Sunday morning, I managed to arrive at the cache just as there was a gap in passers by, so my praying in the general direction of the opposite way to Mecca was not viewed by any one else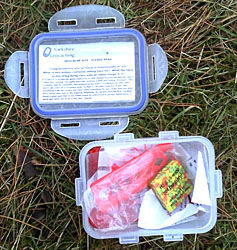 4th February 2013 – GOLD!!! Alistair Brownlee GC – cache #2357
The Post Office decided to paint a Post Box gold for each British winner of a gold medal in the Olympics and Paralympics in their home towm, and this cache was by the gold post box in honour of Triathlon Winner Alistair Brownlee… Trouble is it's outside the Post Office in the middle of Horsforth, which is odd as he lives in Bramhope !
It took me a little while to find the cache, mainly because the hint was one word which I associate with a particular bit of street furniture and I should have been looking for something else ! But I got there in the end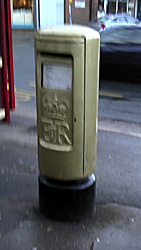 5th February 2013 – Huby Do. Bench. GC – cache #2358
A horrible snowy day, so I decided that I had better just go out and do the nearest cache to home that could be done as a drive-by. The cache is part of a series of about 15 caches that were put out at the end of last summer but that I haven't done as the fields have just been too muddy… Actually I am quite glad about that now as they are only between 2 and 4 miles from home so I will be able to do them at one per day and fill up empty grid slots – just need it to not be so muddy now !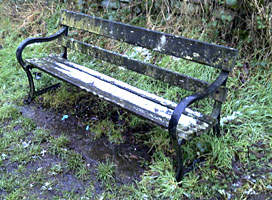 7th February 2013 – Inside out GC – cache #2359
I had to go and get my tablet PC back with it's new screen so needed a cache to go for on my travels, this one is the first of a 4 puzzle series so I thought I would go and find this one to get the clues for the next bit… which I did but they weren't exactly what I was expecting, however at least I have an idea what it could mean so I can sort out the co-ords for the next cache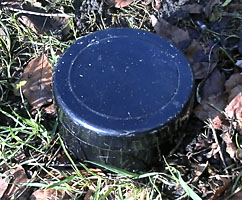 8th February 2013 – GOLD!!! David Stone GC – cache #2360
Another gold pillar box, this time for Paralympic cyclist David Stone who apparently lives in Rawdon. I made the mistake of trying to find this at school kicking out time… hordes of kids and parents everywhere, but eventually I got a break and managed to get the cache sorted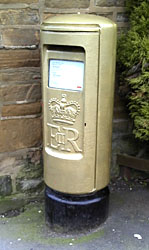 11th February 2013 – Winter at Ferniehurst Dell GC – cache #2361
Another bitterly cold day so I chose a cache that was not far off the road, in a small park with tarmac paths. I struggled to find the cache until I read the previous logs and read it was probably on the other side of the path to where I was looking… then I spotted it quickly (to be fair to the cache setter the park is in what appears to be an old quarry and so with steep rocky banks and large trees the GPS signal is a little flaky)