Home » WASH
WASH 1986
Back in 1986 there were a lot of very tired Southerners at WASH as there was far too much sitting up watching TV into the early hours.
Earlier in the summer Yorkshire TV, whose region covers the WASH area, had bought the rights to show a Satellite Music TV show called 'Music Box' which broadcast from about midnight until normal programmes began again at Breakfast time. Music Box was an MTV like jukebox of pop music videos, there are multiple channels showing this sort of stuff these days, but back in '86 satellite TV was in its infancy and music video's were things you only saw on Top of the Pops.
Those of us who lived in the Yorkshire TV region had been watching this late night TV for months, so we could just ignore it as being part of the 'normal world' we left behind when we arrived in Hunstanton – but for those from other TV regions it was something incredible, the like of which they'd never seen before, and it was strange to wander back through the campsite from a party at 3:30 – 4:00 am and see through the curtains caravan loads of people sitting open-mouthed staring at the TV watching the music video television most of them had only heard about previously.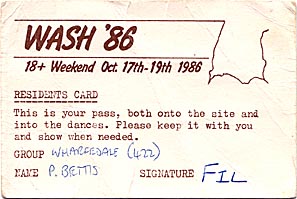 What the Committee said…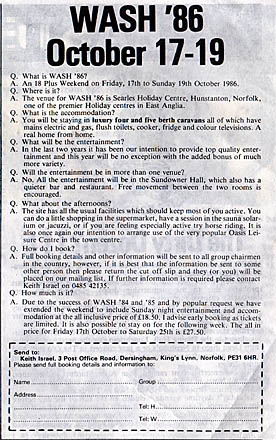 Q. What is WASH '86?
A. An 18 Plus Weekend on Friday, 17th to Sunday, 19th October 1986,

Q. Where is it?
A. The venue for WASH '86 is Searles Holiday Centre, Hunstanton, Norfolk, one of the premier Holiday centres in East Anglia.

Q. What is the accommodation?
A. You will be staying in luxury four and five berth caravans all of which have mains electric and gas, flush toilets, cooker, fridge and colour televisions. A real home from home.

Q. What will be the entertainment?
A. In the last two years it has been our intention to provide top quality entertainment and this year will be no exception with the added bonus of much more variety.

Q. Will the entertainment be in more than one venue?
A. No. All the entertainment will be in the Sundowner Hall, which also has a quieter bar and restaurant. Free movement between the two rooms is encouraged.

Q. What about the afternoons?
A. The site has all the usual facilities which should keep most of you active. You call do a little shopping in the supermarket, have a session in the sauna solarium or jacuzzi, or if you are feeling especially active try horse riding. It is also once again out intention to arrange use of the very popular Oasis Leisure Centre in the town centre.

Q. How do I book?
A. Full booking details and other information will be sent to all group chairmen in the country, however, if it is best that the information be sent to some other person then please return the cut off slip and they (or you) will be placed on our mailing list. If further information is required please contact Keith Israel on 0485 42135.

Q. How much is it?
A. Due to the success of WASH '84 and '85 and by popular request we have extended the weekend to include Sunday night entertainment and accornniodation at the all inclusive price of £18.50. I advise early booking as tickets are limited. It is also possible to stay on for the following week. The all in price for Friday 17th October to Saturday 25th is £27.50).

Advert for WASH '86 that appeared in the Spring Summer edition of Plus News
What They Said…
BEFORE
Thirteen Wharfedale 18 Plus members and two Shipley 18 Plus members are looking forward to the WASH '86 weekend at Hunstanton on the WASH this weekend. There are three packed days of activities including disco's in the evenings with top DJ's and well known bands, accomodation is in luxury caravans and the whole weekend costs less than £20
AFTER
This weekend Wharfedale 18 Plus enjoyed one of the many mega events in the 18 Plus calendar, the WASH 86 gathering in Hunstanton, Norfolk. Wharfedale 18 Plus Chairman Steve Wad soon made a big impact getting on stage to perform a song with Peterborough band "Five Card Trick" on the Friday night. On Saturday night the featured band were Oddysey and then on Sunday night the "Oldest Swinger In Town" Fred Wedlock entertained the over 600 Plussers from all over the country. Steve Wad was once again involved when he was hypnotised by one of the worlds top comedy hypnotists Johnny Hillyard, Mr Hillyard also brought out a rare tap dancing talent from Tom Dosser of Leicester 18 Plus. There were plenty of parties to go to way into the small hours, Barnsley 18 Plus even attempted the world record for the number of party goers in one caravan.
Wharfedale 18 Plus Press Releases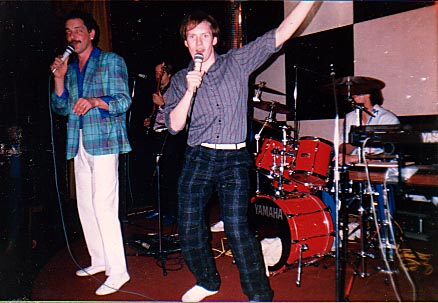 Above : Wharfedale Chairman Steve Wad on stage with Five Card Trick.
The song was Anita Dobson's "Anyone Can Fall In Love" – the Eastenders Theme Tune. (Remember the lead singers jacket for later)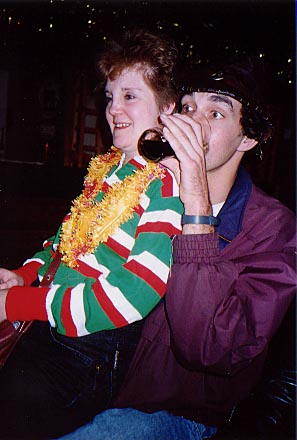 Above : Tom the Tap Dancing Dosser (and friend) .
(He wore that hat from when I first met him back in '86 to the last time I saw him at WASH '98, see the section on Dossers for more details on Tom)

Oasis Squash Racket Hire Ticket.
It wasn't all drinking and dancing, before the days of the Princess Theatre Film Shows the afternoons were spent in more energetic pursuits at the leisure centre.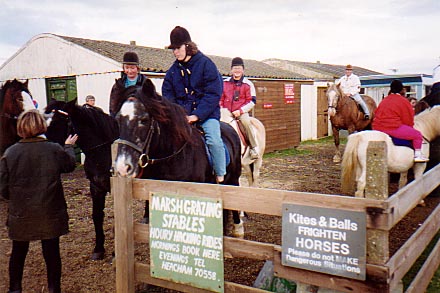 Above : Horse Riding on the beach was a popular activity in the early years
A funny thing happened…
Jonathan Hillyard – top comedy hypnotist – did something that turned out to be not so funny after all, He got one of his volunteers in a trance and gace him an onion to eat telling him that it was a nice rosy red juicy apple. When he had had a few bites Mr Hillyard said "What would you say if I told you that you were eating an onion ?" to which the unfortunate volunteer said "I'm not eating an onion, I'm allergic to onions". After going white, Mr Hillyard spent a few minutes reinforcing the hypnotic suggestion that it was an apple, I've often wondered whether the poor chap did have a bad reaction to the onion, or whether the power of the mind kept him feeling alright.
Click to go to
Previous Year 1985
Next Year 1987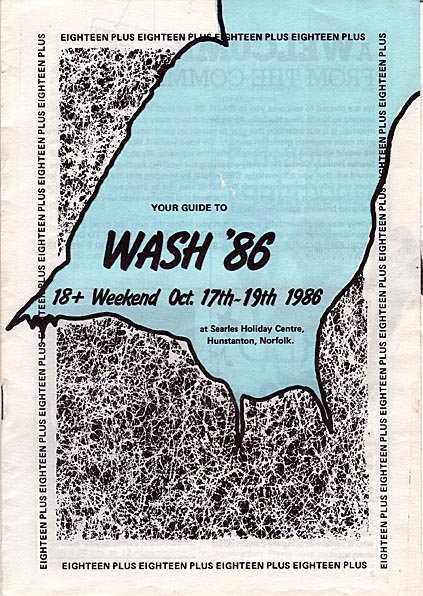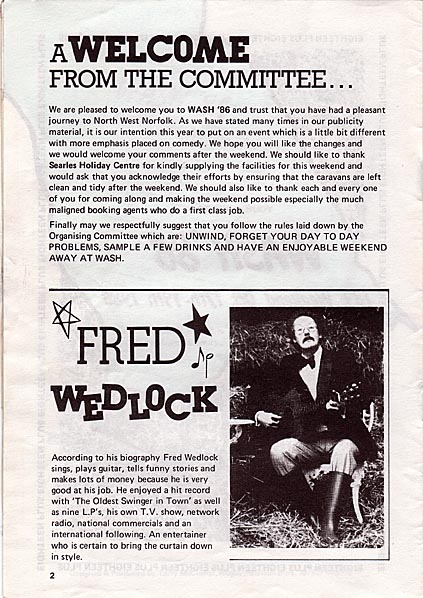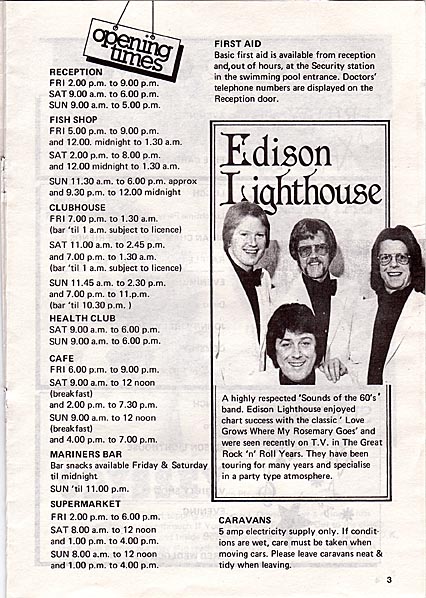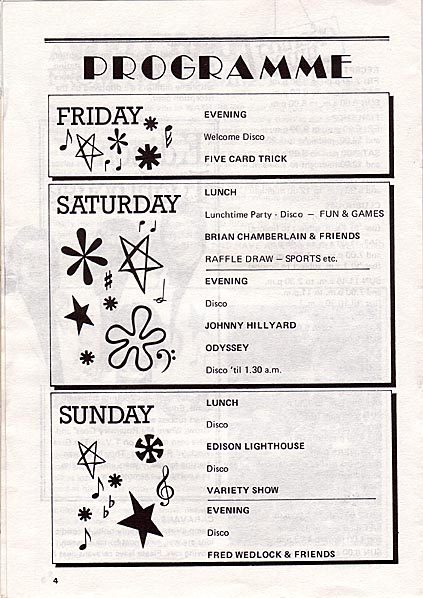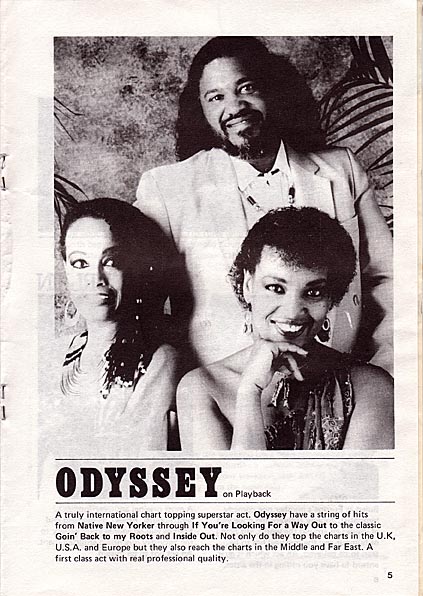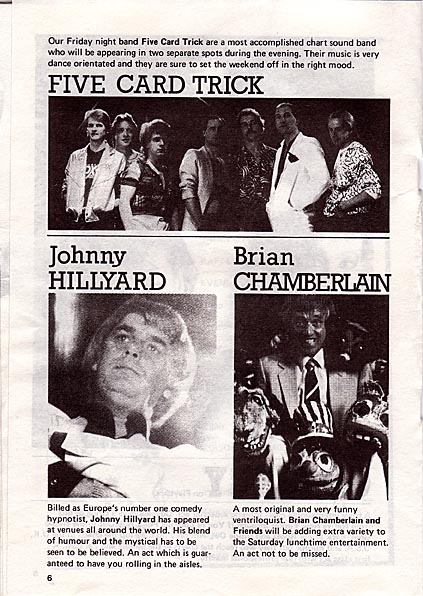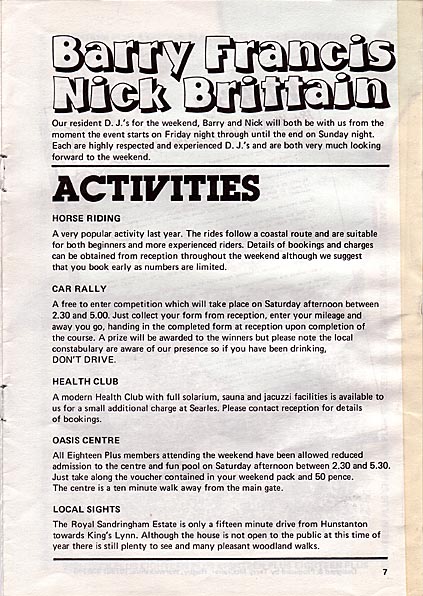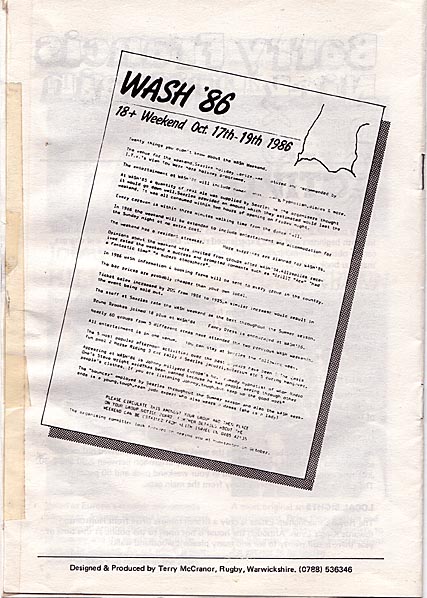 What It Says

Twenty things you didn't know about the WASH Weekend.

The venue for the weekend ,Searles Holiday Centre, was featured and recommended by I.T.V.'s Wish You Were Here holiday programme.

The entertainment at WASH'86 will include named bands, comedy, hypnotism, discos & more.

At WASH'85 a quantity of real ale was supplied by Searles as the organisers thought it would go down well. Searles provided an amount which they estimated would last the weekend. It was all consumed within two hours of opening on Friday night.

Every caravan is within three minutes walking time from the dance hall.

In 1986 the weekend will be extended to include entertainment and accommodation for the Sunday night at no extra cost.

The weekend has a resident streaker.

More surprises are planned for WASH'86.

Opinions about the weekend were invited from groups after WASH'84. All replies received rated the weekend a success and prompted comments such as "Brill',' "Ace" "Had a fantastic time" "A superb atmosphere".

In 1986 WASH information & booking forms will be sent to every group in the country.

The bar prices are probably cheaper than your own local.

Ticket sales increased by 20% from 1984 to 1985. A similar increase would result in the event being sold out.

The staff at Searles rate the WASH Weekend as the best throughout the Summer season.

Bruno Brookes joined 18 plus at WASH'84.

Fancy Dress is encouraged at WASH'86.

Nearly 60 groups from 5 different areas have attended the two previous WASH weekends.

All entertainment is in one venue.

You can stay at Searles the following week.

The 5 most popular afternoon activities over the past 2 years have been 1 The Oasis fun pool 2 Horse Riding 3 car rally 4 Searles jacuzzi, solarium etc 5 curing hangover.

Appearing at WASH'86 is Johnny Hillyard Europe's No.1 comedy hypnotist of whom Radio One's Steve Wright said "has been banned because he has people seeing through other people's clothes. If you are listening Johnny, tough, but keep up the good work"

The "bouncer" employed by Searles throughout the Summer season and also the WASH Weekends is a young, tough, mean judo expert who also wears a dress (she is a lady)

PLEASE CIRCULATE THIS AMONGST YOUR GROUP AND THEN PLACE ON YOUR GROUP NOTICE BOARD. FURTHER DETAILS ABOUT THE WEEKEND CAN BE OBTAINED FROM THE ISRAELITE

The organising committee look forward to seeing you at Hunstanton in October.