Home » Geocaching
Caches No's 2190 to 2200 – The Old Road from Cookridge Pt 2
The evening after I went up Otley Old Road and to Cookridge some more new caches were put out – on the same footpaths as I had walked earlier that day… so the next morning I went back up to where I'd been 24 hours before to find these new caches

5th November 2012 – Cookridge Countryside: The Rock (Bramhope Tunnel) GC40RWA – cache #2190
A FTF… though a strange one as there wasn't an empty log book, in fact the log book was full of names dating back to 2008 ! (GCYCX9 Bramhope Tunnel : The Final Cache)
The story is that as the cache hider was looking for a place to hide his cache he found a suitable spot… but there was a cache already in it. A bit of investigation showed this to be an old archived cache, and it was then reinstated under a new name and a new GC number so it's a new cache and an FTF
5th November 2012 – Otley Old Road: Speed Sign Nano GC40RY2 – cache #2191
I was suprised to get an FTF on a drive by cache at 10:30am, usually they are found early in the morning on the commute to work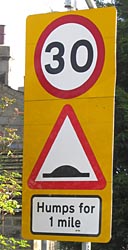 5th November 2012 – Cookridge Countryside: Hollow Oak GC40RPG – cache #2192
I was surprised at how many cars go up and down this track which basically only leads to a few paddocks where horses are kept… there seemed to be more cars travelling around than horses for them to be going to look after… the cache was another FTF for me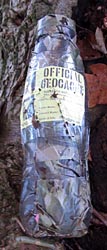 5th November 2012 – Cookridge Countryside: Hogg Hole GC40RRE – cache #2193
Another new cache on a path that I walked along yesterday… and another FTF … the weather was bright and sunny today compared with yesterdays fog though !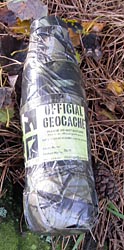 5th November 2012 – Adel Willows Wallet GC3WHMW – cache #2194
A cache in a CD wallet in a crack in a wall. I spent more time waiting for a gap in the traffic to cross the road than I did looking for the cache… and then I had to wait again to get back to the other side.
Why did the chicken cross the road ? – to get to the geocache of course !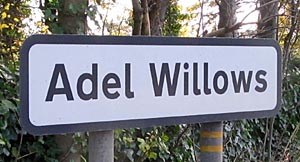 5th November 2012 – Another Golden Acre cache GC3VEH4 – cache #2195
A quick find of a quite large cache, surprisingly large for being just off the path in a well used public park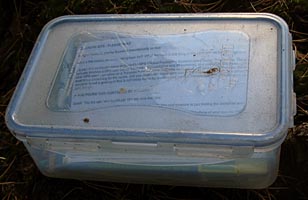 5th November 2012 – King Lane Tudor Kings – Edward VI GC3YH7W – cache #2196
A nice easy find, given that the hint (small oak tree) can only possibly refer to the one oak tree in the area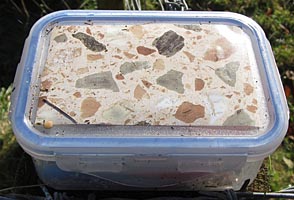 5th November 2012 – King Lane Tudor Kings – Henry VIII GC3YH7A – cache #2197
A bit muddy at the field end of the track and golfers just over the wall made this cache a little more testing than some, but a suspicious looking pile of stones made it an easy find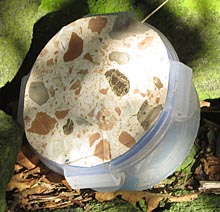 5th November 2012 – King Lane Tudor Kings – Henry VII GC3YH6P – cache #2198
The GPS signal was not brilliant under the trees and so I had to go by the hint – twisted tree… and there are several trees that could be said to match that description around here, so it took me a few attempts before I found the right one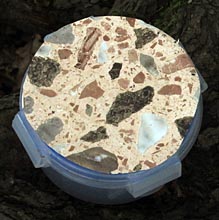 5th November 2012 – Otley Old Road: Stu's Box by the Scary Woods GC3WKPV – cache #2199
A much larger cache box than I was expecting to find on a roadside cache, hidden behind some unused stone gateposts that lead into the plantation.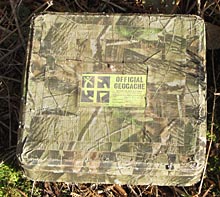 5th November 2012 – Otley Old Road: Base Clump GC3WKNY – cache #2200
My last find of the morning, and my 2,200th find overall