Home » Geocaching
Caches No's 2130 to 2136 – Driving down to Wellingborough
Friday, and I was heading down to Northamptonshire to attend the "Halloween Hides & Creepy Caches" event and it just so happened that I had some unfinished business in Nottingham so my route took me via that city again – my third visit in six weeks ! (actually my 4th visit in 9 weeks allowing for the fact that I also visited my Brother in Hospital there on a non-caching trip at the August Bank Holiday weekend) I had some more puzzle caches to find and a return visit to one of Jacaru's to make
26th October 2012 – 1C3K GC3W6M2 – cache #2130
Last time I was here (3 weeks earlier) I ahd forgotten to bring the TB Key so I couldn't open the cache. This time I had arranged to meet a local cacher known as Plasmawave at the cache as he also had a TB key retrieved from Wales when he visited his daughter. The idea was that if we had two keys then only the two of us would know which one worked (one of ours or the other one) and if we did open the cache then we were still maintaining 2/3rds  of the mystery as there would still be two keys which were at the cache when it was opened. We met at the cache, each of us had a key, one worked – so we had a joint FTF.  Maybe Jacaru needs to change the cache name to 1C2K now !
At this cache I picked up TB514JT – The Key from Plasmawave… we decided that if I took both keys away,  left one in Northamptonshire and the other in Yorkshire it would still be a challenge for other cachers to get the keys and open the box
26th October 2012 – Mystery Metal GC3BFW2 – cache #2131
When I was planning my Jacaru Puzzle Cache day I was emailed by a cacher called Chrispiti with links to a couple of his puzzle caches in Nottingham that he thought I might like… and I certainly did !
What an excellent cache this one is, a sneaky little puzzle with red herrings that took me far longer to solve than it should have (as I'd tried the right idea but the wrong way long before I got the answer)
And a brilliantly constructed hide to go with it, only the cacher's sense of something not being quite right enabled me to find it without a struggle.
And you pass this lovely piece of sculpture on your way to the cache – the Sneinton Dragon, which watches over the road junction
I wish I could give the cache two favourite points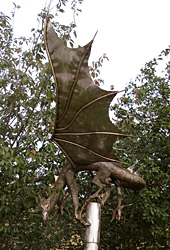 26th October 2012 – Crystal Ball GC3ENDW – cache #2132
The other of Chrispiti's caches was this one. It had given some cachers lots of problems trying to solve it, but I looked at this puzzle, read the logs, found enough clues in them to give me an idea… Looked up on google as I couldn't remember exactly how to get from the puzzle to the answer and quickly had the co-ordinates.
When I got to the cache site I quickly spotted something I expected to be hiding the cache, but no cache tucked behind it, it took a second and third look round before I realised where the sneaky cache was hidden.
Another excellent cache I wish I could give 2 favourite points to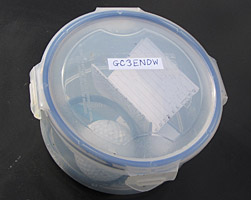 26th October 2012 – Wilford Willow GC34WPX – cache #2133
While planning the trip I'd spotted a pub by the river where I could have lunch and have a little walk to get another couple of caches and I'm glad I did just to get this cache. An excellently constructed hide (or two) and well worthy of a favourite point
I don't know what it is with the Nottingham cachers, but I rarely am impressed enough to give a favourite point, and yet this was the fourth I've given in one day, and I'd only found 4 caches !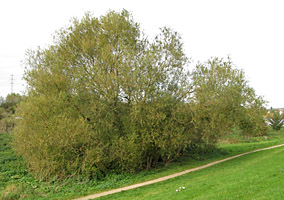 26th October 2012 – Where's the Bees? GC1YGVD – cache #2134
An easy find once I'd worked out what the bees were – they weren't that recognisable to me at first from the angle I was looking.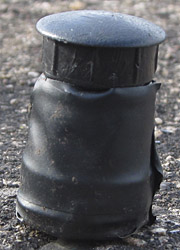 26th October 2012 – CKTV 6 – Ivor The Engine GC35ZJ9 – cache #2135
Further on my way was this quick little drive by cache. The GPS was sending me a bit further down the road, but I spotted something looking suspiciously like cacher's stickoflage and soon uncovered the cache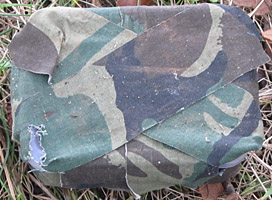 26th October 2012 – HH&CC 2012 Camping Event GC3BJQV – cache #2136
The Hallowwen Hides & Creepy Caches weekend started with an evening meet in the pub. I had arranged to meet Adam (UKCacheMag) there so we could have some food, I arrived about 7:00 no sign of Adam, but a huge long queue for the food. So I phone Adam and found that he was actually in the wrong pub ! (same chain and about quarter of a mile apart). His pub was empty so I decided to walk over to the other pub to get something to eat there.
We arrived back (full) an hour later and spent the rest of the evening chatting to familiar and new faces whose names I mostly have no idea of !