Home » Geocaching
Caches No's 1979 to 1988 – Saturday night Around Skipton
Still with 20 caches to go and 7 days to do them in I took advantage of it being dry on Saturday evening to head over to Skipton and get some easy 'drive by' caches around there. I did obviously take a detour on the way there to pick up a couple of drive by's – going straight to somewhere would be just wrong wouldn't it ?
4th August 2012 – Hang In There GC3QHFE – cache #1979
Parked right next to the stile in the layby, no-one else in sight. I got scratched and stung getting to the cache though
4th August 2012 – Olle Odin GC2D577 – cache #1980
A straightforward find behind the trunk of a bush in the hedge, made more difficult because of a runner who happened to come past as I was furtling in the bushes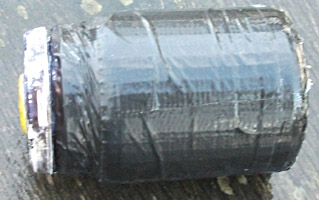 4th August 2012 – Lurking in the Bushes GCK5GR – cache #1981
A cache on the canal towpath… I was just getting the cache when a bloke walked along the towpath and a boat came past, I stayed 'Lurking in the Bushes'  until they had gone past to avoid scaring them !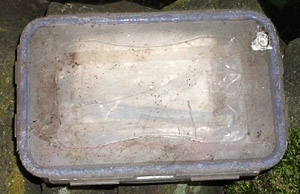 4th August 2012 – Ye Ole Survey Monuments – Inghey Bridge Rivet GC45CC – cache #1982
Another of the 'Trig Point' caches, thought this time it's not a white concrete block, but just a bracket on the bridge wall and a rivet to mark the spot to put the Surveying Equipment on. This YOSM is  TP148 – Inghey Bridge. I had to clear the vegetation that was covering the rivet before I could take the photograph. The Flush bracket is a few yards away on the outside of the bridge, fortunately there is enough of a cachers trail to the place where you can lean over and see the bracket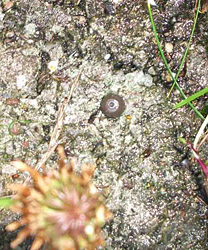 4th August 2012 – Inghey Bridge 2-4-1 GC1QHER – cache #1983
An easy enough cache to find, didn't even need the hint it was obvious where it would be hidden !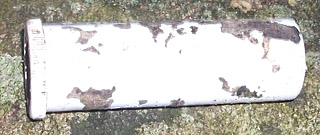 4th August 2012 – Culvert Ops GC2YE22 – cache #1984
An almost drive-by cache by an underpass under the canal… next to a trainline, and I had to wait for a train to pass before I could cross the track, then it was a bit of paddling under the aqueduct, but the cache was easy to find when I got to the other side
4th August 2012 – A Testing Cache GC3M6KX – cache #1985
A cache in the grounds of the Driving Test Centre, I was there atl 8.00pm on a Saturday night expecting there to be nobody about, but then as I am standing just by the barrier signing the cache a car comes out from Skipton and has to do a turn in the road using forward and reverse gears to turn down the lane next to the Test Centre… I don't suppose they knew what I was doing but I must have looked a bit strange stood there inside the centre grounds watching them just outside the barrier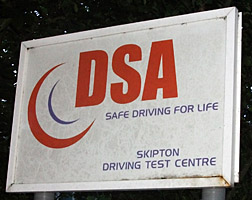 4th August 2012 – Welcome to skipton GC3BV69 – cache #1986
A straightforward find, a magnetic cache wedged in on the aluminium signpost !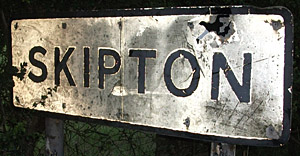 4th August 2012 – Peculiar bridge GC33EH2 – cache #1987
I didn't bother with the GPS, just followed the stream until I saw the 'bridge' and from there the cache was an easy find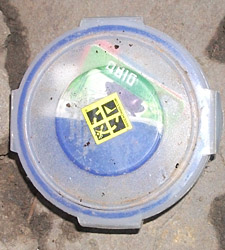 4th August 2012 – We'll meet again GC3PPZK – cache #1988
An annoying cache…. I had to wait for a couple to open the bridge, get their boat through and then close the bridge before I could get to the cache… but then just as the bridge was being shut a local came driving down the road, pulled up and asked who I was, what was I doing, where I was going… and that I couldn't go over the canal there as it was private, … I explained calmly that my name was nothing to do with him, that I was minding my own business, I was out for a walk, and that I could go where I wanted as the bridge took a public road over a public canal…  then I walked off along the towpath… and came back a few minutes later when he had gone.
I thought I knew what the hint meant, but it still took me a couple of minutes to find the place where the cache was hiding…
Then the local came speeding back up the road in his car  and again asked me who I was, what I was doing,  and told me that I couldn't take photographs there… so I again explained I was out for a walk and I could take photographs of boats on the canal if I wanted and if he didn't like it he could call the Police and explain his suspicions to them and I would tell them of his harassment of a member of the public in a public place. It was a rather uncomfortable situation as you never know when irritated people are going to get violent, and he was obviously irritated by me just being there.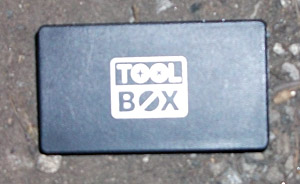 9th August 2012 – Draughton Old Road GC – cache #1989
A puzzle cache on a road through a village that has now been bypassed,  although I know how to solve the puzzle I didn't bother working out the co-ordinates for this cache, I just used the first bit of the hint to work out where the cache had to be as the old road section isn't very long and there's only one place on it that match the hint – and that you can find on the Ordnance Survey map