Home » Geocaching
Caches No's 1925 to 1941 – IN-CAche-PACITATED
After a drunken night barbecuing and chatting until it was almost light again, I decided that I would do the local drive-by series before setting of home. I was intending to do this series last year, but the weather was so appling that I gave up on that idea. This year though the sky was blue and the sun was shining so it was a nice day for drive-by's
22nd July 2012 – IN –CAche – PACITATED – Silver wells GC2EKP4 – cache #1925
A nice easy one to start with… follow the cachers trail through the grass on the verge to the tree where the cache is hidden
22nd July 2012 – IN –CAche – PACITATED – footpath to heaven? GC2EJ7E – cache #1926
For this one there was a little walk involved, as it was hidden at the field end of a footpath running along the side of a churchyard, which I thought was a little strange for a drive by series as the car was well out of sight.
22nd July 2012 – IN –CAche – PACITATED -Bridge of least resistance GC2EKNW – cache #1927
A puzzle cache, I had worked out the answer last year and fortunately not lost my notes so I went straight to it
22nd July 2012 – IN –CAche – PACITATED – Winwaloe GC2EJ6X – cache #1928
This cache is hidden in full view… it is inside a bicycle reflector which is attached to a post and looks like it's there just as a marker for the post in the dark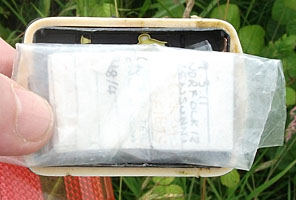 22nd July 2012 – IN –CAche – PACITATED – billy the seal GC2EJ62 – cache #1929
In the village of Wereham is a village pond which once upon a time had a seal in it… the story is that no-one knows how the seal got there as the pond doesn't connect to the sea, anyway this cahe involved going to the notice board near the pond and collecting some clues which gave the co-ords for the cache… Unfortunately this day was the village fete, so the place was full of people and I got some funny looks while writing down notes at the notice board.
The cache itself was hard to find as it was in the middle of a hedge that has grown up and is pretty inaccesible… in the end I just had to force my way in, getting scratched and scraped, but I found the cache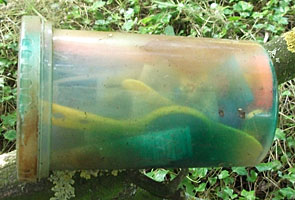 22nd July 2012 – IN –CAche – PACITATED – Round tower GC2EJ5F – cache #1930
It took almost as long to get the cache out of it's hiding places as it did to find it in the first place… and that took me a while, even with such a descriptive hint as left hand gate post !. A magnetic film tub inside a tubular post of a diameter only a few mm wider than the tub… and only an inch and a half off the ground made it difficult to get a grip on the cache to pull it out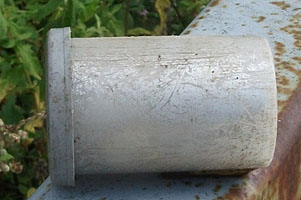 After this I didn't find GC2EJ10 IN –CAche – PACITATED – Good husbandry, I had a quick search of the obvious places, but I couldn't find a cache… but then from the previous couple of logs I didn't expect too…
22nd July 2012 – IN –CAche – PACITATED -take a seat GC2EJ0X – cache #1931
As I've said more than several times now, I do like a cache with a convenient bench on which to sit whilst signing the log !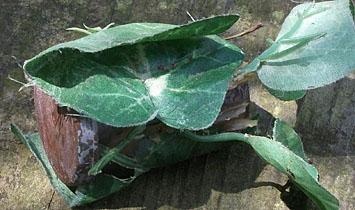 22nd July 2012 – IN –CAche – PACITATED – Q=10 GC2EHZV – cache #1932
I solved the puzzle over a year ago, very quickly as I had done a couple of similar puzzles recently (at that time !)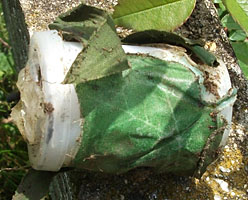 22nd July 2012 – IN –CAche – PACITATED – Tenny-belle GC2EGFW – cache #1933
Tenny-Belle refers to a WWII bomber which crashed nearby from which only the navigator parachuted to safety…I've seen plenty of caches hidden under the end caps of railings like this so the hide wasn't a surprise… the cache container however was not what I was expecting !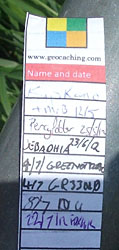 22nd July 2012 – IN –CAche – PACITATED – meow GC2EGFG – cache #1934
Soon found, as there aren't really too many places there that match the hint (large concrete block) !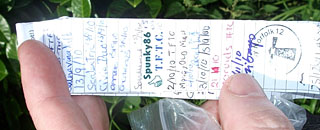 22nd July 2012 – IN –CAche – PACITATED – fishing GC2EGEJ – cache #1935
There were lots of people fishing, but too busy staring at the water to take any notice of me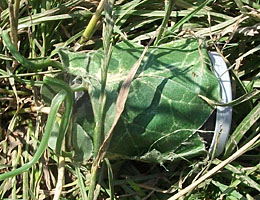 22nd July 2012 – IN –CAche – PACITATED – it doesn't "fitton" in. GC2EC4N – cache #1936
This would have taken me longer to find except I was camping with Beanie28 and Hublander and they had found it the day before and I'd overheard them telling someone what they had found, so I knew what to look for !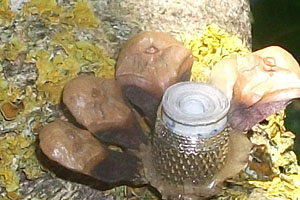 22nd July 2012 – IN –CAche – PACITATED – Waterski watching GC2EC3K – cache #1937
A strange sight, people waterskiing on what is little more than a canal, Not really the place you'd expect to find waterskiing going on… no chance of those wide sweeping turns !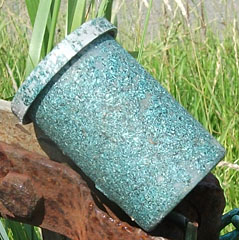 22nd July 2012 – IN –CAche – PACITATED – Christmas spider. GC2EC3J – cache #1938
I just followed where the vegetation had been flattened down to find a concrete post, and then instead of pulling the cache out of it's hole I managed to push it further in… so had to find a convenient implement to poke it right through out the other side
22nd July 2012 – IN –CAche – PACITATED – do you know? GC2EAFB – cache #1939
A puzzle cache that was a straightforward find when you have the mathematics correct !
(I will not name names but there are those cachers whom I was camping with who had to revisit this cache as the first time they were in the wrong place… apparently a / b = 0 !)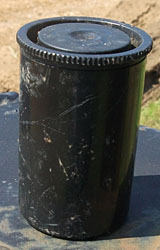 After this I didn't find GC2EADC IN –CAche – PACITATED – The apiary, More of a did not attempt than a DNF… there was a tractor parked at the end of the road with the driver sitting there talking on his mobile…. after 5 minutes he was still showing no sign of leaving so I left before I started looking too suspicious to him
22nd July 2012 – IN –CAche – PACITATED – Anti tank barrier GC2EACY – cache #1940
Spotted it from several yards away as I walked towards the cache site… bit of a swine to get out as the cache fits snugly and there was nowhere to get a grip on it !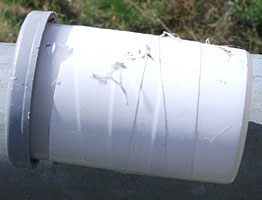 After this I didn't find GC2EACG IN –CAche – PACITATED – Bombing decoy, A DNF for me… the GPS was pointing to the middle of the road so that was not of much help as there were hint items on either side… there should have been a visible landmark to tell me which side of the road I should be at, but there was no sign of it on either side – presumably buried in vegetation at this time of year. Anyway I searched at both sides but found nothing
22nd July 2012 – IN –CAche – PACITATED – bonus GC2EMA4 – cache #1941
I'd driven round the entire series, 16 finds, 1 DNF, 1 missing and 2 unattempted, but I had 9 numbers and the missing one was a duplicate.
No problem then finding the final cache in the series. just a little concern about leaving the car as there were gypsies camping just a short distance away and I was very obviously being watched as I parked up and walked away from the car into the woods.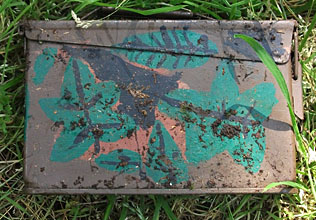 It took me a shade over 4 hours to get right round, but it was a nice sunny day and the roads were in the main quiet so it was a very enjoyable way to spend the day… trouble was I still had a 3.5 hour drive home !