Home » Geocaching
Caches 1912 to 1924 – Some 'A' Roads, Two Lanes and a Footpath
My annual camping trip to Norfolk, and the drive down gave the opportunity to pick up some new caches that had appeared since I last was heading down that way in November. This year I was driving down on Saturday morningand I assumed that traffic would be lighter than rush hour on Friday – however I had not counted the fact that it was the first day of the Summer Holidays… Caravans everywhere and the roads were busier than I've ever seen.
21st July 2012 – Jacks Pet? GC332NN – cache #1912
First stop, just at the start of Doncaster Bypass, and a cache that made me laugh out loud as Jack's Pet sprang out at me when I opened the container
21st July 2012 – A Road Anarchy A1 @Ranby GC2ZH6Z – cache #1913
A hint that said, look with a birds eye view – which I took to mean it was something that would attract birds… and coming so close to the birdfeeder cache that was my 1,900th find when I spotted another bird feeder on the trees I knew I was in the right place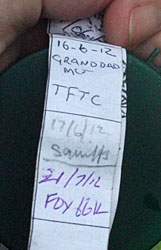 21st July 2012 – Take a Break – A17 GC3MK49 – cache #1914
A cache in the hedge on a dead end road (I have to say I have been coming down here every year for so many years that I remember when this wasn't a dead end road !) As the road only now leads to a field entrance I had no bother just abandoning my car on it while I examined the hedge for the cache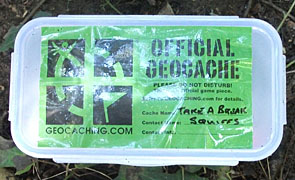 21st July 2012 – Gatwick stop over TB Hotel GC38W4Y – cache #1915
There are a lot of places on the A17 where the road has been upgraded and moved away from houses and farms to improve the road (which is still pretty poor with the amount of lorries and agricultural vehicles that use it) many of these sections of old road are now lay-bys, and many of the roadside buildings in these lay-bys are now cafe's. This cache is by one of these, so there were several people about, but fortunately the cache is far enough away that I would just appear to be stretching my legs while walking off to it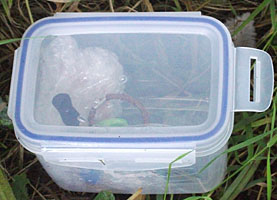 21st July 2012 – Two Lanes & a Footpath 1 GC34YMZ – cache #1916
After arriving at the Camping site and putting up my tent I decided to go and do a local series of caches that had appeared since last year… A nice short series you can walk round in an hour and a bit. The first of the caches had me strugling for a while as it was under trees so the GPS wasn't great. but it kept leading me back to this one tree… and a close inspection eventually spotted something shiny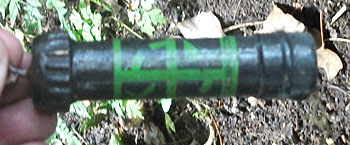 21st July 2012 – Two Lanes & a Footpath 2 GC34YN4 – cache #1917
My easiest find of the series, didn't even need the GPS, as I was walking along I saw a roadside tree that was about the right distance away, went to it and spotted a likely looking bit of stickoflage behind which the cache was hidden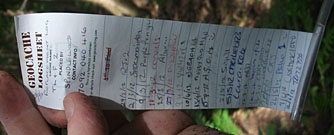 21st July 2012 – Two Lanes & a Footpath 3 GC34YN8 – cache #1918
The GPS was jumping around all over the place under the trees, so I had to search every one on both sides of the road until I found the right spot, and it was a spot, well more of a pimple on a tree. It's funny how you would never see a cache like this if you weren't looking for it, but when you are a cacher this type of thing stands out a mile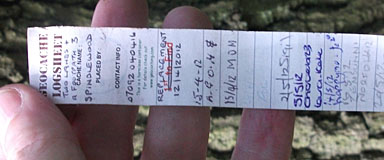 21st July 2012 – Two Lanes & a Footpath 6 GC34YNF – cache #1919
Quickly spotted, something just didn't look quite natural to me, grass leaves just the wrong shade of green and just a little bit too shiny

After this I didn't find GC34YND Two Lanes & a Footpath 5 – A DNF for me, GPS was jumping around all over the place, and although I know what the clue refers to ("Little Brown Job" – birdwatching slang for anything common and sparrow sized) the whole area around is a bit of a mess with broken and chopped up branches from the fallen willow tree everywhere giving thousands of possible hiding places.
Eventually a dog walker appeared so I took that as time to give up the search
21st July 2012 – Two Lanes & a Footpath 4 GC34YNB – cache #1920
A quick spot, as the hint ("snail mail") led me straight to the nicely disguised but looking slightly out of place fence post cache hide – there weren't any other fence posts on that side of the path !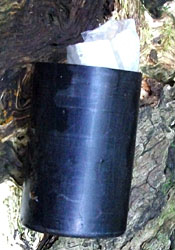 21st July 2012 – Two Lanes & a Footpath 7 GC34YNM – cache #1921
With a 'magnetic' hint and having read the previous logs and knowing that it wasn't in the expected place I looked for the unexpected and quickly found it… (well, it's similar to the "Maryland Caches – 6 – Harrogate Water" cache that I had to visit 3 times before I found it… so I was on the look out for a similar hide)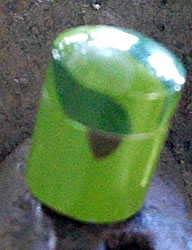 21st July 2012 – Two Lanes & a Footpath 10 GC34YNW – cache #1922
Finding the cache was easier than working out what the hint could mean… It was relatively easy spotting a large lump of stone in the tree roots that obviously wasn't there naturally, but not being from a place with similar geology the 'Don't get caught knapping' hint mean't nothing to me until I realised that the stone was a piece of flint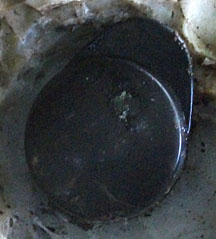 21st July 2012 – Two Lanes & a Footpath 9 GC34YNT – cache #1923
The GPS was jumping around under the trees, so again I just searched them all until I found it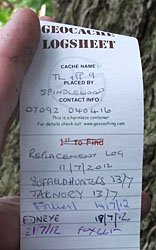 21st July 2012 – Two Lanes & a Footpath 8 GC34YNQ – cache #1924
The last of the series, and a relatively easy find as there is a length of ceramic drain pipe stuck in a place where such a thing has no reason to be…