Home » Geocaching
Caches No's 1875 to 1887 – A Poor Caching Day in Wentvale
Sunday, a day that turned out to be my worst day of caching ever, maybe it was because I was tired through not getting back home form Birmingham until gone 2am, maybe it was because I had spent so much time caching over the last week or so and was a little jaded or maybe it was becasue I didn't choose the best place to go caching in… or maybe a combination of all three !
I decided to go down to Wentbridge near Pontefract, a narrow mostly wooded valley only about 2 miles long with several caches on either side adding up to over 20 caches in all on a 4 mile loop
1st July 2012 – Wentvale #2 GC2G6Y3 – cache #1875
The day got off to a bad start I didn't find GC2G6XF Wentvale #1, I looked round the tree my GPS was pointing me too but to no avail, and as other logs had said they had found the co-ordinates to be well out I didn't even know whether I was looking in the right place or not.
I was thinking the worst about #2 as well, as my GPS was leading me to a small tree on the riverbank, a tree which showed a lot of signs of previous cachers looking there as well… there was a distinct cachers path all around the tree but although I spent ten minutes or so searching every branch and twig I couldn't find the cache. I had given up and was walking back towards the main path when I spotted the cache in front of me on a totally different tree 25-30ft away from where my GPS had sent me
1st July 2012 – Wentvale #3 GC2G6YJ – cache #1876
In the woods under the trees there was no GPS lock at all here, so when I got near the co-ordinates I just had to search everything that could possibly be said to match the hint of multi-trunked tree and rotten log until I found the cache… there were several places that matched the hit better than where teh cache was eventually found !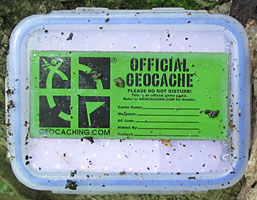 1st July 2012 – Wentvale #4 GC2G6YZ – cache #1877
This one was easy to spot as the hint said it was in some mossy rocks, and although there were many mossy rocks there was one which showed distinct signs of being disturbed… i.e. it didn't have moss on it ! The cache was underneath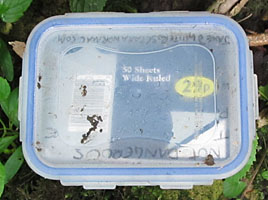 1st July 2012 – Wentvale #5 GC2G6ZG – cache #1878
Still in the woods, still with a poor GPS signal, but a very explicit hint led me stratight to the cache

After this I didn't find GC2G6ZV Wentvale #6 this cache was out of the woods so at least the GPS could get a clear signal, but the cache is in a hawthorn bush around which the undergrowth or brambles, nettles and other such weeds had grown up so densely that there was no way of searching for the cache without battering it all down which a) would make it obvious to anyone passing that someone had beensearching for something there, b) would be very damaging to the vegetation and against the Country Code and c) I just couldn't be bothered doing it !
1st July 2012 – Brockadale: Eranu GC2N6A0 – cache #1879
There are two cache series along the Went valley, the Wentvale series at one end and the Brockadale series at the other… here I avoided crossing the river and carried on walking from the former to the latter
Eranu – I had to look it up – something to do with a TV show and a 'Dove from Above'. That knowledge made the cache quite easy to find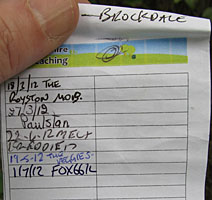 1st July 2012 – Brockadale: Chapel View GC2JPYJ – cache #1880
You are quite conspicuous finding this cache unless you are about 6ft 2″ or more tall… being a mere 5′ 10″ I had to climb on the stone gate post next to the style, and the style is half way along the road in the village and so anyone who came out of their garden would see you acting strangely getting to the cache

After this I didn't find GC2N6C4 Brockadale: Fairy Trail, the first of a run of DNF's this one had too much ivy, too many walkers and not enough GPS signal
After this I didn't find GC2N6BC Brockadale: Cragg Tops, for this one previous finders had said that they sat on the bench until the penny dropped, I spent about ten minutes sitting on the bench looking at everything in sight, but couldn't see anything that looked like a place to hide a cache no matter which way I turned
After this I didn't find GC2G712 Wentvale #9 – A magnetic nano stuck on the information board for the nature reserve… except it wasn't
After this I didn't find GC2G70B Wentvale #7 – Another magnetic nano, this one stuck on a gate, but if it was there my fingertip search didn't find it
After this I didn't find GC2G70N Wentvale #8 – this one was supposed to be hidden beside a fence post, it might be there, I couldn't find it though the vegetation had grown pretty thickly around the cbase of the posts. I think I made a mistake coming in Summer… come in Winter when the vegetation has all died away and I might have better luck !
1st July 2012 – Wentvale #10 GC2G71F – cache #1881
At last I found a cache ! even if I did have to sit like a numpty on top of a large rock while a couple attended to their horses in the field before I could get to the cache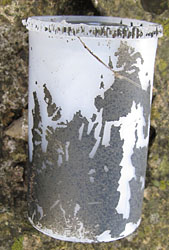 1st July 2012 – Wentvale #11 GC2G71W – cache #1882
Back into the woods and the GPS giving me no help under the trees, but I spotted the items referred to in the hint and found the cache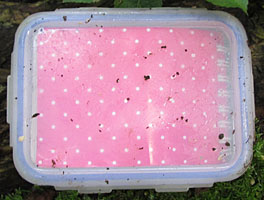 1st July 2012 – Wentvale #12 GC2G725 – cache #1883
An easy find as a pine cone in the base of a silver birch tree in on the edge of a broadleaf woodland does look a bit suspicious, and I've seen caches like it before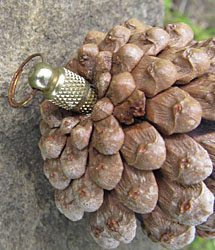 1st July 2012 – Wentvale #13 GC2G72T – cache #1884
A magnetic nano hidden on a bench in the woods… as I've said many times I do like a cache with a convenient bench to sit on while signing the log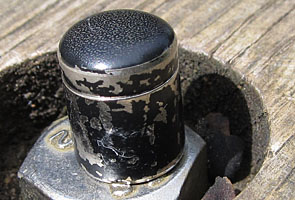 After this I didn't find GC2G739 Wentvale #14 – Another DNF – but when I got back and read the logs of some of the last people to find it which said that it is about 75 ft away from the co-ordinates and not near the fence posts referred to in the clue then it's not surprising that I didn't find it
1st July 2012 – Wentvale #15 GC2G73V – cache #1885
I've said it before, and I'll say it again… I do like a cache with a convenient bench to sit on while I sign the log !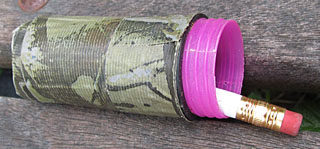 1st July 2012 – Wentvale #16 GC2G74A – cache #1886
A relatively easy cache at the base of a signpost, however I had to contend with the local residents when retrieving the cache and then walk off with the cache in my hand to avoid some walkers who came by before I could put it back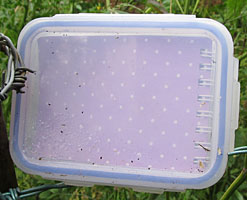 1st July 2012 – Wentvale #17 GC2G74Q – cache #1887
The lane here used to go straight across where the dual carriageway A1 now is, which means that the footpath now goes down about 100 stairs to the valley floor, under the road bridge, and back up 100 steps to carry on along the lane. I had no problem finding the cache… but I could have done with an escalator instead of all those stairs !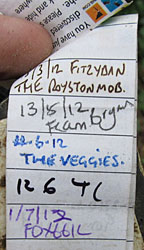 After this I didn't find GC2G752 Wentvale #18, the hint said "slowly in fact its a very slow pace" so I knew I was looking for a cache hidden in a snail shell, but I could only find real snails !
My worst day of caching ever, 9 DNF's out of 22 caches. As I said earlier I think I made a mistake by trying to find these caches in Summer when the undergrowth has grown thick and the dodgy GPS coverage caused by the steep valley sides is compounded by the poor reception under the thickly leafed trees.