Home » Geocaching
Caches No's 1775 to 1805 – A drier day in Masham
A whole weekend with nothing planned, and Adam had been pulling ahead in our competition to find most caches as a result of doing some big cache series – so I thought I would spend two days caching to catch up. As there had been about 40 caches put out for the Masham event the week before and we'd only got round a handful of them I thought I would head back up there to have a go at some more.
I had picked up a new Garmin Dakota 20 GPS and thought it would be a good chance to try it out – loaded up with 1:50K Ordnance Survey and the latest Open Street maps. I had intended to take my normal PDA withe the 1:25K O/S maps as well, but shortly before I got to the first cache I found I had left the memory card for it in my PC at home ! So I was down to the new unit only.
23rd June 2012 – No 6 Group (Bomber Command) – Dishforth GC19D83 – cache #1775
On the way I detoured for a quick driveby. This cache is part of a series where the caches are near all the old WWII airfields, and I still have a few to find before I can get the bonus which is in Harrogate
23rd June 2012 – Extreme cache GC3MYJJ – cache #1776
On the road heading to Masham from the A1, I wasn't sure why this was called Extreme cache, but when I saw a signpost for the Aerial Extreme centre just outside Masham I realised why and knew where the cache was
23rd June 2012 – On The Way to Work No.1 Wath GC2RW1E – cache #1777
Not one of the new caches, but a drive-by nano on a signpost

23rd June 2012 – Ancient Briton's. Thornborough Henge GCWZXB – cache #1778
There are several ancient monuments in North Yorkshire, Thornborough Henge being one of the bigger ones – three large circular earthworks aligned in a row, and it has been described by English Heritage as the most important ancient site between Stonehenge and the Neolithic sites in the Orkney Islands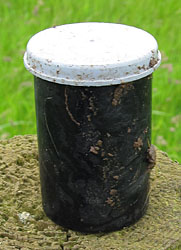 23rd June 2012 – Family Cache – Dad GC3MT40 – cache #1779
Back to the new caches and a drive-by that I made hard work of by pushing through the bushes to get to it, whereas if I'd gone around the other side there was a nice flag stone path to it !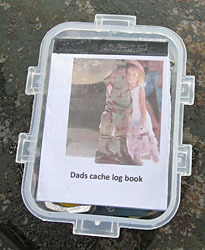 23rd June 2012 – Marmion Tower GCY246 – cache #1780
Another older cache down by the river along a path at the side of the tower, so much rain that the path was under water in parts (well the river was several feet wider than it should be) I don't think I would have been able to get to the cache if I'd gone the day before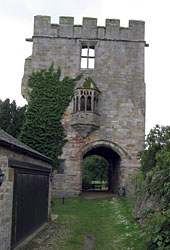 23rd June 2012 – Family Cache – Dog GC3MT5Y – cache #1781
A cache at the end of a driveway to a boarding kennels, lots of mentions in the logs about loveable Geo-dogs and how much they enjoyed the cache… I just put "To tell the truth, I don't like dogs"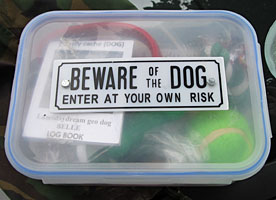 23rd June 2012 – Family Cache – Mum GC3MT4H – cache #1782
I hadn't been able to stop and get this cache the week before because there was an accident just near it with a car in the hedge and another one parked just about where this cache is, this week there was no-one about so I could find the cache
23rd June 2012 – The GNYC 2012 cache! GC3NCFN – cache #1783
A maze of a cache, the actual log is in a small container that is squeezed into the smaller hole of a perspex maze, then you have to manipulate the maze until the cache drops out of the larger hole. A most ingenious and well constructed cache.
I was standing there by my car, cache in hand when another car pulled up 10 yards or so behind me and a woman got out of the passenger side and started walking towards me looking around. I assumed they were other cachers, but the woman carried on walking 10 yards past me, still looking around at the ground, then walked back to their car and past it for about 10 yards then got back in their car and drove off, she said nothing to me and never got near where the cache would be hidden if it wasn't in my hand – who knows what that was all about

23rd June 2012 – Probably the best cache in the world GC3N9F6 – cache #1784
Well quite an amusing cache anyway !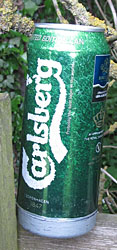 23rd June 2012 – Fiveways – silver GC3MT7N – cache #1785
5 lanes meet at a junction, and the hint says in the middle of a 7 trunked tree, so I pull up, see a 7 trunked tree and spend a few minutes looking round and find nothing, get back in the car and check the GPS and find that I am 20 yards away from where the cache is… there is another 7 trunked tree in the area !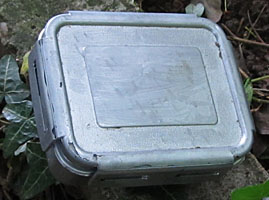 23rd June 2012 – Our billionth cache GC3MZA0 – cache #1786
Nano means 1/100,000,000 or one billionth if you are American (one billionth is really 1/100,000,000,000 – Pico not nano) Anyway this is a black magnetic cache on a black gate post, which looks like a nano cache, but possibly isn't !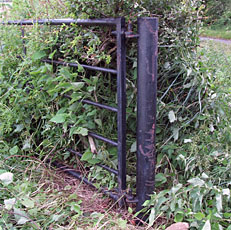 23rd June 2012 – Halfpenny Story GC2GE9K – cache #1787
A cache under a plantpot on someones garden wall, I would have passed on this as I don't like caches that are overlooked by houses except that the houseowner put the cache there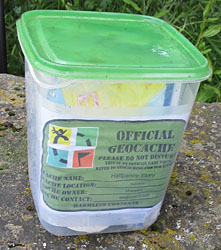 23rd June 2012 – Clip box with a view GC3MT78 – cache #1788
Driving along the road and there is a lovely vista over the valley between the trees on one side of the road and a steep banking up to a hedge on the other… guess which side this cache with a view is on ? Yep, it's in the hedge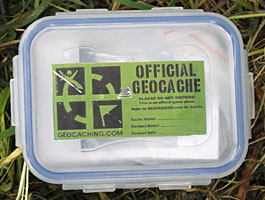 23rd June 2012 – ! GC3N0R2 – cache #1789
A puzzle cache that I worked out how to solve from an old calculator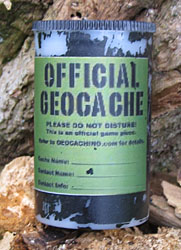 23rd June 2012 – M & D CTF 6 GC3N9E3 – cache #1790
The last driveby of the morning, a sneakily hidden cache that I spotted because something looked not quite right… the cache hadn't been put back in quite square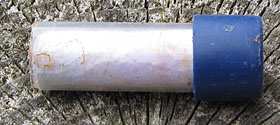 23rd June 2012 – M & D CTF 5 GC3N184 – cache #1791
After lunch it was time for a short stroll to walk off the Fish and Chips… This first cache was easy to find, having the grass flattened down by last weeks cachers made it straightforward to find the right hiding place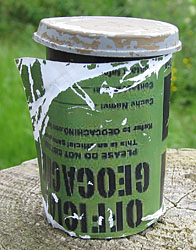 After that I didn't find M & D CTF 4 GC3N182 the CTF in the title stands for 'Challenge to Find', there were too many people about for me to have more than a cursory look… it wasn't in an obvious place, but I knew that anyway !
23rd June 2012 – Church view GC3MZAM – cache #1792
Straightforward find, hidden under a large rock and there's only one large rock around
After that I didn't find A really good hide GC3MZAB – there's a birdwatching hide with a view of the lake, I Looked all around and found nothing, nor did the clue help me much. Now I have read the previous finders logs I realise I may have done better to go into the hide to look for the cache
23rd June 2012 – Welcome to the wetlands GC3MZA7 – cache #1793
Another easy to find cache, hidden by a style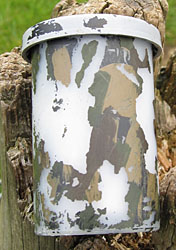 After this I didn't find M & D CTF 3 GC3N17Z, which looked almost identical to M & D CTF 4 in that the coordinates led you to a new 'kissing gate' across the footpath, similar problem not finding it, too many dog walkers about to have time for more than a short search
23rd June 2012 – Tea Light chamber GC3MT6R – cache #1794
Some very curious cattle guard this cache, and I had to walk through their field, fortunately the Bull was just acting too cool to give any attention to me whereas the cows followed me around hoping for food I guess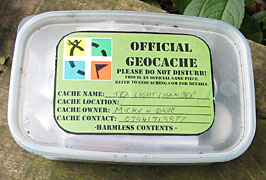 23rd June 2012 – Happy and Joy cache GC3MT6B – cache #1795
I made hard work of getting this cache, I knew it had to be there somewhere, but couldn't see exactly where it was because of nettles and brambles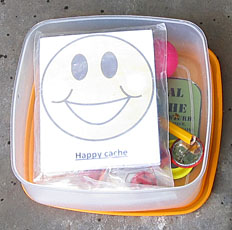 23rd June 2012 – A Bridge Not Too Far GC3MZGK – cache #1796
A nice easy magnetic cache on the only metallic object around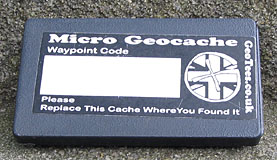 23rd June 2012 – Home of Bikeit GC3MZB1 – cache #1797
After my stroll it was back into the car for a few more drive-by's. Bikeit is a well know local cacher who visits caches by bike. I don't really think this is where he lives !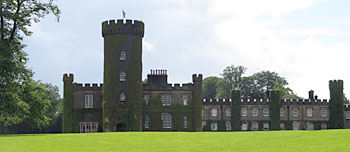 23rd June 2012 – Magic eye GC3N0T9 – cache #1798
A puzzle cache – the puzzle being a pair of 'magic eye' pictures which send you blind when you stare at them (- I found these very difficult probably to do with the muted yellowy brown colours they were in). I obviously managed to discern the right co-ordinates in the pictures though as I found the cache

23rd June 2012 – Dial-a-cache GC3N0VE – cache #1799
Another puzzle cache, based on a recording of the phone tones of the co-ordinates and hidden in a phone box… I have to say I didn't bother working out all the tones, just looked at where the phones were marked on the OS map and decoded just enough of the North co-ordinates to direct me to which phone box it was in

23rd June 2012 – Decoding time GC3N0T4 – cache #1800
My 1,800th cache ! Another puzzle cache, this time a QR code cache easily decoded using my phone.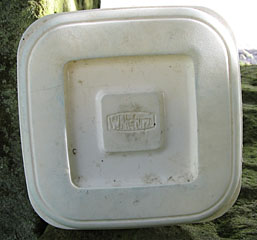 23rd June 2012 – Close to a Fat Rascal GC3MA7Y – cache #1801
Gorse bushes one side of the road, hawthorn at the other, both pretty impenetrable, however the co-ords didn't really show this as being in the midle of the vegetation, so I went to where the co-ords said – and right there I spotted something Close to a Fat Rascal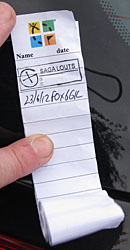 23rd June 2012 – Evil Little Micro GC1B5BR – cache #1802
I didn't think this was particularly evil at all – cos I spotted it straight away. It is in a stand of tall pine trees so GPS accuracy is limited, however I went to where the GPS said, did a spin round to see exaclty what was in the vicinity, and saw something straight away that just didn't look quite right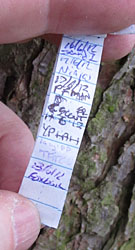 23rd June 2012 – Enclosure GC1B2BR – cache #1803
A cache hidden in the roots of a tree, a hawthorn tree, a low hawthorn tree so I had to almost crawl in to get to the cache… at times like this I'm glad I was wearing my hat, to protect my head from thorns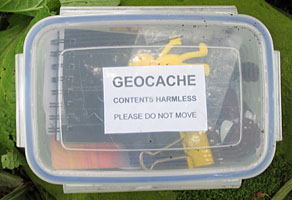 23rd June 2012 – If you go down in the woods today………. GCTA4T – cache #1804
On the way home from Masham I stopped off for another couple of caches, this one just a few yards from the road in a stand of trees, easy enough to find as it was hidden similar to Family Unfriendly which I had found less than a month previously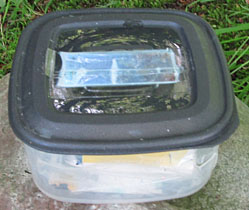 23rd June 2012 – John's View GC2QE3M – cache #1805
The co-ordinates took me straight to the cache, though the view is better a few yards away being a nice view of Fountains Abbey, whereas at the cache site the view is an 8ft high wall !