Home » Geocaching
Caches No's 1765 to 1774 – North Yorkshire Camp 2012
My friend Adam has started publishing a UK Geocaching Magazine – called UK Cache Mag – and so to promote it (and to sell a few copies) he is visiting a lot of the weekend events that are happening over the Summer. As one of these was happening about 20 miles away from where I live I thought I ought to go along and give him some support. The event was a weekend long camp, but I could only go for an afternoon and evening
16th June 2012 – North Yorkshire Camp 2012 – The Beginning GC395TT – cache #1765
In some ways I am disappointed that I could only spend Saturday afternoon and evening at this event, but in others I am glad that I wasn't camping in the pouring rain !
I arrived at 2:30, sheltered in the marquee for a bit chatting, then went caching with Adam – UKCacheMag (formerly used the caching name DivingDJ) who I've known for almost 20 years and Goldfish58 who I had known for about 2 minutes – Caching is like that ! (Goldfish58 and I had previously crossed paths – literally – while doing the Spofforth and Follifoot walk she did it one direction while I did it the other and we crossed paths twice)
I stayed for the barbecue amidst torrential rain, puddles you could almost swim in… and rainbows and sunshine… then about 10:30 when it got dark, started raining again and the wind got up threatening to blow the marquee away I drove home.
16th June 2012 – Cache n dash (or maybe not) GC3MT91 – cache #1766
The reason we had gone with Goldfish58 was that she had promised us ice-cream, so we headed for Brymor's and had some of their excellent product, then as the rain had stopped we walked down to their entrance gate where Goldfish58 did the honours with the cache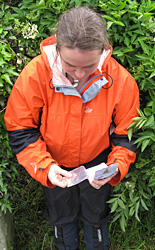 16th June 2012 – Abbey Cachional GC26VQ0 – cache #1767
Just up the road from Brymor are the ruins of Jervaulx Abbey, built in the 12th Century and in ruins for almost 500 years. A strange cache this, it says it's a traditional cache, but it's really a puzzle cache with some rather misleading poetic instructions. There is one line in the poem which directs you to a specific feature in the ruins and this took us quite a while to locate. However from there UKCacheMag quickly spotted the cache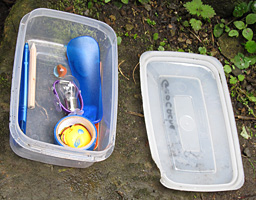 16th June 2012 – Cistercians #1 (North Yorkshire) GC6739 – cache #1768
Another cache hidden in the Abbey, this one easy to find as the co[ordinate and hints sent you straight to it – These two caches are obviously quite old because I am sure they don't fit in with the current guidelines for placing caches as both involved moving stones that form part of the walls of Ancient Monuments !
16th June 2012 – Jervaulx Woods GC35CYT – cache #1769
A cache in the woods a short distance from a parking area, my GPS led me straight to the cache on one side of the track while Goldfish58 sank into the mud in the middle of the track and UKCacheMag searched in vain on the far side of the track, we did eventually tell him we'd found it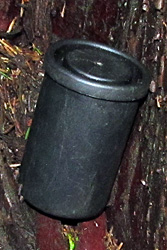 16th June 2012 – Sad and Sorrow cache GC3MYJY – cache #1770
A quick drive-by made quicker by the cachers path through the nettles. I let UKCacheMag get stung retrieving the cache – he's a city boy and needs more exposure to the joys of the countryside !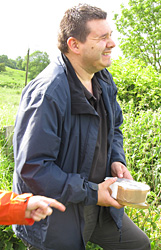 16th June 2012 – Marfield Wetlands GC35CZ7 – cache #1771
Goldfish58 decided this should be a cache&dash so drove down the track to just a few yards away from the cache… When we got to GZ UKCacheMag found the cache and signed it while I took his photograph and Goldfish58 carried on searching in the wrong place…. eventually after a fruitless search she looked bac at us and said "I bet you've got it in your hands haven't you ?"
Well actually No… by this time the log was signed and the cache back in it's hiding place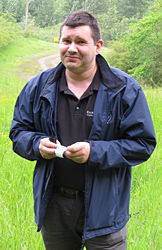 16th June 2012 – Close to Crete GC32BQE – cache #1772
We weren't fooled by the cache name, there was only one piece of concrete in the area so the cache had to be hidden there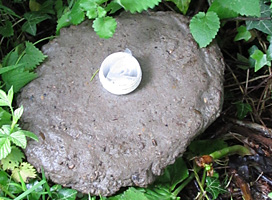 16th June 2012 – A certain member of the family? GC3N4C0 – cache #1773
It's easy finding caches when the previous cacher still has it in his hand !
UKCacheMag, Goldfish58 and I arrived at the brewery just as the cachers who had been on the Black Sheep Tour came out…
Apparently Cache meet organisers can organise a Piss up in a Brewery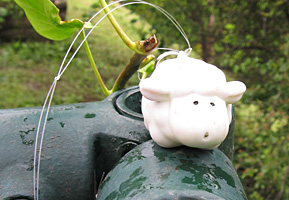 16th June 2012 – Ghost Train #1 Masham GC328V3 – cache #1774
As we were at the campsite UKCacheMag and I decided we had better go and find the cache at the campsite entrance… so while waiting for the kettle to boil we did – an easy find even though we didn't have a GPS with us