Home » Geocaching
Caches No's 1717 to 1748 – Cycling Near York
A long Bank Holiday weekend for the Queen's Diamond Jubilee, and Surprisingly after a dull day on Saturday and a wet day on the Sunday Monday morning dawned sunny and clear, so I got my bike into the car and drove off to the North of York to do the remains of the York Mega Series, which was an 80 odd cache 20 mile walk, but now all thats left is about a quarter of the original caches of which most of them are roadside caches and so suitable for a cycle trip
4th June 2012 – No 6 Group (Bomber Command) – East Moor GC19D51 – cache #1717
I started off parking in the village of SUtton on the Forest and cycling from there, first of all I stopped at this cache at the War Memorial to the airmen from the wartime bomber base just outside the village
4th June 2012 – YMS #36: Under the Old Oak Tree GC28HH0 – cache #1718
The first of the YMS caches was easy to find as the hint was more of an instruction than a hint, telling you exactly where the cache is hidden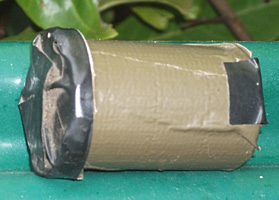 4th June 2012 – YMS #35: High Chaperal GC28HGZ – cache #1719
No harder finding this cache as there is a cachers path leading you behind the tree to where the stickoflage is obviously hiding the cache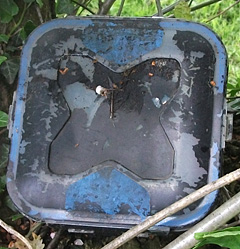 4th June 2012 – YMS #34: Waypoint GC28HGY – cache #1720
As it was a nice day there were loads of people cycling, running, driving and horse riding past, while I stood quietly waiting for them to disappear so I could get to this cache which is on a busy road junction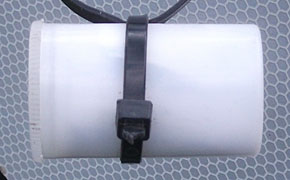 4th June 2012 – YMS #33: Fridlington GC28HGX – cache #1721
Having done the previous one where the cache was hidden at a road sign the only issue I had with this one were that there were two signs to check… as always I went for the wrong one first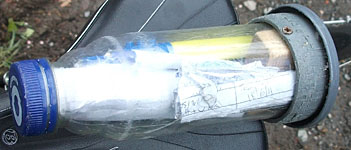 4th June 2012 – YMS #32: Nettle City GC28HGQ – cache #1722
I can't sayI had particular problem with the nettles, I did however have a problem finding the cache, mainly I think because I was following the cachers paths left by previous seekers.
Having failed to find the cache I was about to give up and move on, so turned back to the tree against which my bike was leant, and found that the cache was staring me in the face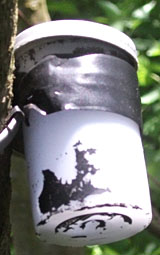 4th June 2012 – YMS #31: Goose Wood GC28HGN – cache #1723
I'd only done a handful of the YMS caches, but I knew already that the signpost at the side of the road would be where the cache was hidden, and I was right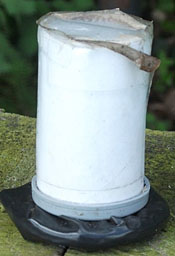 4th June 2012 – YMS #30: Fly Tipping GC28HFQ – cache #1724
… and again, another signpost. An identical hide to YMS #33 so an easy find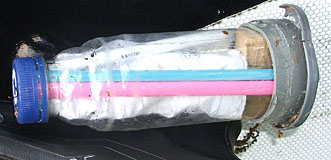 4th June 2012 – YMS #29: No 4 Group Station GC28HFP – cache #1725
At first I thought this cache had gone missing as in the spot where the hint said there was a wire with nothing on the end, but a bit of further exploration came up with the cache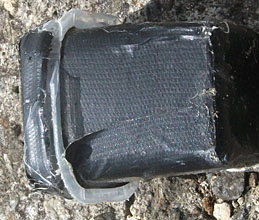 4th June 2012 – YMS #27: Knobbly Tree GC28HFM – cache #1726
I didn't think this tree was particularly more knobbly than any of the others at the side of the road. And a rarity as the cache wasn't at the base of the tree hidden by a rock, it was at the base of the tree hidden under a large bracket fungus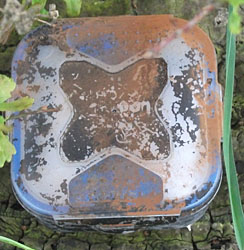 4th June 2012 – YMS #26: The Mother Tree GC28HFK – cache #1727
The largest circumferenced tree on the road side and a hint that said the cache was high up, I was looking far too high up, because the stickoflage was very good, looking like it was a solid piece of tree rather than a disguise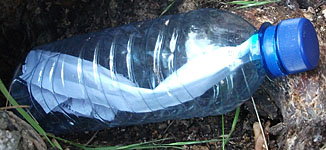 4th June 2012 – YMS #24: Stumpy GC28HF0 – cache #1728
This was rather confusing as there wasn't a tree stump in the vicinity at all, what there was was a cache sat out in the open, so I signed the log and hid the cache under a tree branch lying on the ground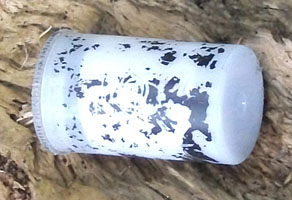 4th June 2012 – YMS #23: 100 Acre Farm GC28HF1 – cache #1729
Another identical hide to YMS #30 and YMS #33 – so another easy find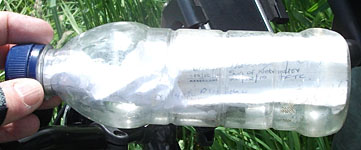 After this I didn't find GC28HF2 YMS #22: Newstead, the hint said something about a Z shaped tree, all I could see was a freshly trimmed hawthorn hedge and a ditch full of nettles. As there were people in the nearby farmhouse watching me out of the window I didn't spend too long trying to find it
4th June 2012 – YMS #21: Wood House Farm GC28HF3 – cache #1730
Cycling towards this one I could see a gate, so I made a guess that the cache would be at the side of the gatepost… and there I found it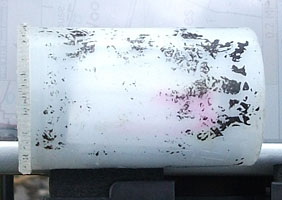 4th June 2012 – YMS #16: Hump Back Bridge GC28FB1 – cache #1731
I had to carry my bike down a flight of steps and push it along the river path for a few yards until I got to where this cache was hidden, some people had reported difficulty finding it, but with a hint saying 'between the multi-trunked trees – not high' and a river bank that was actually a wall I assumed there must be a hole in the wall under the large capping stones that you couldn't see, so it was feel for the cache not look for it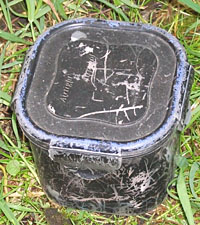 4th June 2012 – YMS #46: The Vicarage; All Hallows Church GC28MVE – cache #1732
After #16 it was a 4 mile trip back to where I had parked, and that's where cycling comes into it's own, what would have been a walk of over an hour became a ride of just under 20 minutes, back to Sutton on the Forest where I had parked my car, and to this cache on a bench in the village main street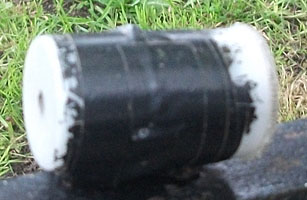 4th June 2012 – YMS #41: The Grandmother Tree GC28MG0 – cache #1733
There were still a few YMS caches that I couldn't get to on the bike so I put it back in the car and walked down across the fields to this cache, a tree with an even larger circumference than the Mother tree at YMS #26, you'd guess the tree was 5-6 hundred years old, and in it's roots, under a stone, is a cache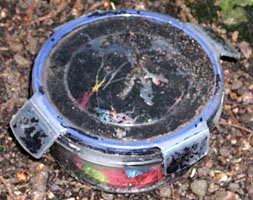 4th June 2012 – YMS #42: Corn Fields AKA The last Hussar's 1000th GC28MGA – cache #1734
I wasn't too happy about this cache as I had to go into the field and trample down the crops a bit to get to the other side of the hedge and find the cache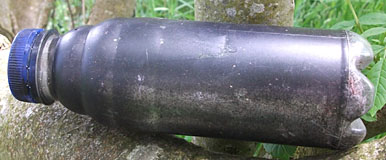 4th June 2012 – YMS #43: The Crossroads GC28MNW – cache #1735
The GPS signal was rubbish in the trees, but fortunately there was no problem by using the hint working out where the cache was

4th June 2012 – YMS #44: Elephant Tree GC28MPC – cache #1736
There was a lack of GPS signal under the trees, but no problem working out where the cache was… I just followed the footprints of the cachers I had just passed going the other way… When you see someone with a GPS in their hand you wonder if they are cachers… does anyone else use them ?
4th June 2012 – YMS #45: Sutton Park GC28MPP – cache #1737
There were loads of people wandering around the road to the caravan park where this cache is hidden, I had to wait ages for them all to go away and leave me to get to the cache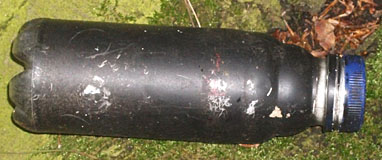 4th June 2012 – West York ride #3 GC3EG65 – cache #1738
After doing the caches on the YMS it was mid afternoon, so I decided I still had time to do some more caching. On the way home from York I normally pass through the village of Rufforth, where there was another series of caches designed for cycling around, so I stopped to do so. I stopped at #1 but there was another car parked in the layby and people in it so I decided to leave it and rode off after the others. There is no #2 anymore so I headed off to #3 hidden on the old village pump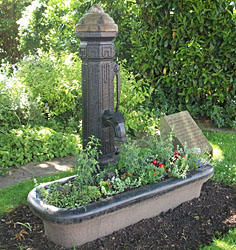 4th June 2012 – West York ride #4 GC3EG6F – cache #1739
The cycle ride then took me down a rough track to a rotting tree, with a cache hidden inside it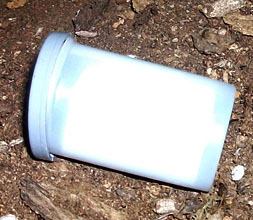 4th June 2012 – West York ride #5 GC3EG6P – cache #1740
The hint said a magnetic cache on a gate hinge, there were several of them… as usual I had to search them all before finding the last one was the one I needed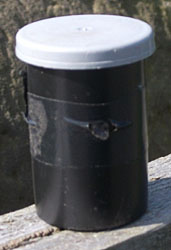 4th June 2012 – West York ride #6 GC3EGEP – cache #1741
A dead easy find, the hint said lamp post and there is only one light post in sight any which way you look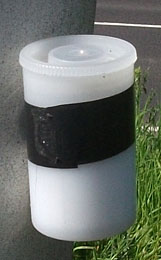 4th June 2012 – West York ride #7 GC3EGF6 – cache #1742
The map showed this to be at the side of the road opposite T junction, so I didn't bother with the hint, just went straight to the direction signpost and there found the cache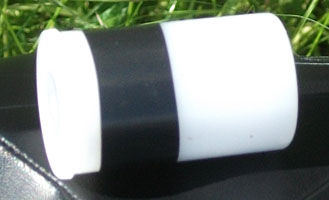 4th June 2012 – West York ride #8 GC3EGFQ – cache #1743
Another signpost, another magnetic cache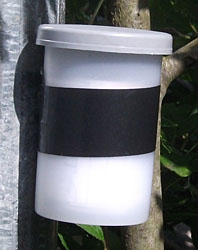 After this I didn't find GC3EGH0 West York ride #9, which was supposed to be on a give way sign, but wasn't
4th June 2012 – West York ride #10 – East Moor GC3EGHT – cache #1744
This cache got a favourite point from me, a tree stump with a hole drilled in, just the right size for a 35mm film tub.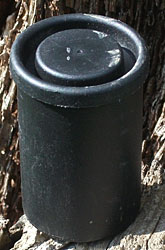 After this I didn't find GC3EGK7 West York ride #11, which should have been a magnetic cache on a signpost but wasn't there
4th June 2012 – FOUR POUND GC1NBFQ – cache #1745
A cache in the pinfold on the edge of Knapton village, a pinfold is a place where stry animals were impounded until their owners paid a fee to get them released… it's amazing what you learn through geocaching !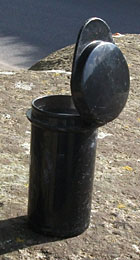 4th June 2012 – Fsh's Walkabout 8 – East Moor GC3B0QR – cache #1746
A bench in the middle of Knapton village gave me a seat to sit on while I picked the cache out from the bench support, signed it and put it back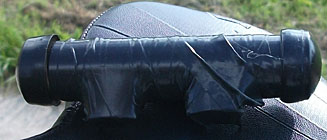 4th June 2012 – Old Stumpy GC3JG06 – cache #1747
A tree stump in the nettles a the end of a dead end road, fortunately there was a handy retrieval tool in some nearby fly-tipped rubbish so I got the cache without any stings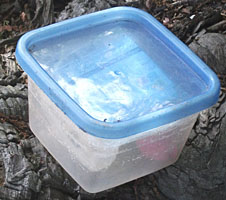 4th June 2012 – West York ride #1 GC3EG5G – cache #1748
Back round to where I set off from and by this time the layby had just my car in it so I could search for the cache I'd passed on when I arrived. A bit confusing from the hint as it said it was on the large red gate post… I have to assume the cache setter is colourblind as the post is green !