Home » Geocaching
Caches No's 1621 to 1647 – A Weekend Away at Brean Sands
Just like last two year this entry will start "I was travelling down to Brean Sands near Weston Super Mare for the weekend, so I thought I'd do a few drive by caches, it's a 250 mile drive, 230 of that should be on Motorways so it should have been about a four hour drive… it took me"… well this year I didn't stop so many times on the way down so only six and a half hours…
20th April 2012 – M1 28/29 Mayhem Bridge View GC36NHA – cache #1621
This wouldn't have been the first stop I made if the grass cutter had not been mowing the grass right in front of the advertising hoarding at Woolley Edge services that was hiding the cache there… as it was I just drove into the car park and drove straight out again… and on to Tibshelf Services, where I climbed up the grassy banking and followed a muddy path out onto a service road that links the two halves of the Services. The cache was actually by the Northbound carriageway, hidden in trees just off the service road, and quite easy to find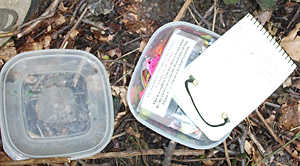 20th April 2012 – The side entrance – Welcome to Alrewas 1 GC2PA9B – cache #1622
Another easy to find cache hidden in the crutch of a multi-trunked tree, it was a bit of a race to get it dealt with before a dog walker came along, but not too much of a hurry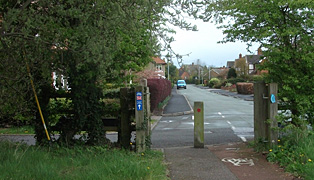 20th April 2012 – The back entrance – Welcome to Alrewas 2 GC2Q1KZ – cache #1623
Was this on the bridge over the canal ? or on the towpath ? the hint wasn't actually a clue as it posed that same question ! I decided that it was most likely down on the towpath… but when I got there could see no likely hiding places so looked up to the road and saw the cache poking out of the end of the railings… which you couldn't see from above, so although it was wrong being down below made finding the cache easier anyway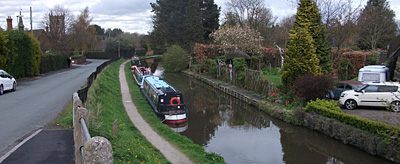 20th April 2012 – WB10 – Where's the Park GC2Y3MJ – cache #1624
A simple cache and dash at the roadside hidden under a bridge at the edge of a culvert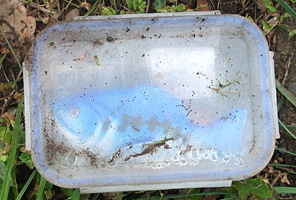 20th April 2012 – Motorway Mayhem M6 Toll (Tamworth Road) GC2M2G7 – cache #1625
I had previously done a series of caches on the bridges over the M6 Toll Road back in October 2009… a series that had then been taken over by someone else and the caches relisted under new numbers… so I knew exactly where these next few caches were, as they were caches I had found before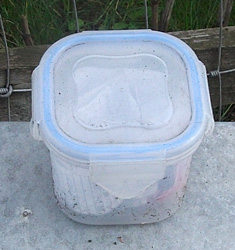 20th April 2012 – Motorway Mayhem M6 Toll (Withy Hill Road) GC2M2G5 – cache #1626
An easy find when you've found the same cache before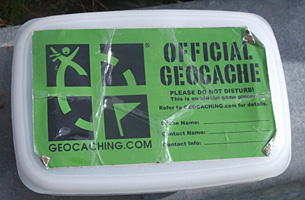 20th April 2012 – Motorway Mayhem M6 Toll (Holly Lane) GC2M2G4 – cache #1627
Another easy find when you've found the same cache before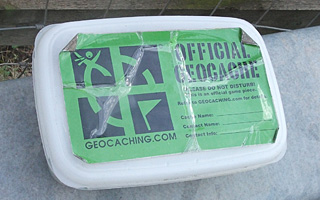 20th April 2012 – Motorway Mayhem M6 Toll (The Belfry) GC2M2FQ – cache #1628
One final easy find as I'd found this cache before… Time was now getting on, and I still had 120 miles to go so I stopped caching at this point and drove on to Somerset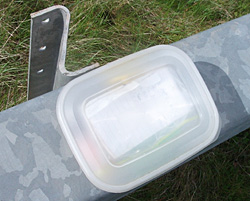 21st April 2012 – Burnham on Sea, Stroll along the Front GC1R3F2 – cache #1629
Next morning I had just time to go out and grab a couple of local caches… GC2CW5G England Expects was unavailable as it had someone sitting on the bench right in front of the place it was hidden, so I went further along the seafront to this one.

22nd April 2012 – Bringing Brean to Life – Iron Age GC2WKME – cache #1630
Sunday I went up to Brean Down to do a few caches. Brean Down is a National Trust property and has many historical sites, from the Iron Age hill fort, to a Roman Camp, to a Napoleonic sea fort guarding the Bristol Channel.
The Down is a huge lump of rock sticking out into the sea, and has a carpark at the bottom (where I sat in the car and waited for 10 minutes while a rain shower passed over) and then a set of 210 steps up the steep slope to the top… then a short stroll over to this cache getting your breath back from the climb !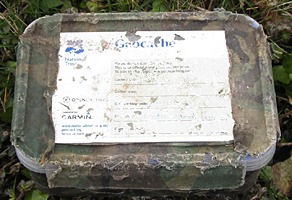 22nd April 2012 – Bringing Brean to Life – Harry Cox GC2VMER – cache #1631
This took me a while to find as it was hidden in a small copse of trees so I had to search round almost all the trees before I found it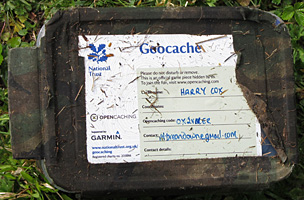 The cache was guarded by the local 'wild' goats, not sure how wild they are, they moved off as I came out of the trees form doing the cache, but they are obviously used to having loads of people visiting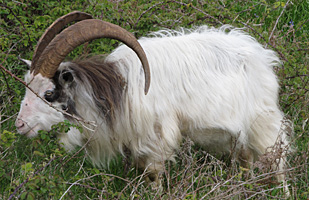 22nd April 2012 – Bringing Brean to Life – Fort & Harbour GCK09Z – cache #1632
The Napoleonic fort was upgraded and manned in both World Wars to watch the Bristol Channel, most of the more modern buildings have gone, leaving just concrete bases (the cache is hidden at the edge of one of these) but the main stone Napoleonic buildings remain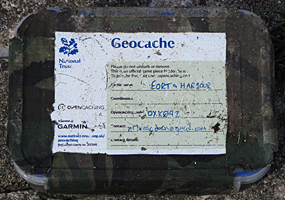 22nd April 2012 – Ye Ole Survey Monuments GC45CC – cache #1633
On top of the Down there is a Trig Point which is part of the YOSM cache. This cache causes me some head scratching when I look at my figures it says I have found 1633 caches on 1631 individual caches… that's because I have found this one three times now ! but in three different places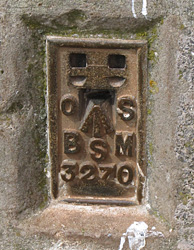 22nd April 2012 – Bringing Brean to Life – Cairn GC2WKKF – cache #1634
The cache is built on the remains of an old cairn at the highest point of the Down, a few yards away is this cache hidden in the roots of a scrubby hawthorn tree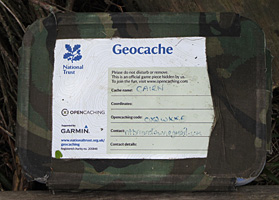 22nd April 2012 – Bringing Brean to Life – Roman GC2WK36 – cache #1635
There was a Roman temple here 1800 years ago… there's a robbed out wall line visible now, and another scrubby Hawthorn tree hiding a cache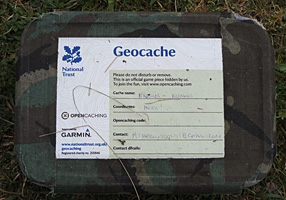 After this I didn't find GC2WJZM Bringing Brean to Life – Prehistoric. There is no GPS signal at the base of the cliff, so the co-ordinates given are approximate. The hint just says 'cave' well I couldn't see a cave, just a pile of large rocks where the cliff has fallen over the years and they are all below the high tide line anyway. But it seems the cache is around there somewhere. I couldn't find anything like a cave or a cache… I think they either need a better description or a spoiler picture to amplify the hint
22nd April 2012 – Worle War #1 GC2CK48 – cache #1636
After visiting Brean Down I drove up to Weston Super Mare to find a shop for some lunch and did a couple of nearby caches, this first one a magnetic one hidden in a dark spot under the eaves of the war memorial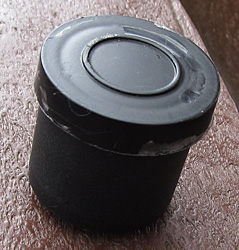 22nd April 2012 – Worle Oasis #2 – Ebdon Triangle GC2EW0A – cache #1637
This cache a fairly typical magnetic keysafe hidden on the back of a green telephone switch box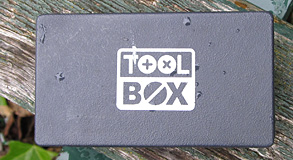 22nd April 2012 – M5 Travelling Light Lake GC3AXT2 – cache #1638
As I was heading back to the motorway I took a little diversion back to grab this cache which is on the side of a pond dug to provide a drainage sump for the houses and trading estate built nearby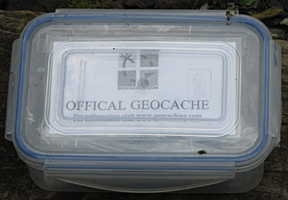 22nd April 2012 – Head Scratcher GC1ZBY5 – cache #1639
Once back in Burnham I stopped to go grab England Expects, and the park was empty so I headed for the bench and got there just as someone else came into the park and sat at the bench nearby… well it was a nice sunny afternoon… so I sat on the bench within 4 feet of the cache for 20 minutes… I could see the cache but couldn't get to it… in the end I gave up as more people came in with cups of coffee and such and sat on other benches…
Head Scratcher is a Puzzle cache – a difficult Sudoku that I tried to solve one afternoon at work, kept getting broken off by phone calls so gave up and used an online solver !
I then plotted the cache onto memory map and saw where the cache would be hidden and transferred the data to my GPS… then of course when I went to find it I realised I had brought out the wrong GPS when I went to find the cache… and I hadn't got the co-ordinates but fortunately I remembered where the co-ordinates roughly were on the map, and the clue took me to the right spot – so I got there in the end !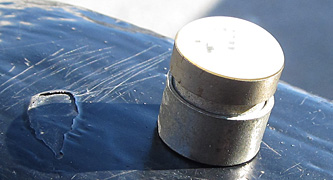 23rd April 2012 – A Ducks Life – The SS Nornen GC35CYQ – cache #1640
A cache with a difference… it has some electronic gizmo in that quacks loudly when you move it… Just as I picked it up some dog walkers came along the path behind me, so to avoid them I had to walk down towards the beach which the cache in my hand quacking all the while…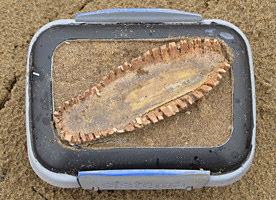 23rd April 2012 – England Expects GC2CW5G – cache #1641
Two days I had tried and not succeeded with this cache… on a rainy Monday morning there was no-one about so I could climb onto the wall behind the bench and reach up to grab the cache unseen by anyone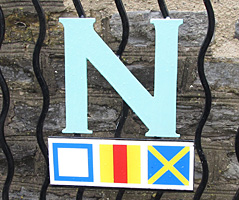 23rd April 2012 – Edithmead Church GC2HZMD – cache #1642
A little diversion before the Motorway on my way home to grab this cache strangely enough next to a church… and in a bed of nettles 🙁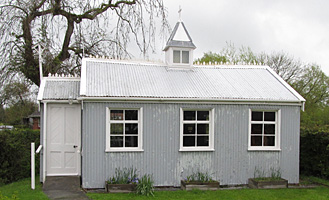 23rd April 2012 – I See No Trains! GC1MJXZ – cache #1643
A stop on the way home to grab a cache or two from around the storage lakes for the Stratford Canal. This first one by the Engine House that pumped the water between lake and canal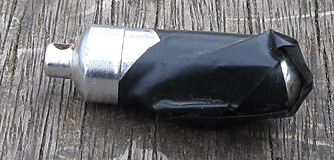 23rd April 2012 – MC50CU Mossy Stump GC26P87 – cache #1644
This cache is also on the side of the storage lakes, hidden in a mossy stump… there are a full set of caches around the lakes but I neither had time to walk round, nor was wearing suitable footwear as the path once away from the road was just a sea of mud. I'll come back in the summer for a walk round because it looks interesting and is only 2 minutes off the motorway.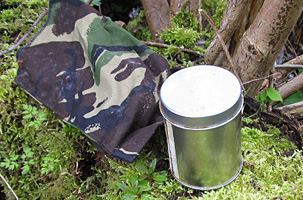 23rd April 2012 – Cacher In The Rye GC337DK – cache #1645
On the way down I'd passed this cache because there was a car parked right next to it with a bloke in… this time the layby was empty and the cache was easily found in the armco barrier. The cache name comes from it being on Ryefield Lane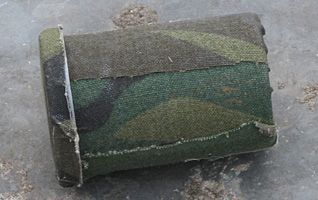 23rd April 2012 – A Road Anarchy A38/A50 GC1JTAH – cache #1646
Another Service Station car park hiding yet another cache… this one a nano hidden in a bench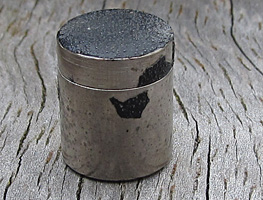 23rd April 2012 – Motorway Mayhem M1 Woodall Services GC33Z2N – cache #1647
Another Service Station car park hiding yet another cache… this time a more usual cache hidden behind an advert hoarding