Home » Geocaching
Caches No's 1486 to 1500 – Bramhope Circular(ish)
A new circuit of caches had been put out round the village of Bramhope which is 3 miles from where I live, so on the Saturday morning I thought I ought to go and start the series, but rather than doing an entire circular walk I thought I'd pick them off as a series of Cache and Dash-es – though in the end it might be a shorter walk to just do it properly !
24th March 2012 – Bramhope Circular(ish) – Holey GC3EE2N – cache #1486
The one I started with was only a few yards from a layby so an easy start… Holey it's called and it's in a hole in a tree, but it did take me a couple of attempts to find the right hole in the right tree !
24th March 2012 – Bramhope Circular(ish) – Lonesome Stile GC3EE2M – cache #1487
The next cache was also done from the same start point, a short walk across a couple of fields to a stile… not sure why the stile is there because the field boundary it was part of has been removed but the stile was left behind – and it's only a few bits of wood, if you are taking down a fence or pulling up a hedge you'd think you could take away a few more bits of wood wouldn't you ?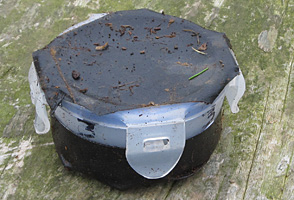 24th March 2012 – Bramhope Circular(ish) – Up The Junction GC3EE2K – cache #1488
Move the car for the next 3 caches… then another walk across another couple of fields to find this cache which I spotted quickly after letting some walkers past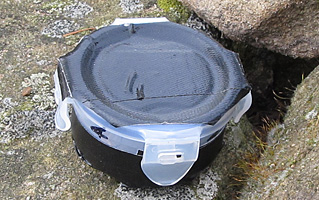 24th March 2012 – Bramhope Circular(ish) – The Hound's Favourite GC3EE2J – cache #1489
Hidden in the tree roots at the edge of a field much used for exercising dogs – which is where the name comes from… and guess what ? I had to wait for a dog walker to pass before I could get to the cache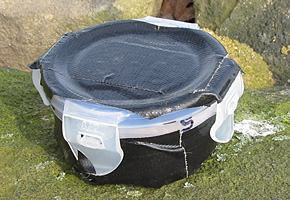 24th March 2012 – Bramhope Circular(ish) – Just Like Briggate GC3EE2H – cache #1490
This was the longest walk of the morning, down a track past the local Rugby Club and on towards a farm. The cache is hidden in tree roots in an area with lots of trees and little GPS signal lock, so several trees were examined before spotting the right one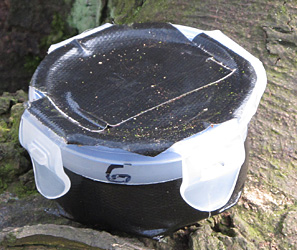 24th March 2012 – Bramhope Circular(ish) – The First Stretch GC3EE0B – cache #1491
Another car move and another cache in a stand of trees with little GPS signal… not hidden in the roots of a tree this time but in the crutch where a branch grows and high up (hence the need to stretch) and so again it took several trees before I found the right one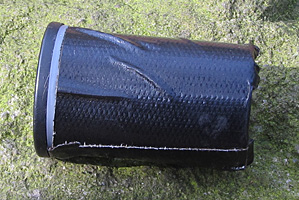 24th March 2012 – Bramhope Circular(ish) – Take Note GC2AF05 – cache #1492
A much easier to find cache, parking right next door and a convenient bench to sit and write the log… and that was the morning over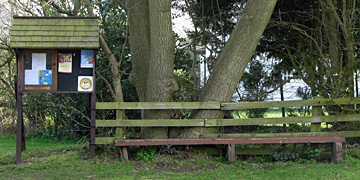 24th March 2012 – Bramhope Circular(ish) – Red Kites Circling GC3EE2B – cache #1493
In the afternoon I went back to do three more of the caches. They were all done from the same car parking spot, as usual I headed away to the furthest one first, and as I was passing the nearest one there was a Man with a couple of boys retrieving the cache, but I didn't disturb them just walked on down the road then across the fields to find this cache which is hidden in the top of a tall gatepost. I didn't see any Red Kites at the cache – but as I see them circling around most days I wasn't too disappointed !
24th March 2012 – Bramhope Circular(ish) – Looking Sheepish GC3EE2F – cache #1494
I was surprised at the siting of this cache as it was hidden in a hole in a dry stone wall – which is not an acceptable hiding place due to potential damage to the wall… however it seems that this was not the proper hiding place and someone had moved it to this hole. It's now back in the proper place not in the wall !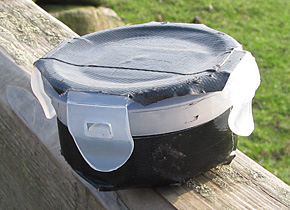 24th March 2012 – Bramhope Circular(ish) – It Just Fits GC3EE2C – cache #1495
This was the cache where I had seen ExpertHaggisHunter and his sons retrieving the cache. It is a pretty sneaky hide, but I knew where they had been and they hadn't quite got it hidden back properly so it stuck up a bit and was easily spotted… a bit of fiddling around when I replaced it got it seated nicely in it's hidey-hole and not so visible.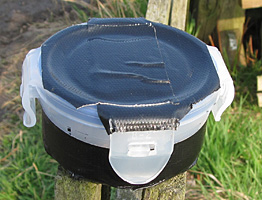 There are still 2 Bramhope Circularish caches to find, but they have no sensible place to park nearby, so I will leave them until one summers evening when I can park outside the shop when it has shut !
24th March 2012 – Shadwell Walk #3 GC2NJKH – cache #1496
I had a cache planned for my 1,500th so I still had to find a handful before I got to the milestone, so I headed off to do some Cache and dash types… although I could have driven down to the next two caches I actually parked up and walked. The hint for this cache said Pipe… and there was only one bit of pipe in the vicinity so it was an easy find even under the trees with poor GPS lock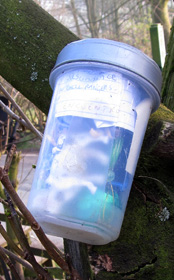 24th March 2012 – Shadwell Walk #4 GC2NJKJ – cache #1497
Another easily spotted cache – well to the experienced eye… camouflage material that looked piled up rather than naturally fallen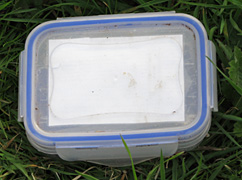 24th March 2012 – Curse of the FTF Leeds #14 – Wike Ridge GC2A0X1 – cache #1498
A rarely visited cache… I was the first visitor for 6 months !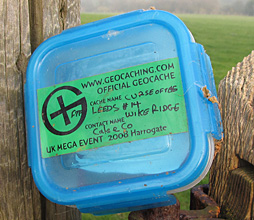 24th March 2012 – Thick and Thin GC256A1T – cache #1499
A puzzle cache I had solved months (if not years) ago… but today was the first time I had driven past where it was hidden, so I stopped and found it.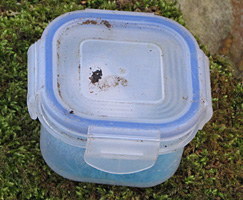 24th March 2012 – Butterflies GCMBPT – cache #1500
A 5 star difficulty puzzle cache for my 1,500th… The logs for the cache have people saying they puzzled over this for days before solving it… I will hold my hands up and admit I cheated ! I spent my time googling for a picture of the finished article but instead found an online puzzle solver to do the work for me !
(not that I admitted to it on my cache log !)