Home » Geocaching
Caches No's 1406 to 1408 – Lunchtime Locals
More local caches put out in the New Year, near enough for me to visit at Lunchtimes
1st February 2012 – Nunroyd Park N Grab GC3BDNJ – cache #1406
For these local caches I don't really need to take my GPS out, I just look at the Google satellite view picture for the cache and read the hint, and this gets me to the cache. It doesn't work so easily out in the wilds where there aren't so many easily recognisable landmarks, but for a lot of the more urban caches you can use the Street View to find the caches hiding place.
This cache was quite easy to find being hidden in one of the tree trunks that is lined up along the side of the road in the park.
14th February 2012 – Bart-Field Drive-By GC3CG83 – cache #1407
A nice little drive by cache that's not in a field, and there isn't a bar, but apart from that there was a Water board temporary traffic light set up 25 yards up the road meant loads of stationary drivers watching me scrabbling under the bench retrieving the cache… and then a different set of stationary drivers watched me scrabbling under the bench putting it back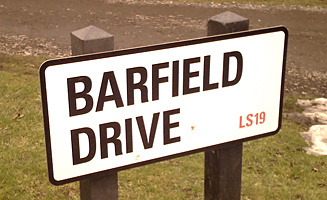 15th February 2012 – Moe's Cavern GC3AY2K – cache #1408
I had been to find this cache on a previous lunchtime and been stymied by kids from the school being around, this time it was half term – so no kids !
I spent a while looking in the right place but found nothing, then took one step back and spotted it.
The cache is so called because it is placed near the site where a tunnel took a railway siding under the road, all there is left now is the bridge visible as part of the pavement walls