Home » Geocaching
Caches No's 1381 to 1384 – Lunchtime Calling
8th November 2011 – Hidden Aireborough 1 GC36Z0E – cache #1381
I suppose I am quite lucky that people keep putting out more caches put out that I can get to at lunchtime, because there isn't that much to do otherwise around where I work, and there's only so many lunchtimes you want to spend wandering around Morrisons.
Maybe though it was really a bit too wet and muddy to wander down the overgrown path to this cache during this particular lunchtime… Boots and waterproof gaiters would probably a better idea than office clothes !
14th November 2011 – Marge Lands on her Feet GC37EXV – cache #1382
A sort of puzzle cache which has answers based on two the dates that two local businesses started up in the area… unfortunately the questions gave two possible answers as one business had moved premises… however putting the co-ordinates into Memory Map one possible set was in the middle of a field and the other was at the side of a road… so the roadside ones were the ones I went for !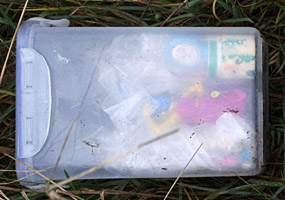 17th November 2011 – Crossing GC37FJ5 – cache #1383
The published co-ordinates for this cache were about 60ft out, fortunately the hint led me straight to the cache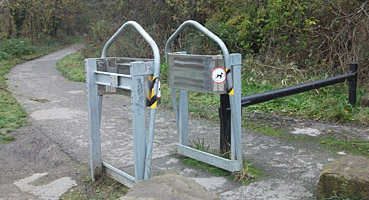 24th November 2011 – The right footware! GC386KH – cache #1384
Geocaches are supposed to be no nearer than 110 metres from each other (there are exceptions obviously) so I was a bit surprised when this cache appeared only a matter of 10 metres from where I had found Marge 'Lands on her Feet' a few days earlier. I guess it was because the other cache was a puzzle cache that it had slipped through the net, as it didn't appear that there was another close cache on the map.
The title of this cache refers to the fact that it is hidden out in the open in what appears to be a piece of discarded footware… not sure that I am too happy with caches that appear to be litter messing up the countryside