Home » Geocaching
Caches No's 1361 to 1370 – Remember, Remember, The Fifth Of November
5th November 2011 – Norfolk Haunts – O Zone GC2YG2Z – cache #1361
Over the year since I was last in Hunstanton the local cachers had put out some new caches… so it only seemed polite to go out and find them. Although I was spending the weekend in the same place as Hublander/Beanie28 and Stucuk/TT we all ended up going caching separately and all managed to find the same caches.

This first cache was hidden in the tubes of afence made out of tubular iron… trouble is there were lot's of possible ends of tube for it to be in, so it took a while before I saw the tag on the cache that allowed me to pull it out.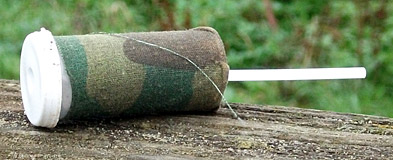 5th November 2011 – Holme – Fore! (way off course) GC35RWR – cache #1362
Another cache type I'd never seen before… this time a golf ball drilled out to hold a 5ml sample container
5th November 2011 – Norfolk Haunts – Smugglers & contraband GC2YG2D – cache #1363
A cache in the middle of a row of houses, overlooked by many and as it was a Saturday morning there were lots of people both in the houses and on the road, fortunately a quick and easy find so I did the shoelace tying trick to grab it and then wandered off to sign the cache, then dropped the cache off again while tying the other shoe lace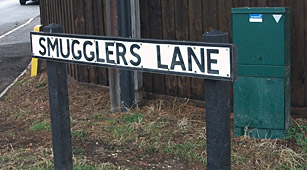 5th November 2011 – Norfolk Haunts By the sea GC2YG1Z – cache #1364
A bit of Deja-vu here as I had to walk past the site of my 200th cache find, which I made 2 years previously, to get to this one. When I got to the co-ordinates there was loads of rubbish and potential hiding places… and a sawn length of tree branch leant up against a fence post… which seemed odd cos there was not a tree of that type in the immediate vicinity… guess where the cache was ?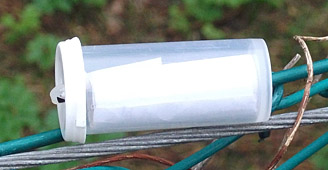 5th November 2011 – Norfolk Haunts – Sea View GC2YG3Q – cache #1365
A cache you can see from your car as you drive past. I parked at the end of the road and then walked back to the cache, I was conscious of being watched by a bloke in a pick up truck who was parked in a gateway, but I did walk far enough away from him that although he would be able to see me poking about in the hedge he wouldn't be able to see what I was doing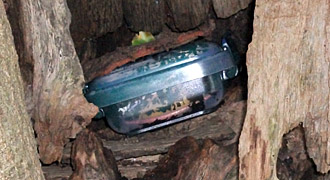 5th November 2011 – posted In the middle of nowhere !! GC2Q802 – cache #1366
A concrete post, all alone in a hedge… with a cache on top of it… you can see this cache from your car as you drive past as well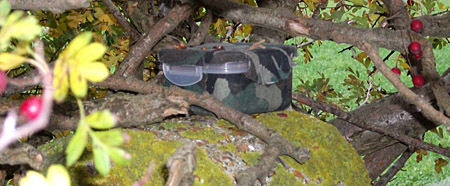 5th November 2011 – Sedgeford Saunter GC2YG4R – cache #1367
I walked down the track to this cache and there was no-one about, then I heard the sound of voices getting closer and louder, but still there was no-one about… in the end it turned out to be the exceedingly loud radio of a tractor in a field on the other side of the road
5th November 2011 – Norfolk Haunts- Bircham Mill GC161CV – cache #1368
A cache down a narrow country lane, and when I say narrow I mean only just wide enough for a car – you have to laugh at the logs who said that it wasn't busy so they parked up next to the cache… what they mean is they were too selfish to walk 50 yards so abandoned their car in the middle of the road hoping no-one would come along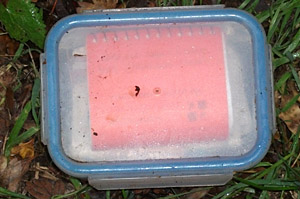 5th November 2011 – Eggs and Bacon GC1H57K – cache #1369
No idea why this drive by cache is called 'Eggs & Bacon'
The hint said "a classic hide" so in the roots of a tree, covered by a rock it is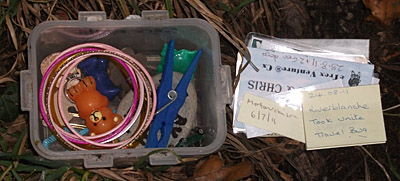 5th November 2011 – King of the Mountains GC2Z8Z2 – cache #1370
A cache named for a Cyclist and hidden in a cyclists drinks bottle (that was a new one on me)