Home » Geocaching
Caches No's 1241 to 1251 – Cyclocaching the first time
In an attempt to get fit I bought a bike and as it was a nice sunny late afternoon I decided to try Cyclocaching along the canal towpath from Silsden. There was another reason for starting at Silsden, there were caches going each way, so I could do one lot, and then if I was still feeling fit I could go the other way along the canal and do some more.

3rd July 2011 – 184 Across GC1RNVM – cache #1241
As usual I decided to cycle to the cache farthest away and then collect the caches on the way back, So I cycled out west to this cache, what a lovely spot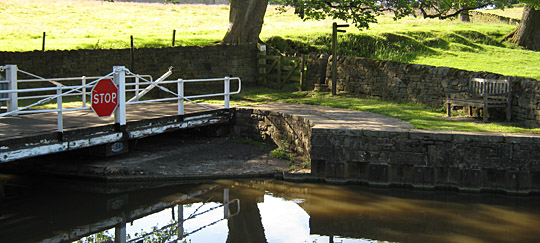 3rd July 2011 – Priest Bank Crossing GC22M6X – cache #1242
The next cache was at the next bridge, but it wasn't such a pretty place, and much busier as there were cars and people about, but the cache is well enough placed so you look like you are just having a rest leaning on the wall when you are sorting it out
After this I couldn't find GC2AYFP Cachelitic Consternation, the vegetation was far too overgrown to make searching sensible
3rd July 2011 – An 'Exhaust'ing Walk GC2AYGB – cache #1243
Camouflaged container hidden in a tree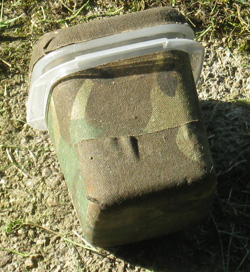 3rd July 2011 – Dung Rangers Tour #4 – Tow Path (W & N Yorks) GCK9AB – cache #1244
A cache with a twist, or rather with a swing. it is actually hidden on the bridge so sometimes is only accesible from the North Yorkshire (non-towpath) side, but fortunately when I was cycling along the bridge was closed so I could access it from West Yorkshire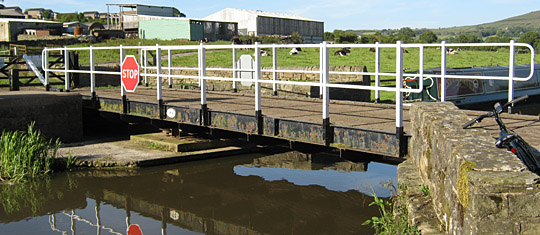 This was the last cache on the Western leg, and as it was still a nice day and I was not feeling any ill effects from the cycling I decided to cycle along to the East
3rd July 2011 – Wire Junction.. GC2RQY5 – cache #1245
The wire junction is a junction of power cables or phone cables forming a triangle above the canal, the cache is hidden behind a tree within the triangle, I was fortunate as there are several trees that I found it the first time behind the tree I leant my bike against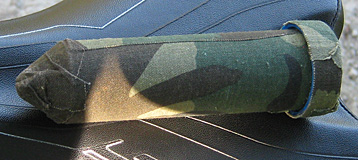 3rd July 2011 – Twin Trees! GC2RMJM – cache #1246
With a title like that you would expect a pair of matched trees, and that is what you get, mirror image trees at that! With a cache hidden behind them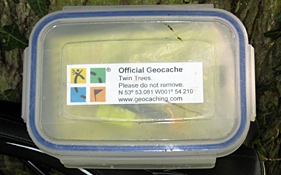 3rd July 2011 – A Tree nearby a Tee! GC2RMJP – cache #1247
Another camouflaged cache hidden in a tree, the danger with this cache is that the towpath is built on a wall here so the ground where the tree is growing is 8-10 feet below the level of the towpath, I was a little concerned that if I dropeed the cache while putting it back that it would go a long way down and be problematical to retrieve…. fortunately I didn't drop it !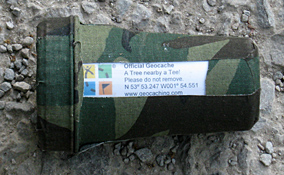 3rd July 2011 – Out of Bounds Steps.. GC2RNEG – cache #1248
I was sort of expecting that this cache site would be part of the golf course, but it turned out to be much more strange than that… a set of carefully built steps fenced off to prevent anyone using them.
The cache was quite clever, drilled into the end of a fallen branch and hidden in the debris under a tree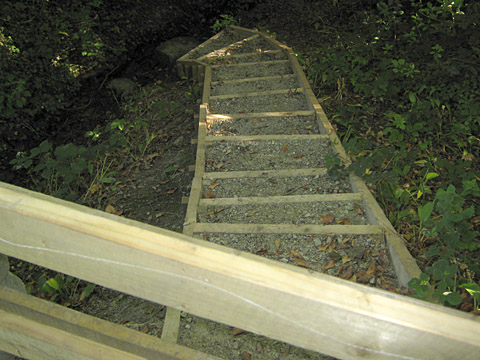 3rd July 2011 – Meg's Meander GC13EV7 – cache #1249
Here I had to hang around and wait for a couple of people to walk past me while sat on the wall next to the cache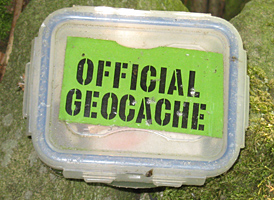 3rd July 2011 – Curse of the Canal GC249AN – cache #1250
I was glad I was wearing a cycling helmet at this point as getting this cache meant pushing my way under a bush, and the helmet protected me from the branches that would have scratched my head otherwise.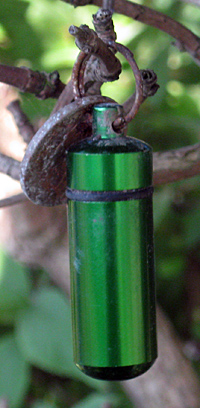 3rd July 2011 – No Pottery Here… GC249AT – cache #1251
An unexpected bit of archeology, a couple of old lime kilns, I guess these date from 1770-ish, and were used in the construction of the canal. They are in the field off the towpath and I had to carry my bike over the stile and push it across a field and down a banking to get to the kilns. The cache itself is one of those fake rock keysafes hidden in the dark recesses of one of the kilns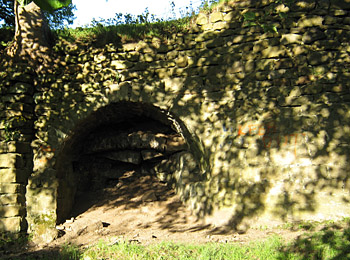 There were a couple of other caches on the canal that I couldn't attempt to find because of boats tied up alongside them. or fishermen sitting next to them. I cycled about 12 miles, which is potentially further than I've ever cycled in my life before ! so I was quite pleased about that. The problem started the next day in that I had been cycling over quite rough path at times and I had been jarring my spine, which brought about a recurrence of the Sciatica that plagued me at the beginning of the year… I think I'll have to stick to road cycling on smooth roads from now on to avoid such an occurence happening again !