Home » Geocaching
Caches No's 894-904 – Rodley Rainbow Ramble
On Saturday evening a new series of 10 caches was published that were in the 6 mile radius of my home (well some of them were !) The Rodley Rainbow Ramble. These were bound to attract the FTF hunters and sure enough the first find was logged at 6:56am Sunday morning, Sunrise wasn't until about 7:40am… Some people are a bit addicted ! (at 6:56am I was at home waiting for the Korean Grand Prix to start (if this entry sounds like Deja Vu of 10th October then it probably is !)
The series is supposed to be a 5.5 mile circular walk starting and finishing from the canal in Rodley, however In the afternoon after a nice Sunday lunch I didn't think I had the time available to walk it, so I decided that the caches on top of the hill near the road would be drive bys and then I'd walk along the towpath to do the caches by the canal
24th October 2010 – RRR – Blue GC2H54R – cache #894
This, the first cache I did is in the low rock face at the side of a busy road, I must have been seen by the occupants of about 50 cars, but they were all going so fast they couldn't have seen what I was doing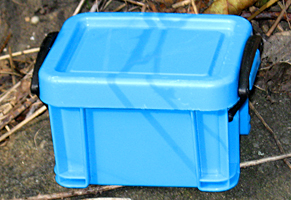 24th October 2010 – RRR – Calverley Woods GC2H551 – cache #895
I'm wandering about in the woods looking for a sloping stone next to a holly tree when this woman comes along walking a couple of dogs, so I bend down and start retying my boot lace, "Hello, are you treasure hunting ?" she asks, "something like that" I reply and she walks off. The cache was easy to find once I found the right holly tree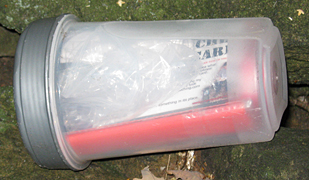 24th October 2010 – RRR – Green GC2H54K – cache #896
This was a rush job as it was on a busy path, so I had a limited amount of time in between a dog walker and a pram pushing family to get the cache, sign it, photograph it and rehide it… I managed just !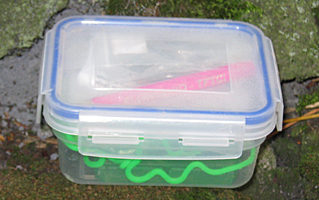 24th October 2010 – RRR – Yellow GC2H54G – cache #897
In the ivy at the base of a wall behind a bench, trouble was I spent a couple of minutes looking around the benches at the road side of the wall and found nothing, then realised that the wall was round a memorial gardens and when I went inside I found another bench on the inside of the wall, and the cache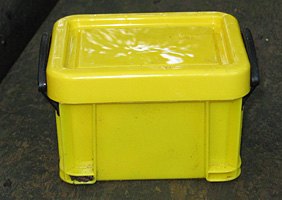 24th October 2010 – Louis Loot GC2GG10 – cache #898
Not part of the Rodley Rainbow Ramble, but only just off the route in the corner of a kids playing field
I'm glad this cache was well away and out of sight from the play equipment. There were loads of kids and a couple of parents enjoying the facilities in the sunshine, but I could sort out the cache in peace 🙂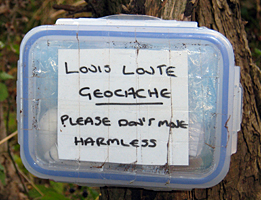 24th October 2010 – RRR – Orange GC2H54D – cache #899
Under a rock at the base of a wall… mind the cow pats, cos I didn't ! Straightforward find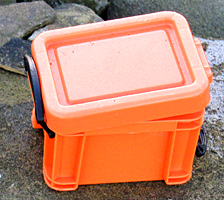 24th October 2010 – RRR – Indigo GC2H55A – cache #900
After doing all the roadside (or near roadside) caches in the series I went down to the canal at Rodley and there were people everywhere, so I walked along to this – the furthest away cache only to find a group of people on the far bank having a shouted conversation with a chap on the towpath not 10 yards away from the cache… but I managed to slip in and get it without them seeing what I was doing and between the dog walkers and cyclists…
And this cache was my 900th cache find, and is in the headline picture
24th October 2010 – RRR – Violet GC2H55D – cache #901
A straightforward enough find – with the clue ! Hidden at the side of a huge tree trunk
It's a pity that the Stone Throne next to it has been destroyed and it's cache GC1X9HA muggled (see cache #84) and archived as it was a much more interesting hiding place than this one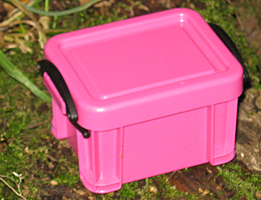 24th October 2010 – RRR – Leprechaun GC2H55F – cache #902
One of the most difficult caches I have done. Not because it's hard to find it, it was an easy spot fastened to a wire mesh fence behind a wall, but difficult because there is a 15ft sheer drop the other side of the wall and the wire mesh was tight against the wall so I could hardly get my fingers in to unscrew the cache and then had to be vary careful not to drop it down into the abyss… it was even harder to get it back ! !

24th October 2010 – RRR – Red GC2H547 – cache #903
It was getting a bit dark by the time I got to this cache – I'm not sure that I was right to do the series as a drive by first half cos I still had to walk a mile and a half along the canal and a mile and a half back so it might have been quicker to just walk the whole way round !, but anyway, after waiting for a dog walker to vacate the area this cache was a quick find under a rock at the base of a wall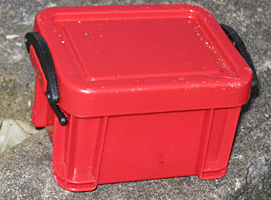 24th October 2010 – RRR – End of the Rainbow GC2H546 – cache #904
I was going to do this one as my 900th cache as it was the nearest one to where I parked when I got down to the canal, but at 4:30 on a sunny Sunday afternoon it was like Picadilly Circus with families, cyclists and dog walkers – plus the odd fisherman sat staring at his fluorescent float, so although I found the rock underneath of which the cache was hidden easily enough I couldn't get to it without attracting attention, so I went and did the other caches and came back about 90 minutes later, when it was almost dark and there were just a couple of joggers and the fisherman still sat staring at the fluorescent float to contend with.