Home » Geocaching
Caches No's 884 to 893 – Raikes Round Keighley
Another weekend and another at least 14 caches to find (I say at least as there are definitely going to be times when I can't go caching at weekends due to the weather, Christmas shopping or other commitments, so I need to get as many done each weekend as I can, 14 minimum)
So I headed back to Silsden to do some caches on the other side of the town, starting with a series called 'Raikes Round'
The first cache on the series GC22YNT Raikes Round 01 was supposedly hidden under a footbridge, at least that's what the clue 'Where a troll lives' lead me to expect to find it, but there was no sign of it, which was not a good start to the afternoon as it was miserable damp weather and muddy underfoot so a DNF did not put me in a good mood. The cacher before me hadn't found it either, but the cache hider has since been and confirmed it's still where it should be
23rd October 2010 – Raikes Round 02 GC22YP3 – cache #884
This cache was fairly easy to find, the clue said at the base of a holly bush, and there were only 3 to choose from and only one of these had a pile of stones wedged into the roots, so the cache was straightforward
23rd October 2010 – Raikes Round 03 GC22YPA – cache #885
Another easily found cache, under rocks at the side of a stile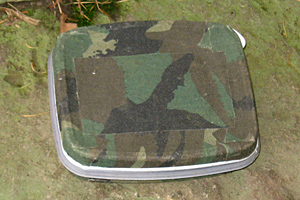 23rd October 2010 – Raikes Round 04 GC22YPF – cache #886
The co-ordinates for this cache were in cache no. 3 and led me towards a tree, from a long way off is was obvious that the large stone nestled in the roots of this tree was not a natural occurence, and so it was no surprise that the cache was hidden behind it.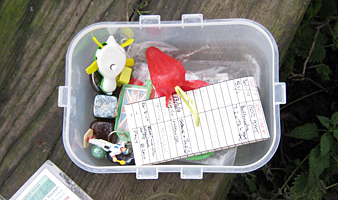 After this I failed to find GC22YPY Raikes Round 05 – the cache is supposedly hidden in the branches of a Holly tree in the hedge at the side of the path. There was a farmer working in his field just the other side of the hedge so I couldn't explore it in great depth, but I couldn't spot the cache so I moved on, and failed to find GC22YQ3 Raikes Round 06 for which the clue just says 'Post', there's 2 gate posts, a telegraph post and a gas board post, but like No. 1 in the series I couldn't find it, nor could the cacher before me, but since then the cache hider has checked and it's still where it should be.
23rd October 2010 – Where's Barry? GC22JRP – cache  #887
I had about a mile to walk back down into the town, a route which brought me past this cache, which fortunately was nice and easy to find, hidden behind a decrepit bench, the wire fastening it to the bench gave it away. In the cache were the co-ordinates for the next cache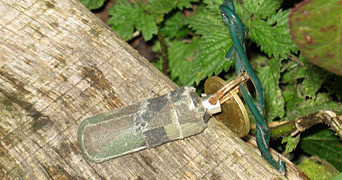 23rd October 2010 – This isn't Barry! GC22JYM – cache #888
A disused dog kennel on a farm track – at least I assume it was disused as it's content's were a car wheel rim and a large branch. The cache was hidden under the back. I've no idea who or what Barry is though !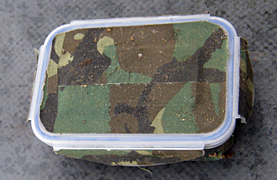 23rd October 2010 – Urban Legends 02 GC28479 – cache #889
A small field by a row of houses, and at the far side a gate leading into the woods with a magnetic nano hidden on the hinges. There were several people about, but no-one took any notice of me as I dealt with the cache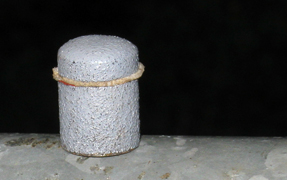 Once I had returned to my car I decided that with only 6 caches found (out of a possible 10, 3 I hadn't found and a bonus cache I hadn't got the co-ordinates for) I needed to go and find some more, so I headed into nearby Keighley and had a little walk round to try and find a few more
23rd October 2010 – George and Rosies Pawsteps 3 – An Uplifting One GCKWTD – cache #890
Hidden in a drain behind a wall on the bank of the river, easy to find once you've waded through the litter.
At this cache I collected TB2YC4X Colorado Eagle Easter Train 2009 Geocoin and TB2H3C4 Limbo Holiday Event Geocoin cos they'd been stuck in there since April.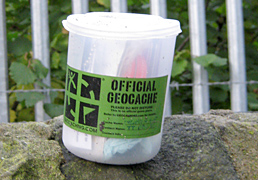 23rd October 2010 – Railway Communications GC1NYXQ – cache #891
A magnetic nano stuck on the back of a telecomms box on a street that's probably quite busy during the week, but at 5pm on a Saturday has only a few people on it that were easy to avoid. I didn't get to sign the log as the paper was full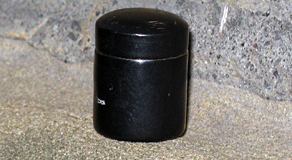 23rd October 2010 – Side Tracked – Airedale Line / KWVR – Keighley GC1PDKH – cache #892
ANother magnetic nano, this time stuck on the railings of a builders yard opposite Keighley College, some cachers had reported difficulty in getting to it because of the number of students about at times, but 5pm on a Saturday was a quiet time and as I spotted the cache as I walked towards it it was a quick and easy find.

23rd October 2010 – George and Rosies Pawsteps 2 – Gordons House GC1KWRM – cache #893
I'd walked past this one earlier as it's opposite the loading bays of a warehouse and there had been 3 men loading a van up as I passed, so I returned on my way back and found the cache hidden behind a lamp post, totally sodden inside, so another cache I didn't get to sign the log of
After this I couldn't find GC1KWWE George and Rosies Pawsteps 5 – Blind Luck there was no doubt where the cache could be, at the base of the only tree about, but although I had a good feel round all I could find was an old bottle and snails, no 35mm film container.