Home » Geocaching
Cache No 828 – Cache In The Bank
4th October 2010 – Cache in the Bank GC2FT8M – cache #828
Monday, and another new cache reachable at Lunchtime. This onhe had actually appeared the previous week, but with the other lunchtime caching trips I made and the rain on other days I didn't get round to finding this one before.
The cache is hidden at the base of a cliff, so the GPS which is either blocked from Satellite view by the cliff or has the signal bouncing from the rocks, is pretty useless.
The clue said 'Rock Face', and looking at the cliff there is a face carved into it.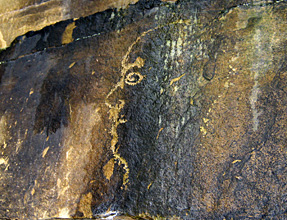 Now I looked all around the area, climbed up onto a ledge above the face and looked there, investigated all the cracks and crevices in the rock, and found nothing. The cache had been found by one lot of cachers previously and so I checked their log and they said they had done similar searching all around until they had 'unearthed' the cache, so I started investigating the ground at the base of the cliff, and eventually came up with the cache, which is a 5mm sample container glued tot he bottom of a bottle top which is covered in sand and grit to look just like the sand and grit at the bottom of the cliff, it then goes in like a golf tee, and is almost totally invisible, you find it by touch.