Home » Wharfedale Plus
… But It's The Pelvic Thrust…
Another random selection from the past, this time back to 1989 for the Bradford Group Dance, though as I remember it we actually started the activities in the afternoon with a bit of orienteering on Ilkley Moor, for which Wharfedale entered a couple of teams… though the teams were only 2 people, Roger and I were one team, and Nelly and I think it was Tobias making up the other… after an hour or so of racing across the Moor from the Cow and Calf Hotel Roger and I had done well but discovered we had missed out one of the checkpoints… so a little 'swapping' of answers with another team and we had finished… and had done it in the quickest time of any team, but then the organising Bradford group got a late entry, and they apparently got round in a few minutes shorter time than we did… My guess is they cheated better than us ! I just have the one picture of the event to bring you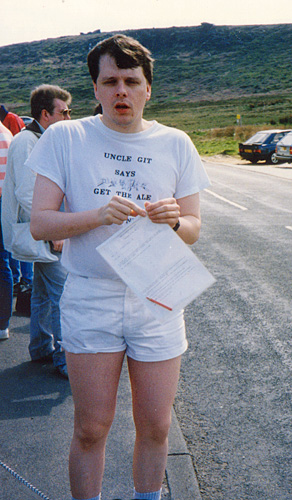 Nelly with his map and pencil, waiting to start the action
The evenings event was the standard disco in some nameless hall somewhere in Bradford, I don't remember where, we went to so many that the locations all blur in the memory.
My recollection of the event was that it was not well attended, which perhaps means just that the hall was too big, as there are plenty of people in the background of the shots. I suppose we were used to having 120-140 people at events, so if there were only half that present it would seem light on numbers.
Anyway… on with some pictures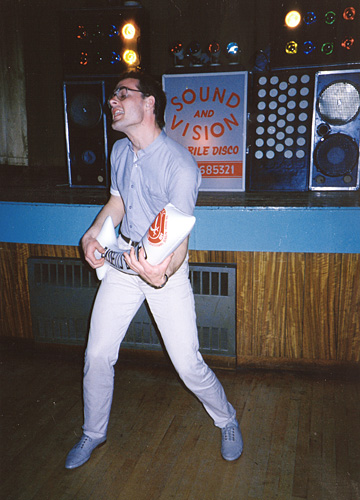 Tobias with his air guitar…
which is actually an inflatable Sheffield United Sword
And here's some more air guitarists, getting down to some serious… errr… rocking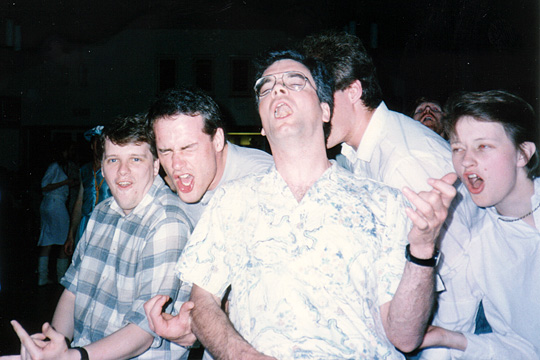 Nelly, Tobias, Roger, Wendy-woo with Ibbo behind, livin' on a prayer !
To tell the truth I don't recollect a right lot about this particular dance, I guess it was like all the others though, and just like at all the others I remember…
doing the Time Warp, drinking those moments when, the blackness would hit me and the void would be calling, "let's do the Time Warp again"
It's just a jump to the left… and then a step to the right… with your hands on your hips…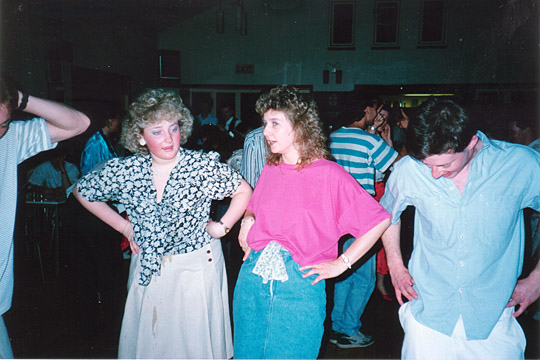 Malibu Mel & Cozbert seem to be more busy conversing than dancing
While Hubert looks down to make sure his hands have found his hips…
But it's the pelvic thrust… that really drives you insane…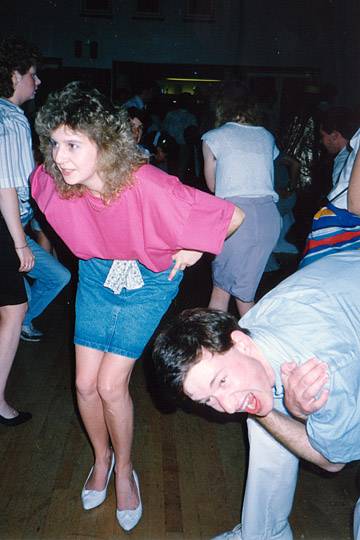 Cozbert does a chicken impression, while Hubert goes insane
High spirits were always a factor when we went out… we knew how to have a good time and although at times it may have seemed a bit OTT to some outsiders, we were always under control even when there was a bit of shoving going on,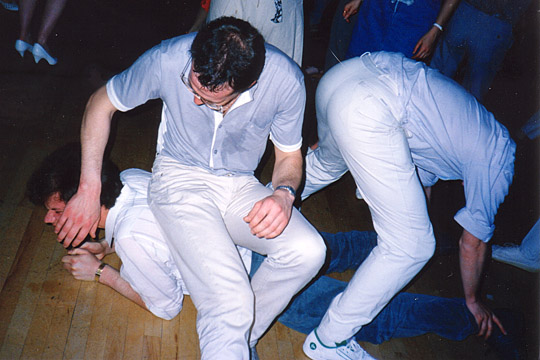 Tobias and The Wadd hold Ibbo down…
I'm guessing from the wet patch on Tobias's shirt this may have had something to do with ice cubes being put down peoples necks… that was a pretty common happening, but then it was summer and it might just have been a hot evening, which may be why Hubert is undoing his shirt…. or maybe he's just trying to impress Cozbert with his manly chest !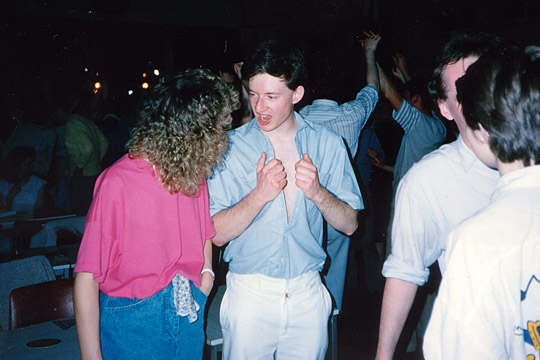 But towards the end of the evening things always got slowed down and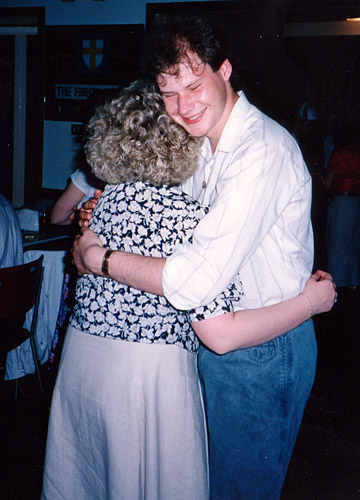 Ibbo and Malibu Mel getting romantic
But then as always along came the end of the dance and so it's time for Roger to say, as Harry Corbett always did at the end of the Sooty Show "Bye-bye everybody, bye-bye"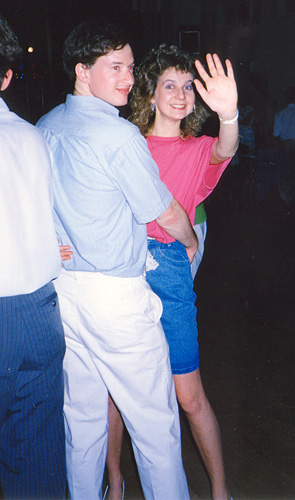 Cozbert waves goodbye as Hubert holds on…
I wonder whether he'd fastened his shirt up yet ?